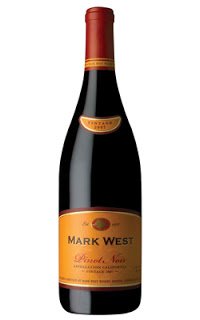 I'm always a little suspicious of wineries with "attitude" – if the wine was good enough, would they need it? And Mark West has it – from their "keepin' it real" website to their motto, "Pinot for the People". But here's the thing – Pinot Noir for the People is a darn good idea. This is the most exquisite – and difficult – grape in the world, and one of the hardest to find for under $20. There's lots of mediocre cheap Pinot out there, but not much of it with any varietal character. Mark West's versions have acquired quite a reputation as a super bargain – are they worth the hype?
The label says "Appellation California" and that tells you this wine is sourced from all over, though the bulk of the fruit appears to be Central Coast. In the glass it's lightly colored, almost translucent – giving a hint of what's to come. Make no mistake, this is a lighter Pinot Noir style – but what would you expect for the $9.99 I paid for it? The worry is that this will be yet another fruit-forward cheap Pinot – pleasant enough, but with nothing especially Pinot about it.
Does the Mark West transcend the barrier? To a certain extent, yes. While the nose is strictly strawberry/cherry, a little oxygen begins to coax some real Pinot character out of the wine – a fair amount of spice, and – hallelujah! – a hint of cola and mushroom, so rare in cheap Pinots. At 13.8% ABV this is clearly a new world Pinot Noir, but the alcohol is pleasantly tamed here, and the wine drinks easily. Tannins are muted but with a nice dusty tang. Like most Pinots it would pair well with a wide range of foods. While it remains fruit forward throughout, the Mark West doesn't get swamped with the sweetness so many mediocre Pinots do. It's not an unqualified success – it misses the depth and complexity you'd find in a solid Burgundy and even a good Oregon Pinot. But you'd pay at least three times as much for most of those, and viewed in that context you have to be satisfied with the hints of varietal character you get in this wine. And they're delivered in a pleasant, easy to drink package. It's not great Pinot, but at least you know it's Pinot you're drinking.