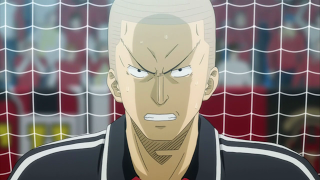 The second Osaka episode continues on the same pace as the first, pointing us towards two more eps likely to complete the second half. And so far, Osaka Gunners looks every bit the dominant force they appeared to be going in – they lead 2-0 at the half, with ETU not even having managed a shot on goal.
As expected, Kubota proves to be the key to Osaka's attack, as a kind of attack savant. Turns out Dulfer spotted his genius and rescued him from a career in mediocrity as defensive midfielder, turning him into a forward. And while at first glance Kubota appears to be a kind of offensive midfielder, he is a true striker – something Sugie discovers to his dismay when he views his as strictly a passer. Kubota attacks, and nets Osaka's second goal. T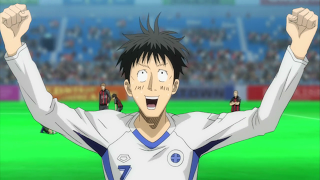 he same age is Tsubaki, this kid is worlds apart – a strange and insecure fellow, but someone who loves the thrill of the attack and appears to be the perfect attacking player.
So where is the hope for Tatsumi and ETU? Well, at the very least they launched a couple of attacks towards the end of the half – one of them foiled by Kubota. But Gino appears to be off form and Natsu hasn't been remotely threatening, leaving Sera as the only one with a touch in dangerous territory. Tatsumi still seems confident, and the nature of the show demands that ETU rally in the second half. Perhaps Tatsumi is banking on Kubota getting tired (that was his rep with the junior national team) and Tsubaki's relentless speed creating chances. Perhaps Sakai gets off the bench and enters as a third striker or replaces Tatsumi, offering an offensive spark.
It's hard to dislike Osaka, never mind hate. Kubota is a true genius, and Dulfer seems genuinely thrilled to see his players happy and executing beautiful football in the Dutch style. But in the series they're the enemy and they provide a formidable one, if not an especially obnoxious one. Tatsumi clearly would love nothing more than the knock the smile off Dulfer's face, but he better find a way to make something happen in the next episode or it'll be too late to make a serious game of it.