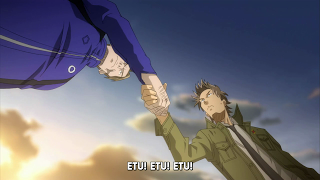 It's a pretty big statement, but that just might be the best build-up episode ever.
With only six episodes left – tragic as that sounds – this could be the final match of the series. I hope not – or hope that at least we have a second season – but if it is the writing has done an amazing job of building it up.
Really, it all came together for GK in this episode and you had pretty much everything. There was tons of great behind-the-scenes stuff – very realistic depictions of game-day in the bowels of a professional arena. I loved seeing the players arrive, the stretching, the banter in the Osaka locker room. You had the fans perspective, which this series does so well – this time the junior ETU brigade, and it was a blast watching their emotional roller-coaster of getting pumped for the big game and terrified of big, bad Osaka.
Osaka is being developed beautifully as well. I love Dulfer – the way he talks about "beautiful, offensive football" is so characteristic of the Dutch passion for the game. He and Blanc are rare examples in anime where foreigners are depicted in a non-patronizing, or at least non-paternalistic way. I love how they're so emotionally transparent, and how uncomfortable that makes their handlers. But it's not just Dulfer – there are real personalities on this Osaka team. They even appear to have their own Tsubaki in Kurobota – except that he's both an Olympic and National player – one of four nationals on the Gunners. It was hilarious that their fans were furious at Blanc for tiring out their players by selecting so many, where all the ETU boys could do is dream of having one player on the National team – so very indicative of the gap between power franchises and poor ones.
And then there's the ETU players themselves, and Tatsumi. All of their development has been building to this – the two-striker alignment (and I still see Sakai entering as a third forward in this match) was the product of their shared storyline. Gino is finally motivated, Murakoshi seems to have finally bought into Tatsumi's mindset, and the team generally seems to have caught his infectious spirit. This is the essence of Giant Killing – the thrill of the upset, the sheer joy of playing aggressive football and exciting your fans. No matter what Osaka does, they're expected to win – only ETU can exceed expectations. The battle o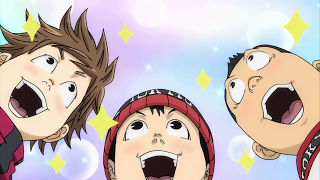 f wills between Tatsumi and Dulfer is a joy to watch – no bad guys here, just two intense competitors who recognize the quality of the opponent and are incredibly charged up by it. Blanc recognizes it too, of course, which is why he would be nowhere else while this match was being played.
There are times when I curse the snail's pacing of GK, and it's going to be a long week waiting for this match to start. But dammit, that's how you build up a game – I could feel myself getting charged up right along with Kota and his pals. I haven't had more fun watching an episode of any series since "Cross Game" finished up…