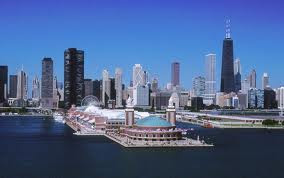 When I was 27 years old, I left my lifelong home of Chicago and moved to San Diego, California. Eventually I moved to San Francisco. So at this point, I've had a taste of three pretty distinct lifestyles and cultures (and don't think SoCal and NorCal aren't as different as either is from the Midwest).
I just got back from a visit back home to see my Dad, and my sister – who still lives in SD – met me there. It was my fourth or fifth trip back since I moved, and she hadn't been back in ten years or so. I found it pretty interesting to see how different her view of Chicago was from mine, though we'd both been rather fond of it when we left.
In the first place, one thing you hear people complain about constantly – both in and outside of Chicago – is the weather. And I've been one of them – I didn't min the winters so much (I love snow) but the summers were brutal. Usually hot and invariably humid and sticky. But we happened to pick the one summer week where it was cooler in Chicago than in either of our home towns – it was 106 in San Francisco one day, in fact. So no harm, no foul there.
Then there's construction. They have a saying in Chicago – there are two seasons, winter and construction. And indeed, it seemed like every tollway, expressway and surface street I drove on (a lot of them) was dotted with flagmen and orange cones. Intellectually I understand this, of course – winter plays havoc with asphalt, and you can't fix it when there's risk of sub-freezing weather. But paired with another of Chicago's problems – sprawl – the construction irked and irritated me more than I remembered. Chicago does indeed have a sprawl problem – in every direction, specially West, the suburbs have continued their amoeba-like expansion in the years since I left. It seems to take half an hour just to drive from one suburb to another, and when you have to cover any distance – say from the Northwest side to the Southwest burbs – the sheer distance and construction-worsened traffic make the drive interminable. I've certainly been spoiled by how compact the Bay Area is, and you can chalk both of us up as pissed about construction, traffic and sprawl.
But that's where we part ways. We spent a day together with my Dad downtown, walking from the South Loop to the Gold Coast. I love the city – Chicago has a rugged, handsome skyline that's more American than any other place. I love the buildings, the pace, the river, the lake. My sister, by contrast, now finds the city too loud and exhausting. Personal temperament, or the fact that she lives in a place that really has no there there, downtown-wise? While the suburbs leave me cold, downtown still thrills me. This is America at it's most American. It's a marvelous combination of classic Daniel Burnham-style American architecture, modern high-rises and ample green spaces. And the trains and buses are efficient and still cheap.
Most interesting, to me, was our impression of the people. Chicagoans, to me, are solid, reliable and possessed of a wry sense of humor. They keep their social contracts and don't waste a lot of time on small talk. To her, they seemed disinterested and unfriendly for the most part. From my perspective, what she's missing is the casual friendliness of California, especially SoCal. But for me, that's not really real – that friendliness seemed very surface-level, all frosting and no cake. While you're more likely to get a big smile from a server and have a stranger strike up a conversation in California, I think a Chicagoan is more likely to return a lost wallet or take the time to cal you if they're running late. Chicago, then, would be all cake and no frosting.
Perception is a funny thing – I don't know if there's something in our makeup that makes us feel differently about the place where we grew up, or if it's simply a matter of time or the differences between SoCal and NorCal, which in my view is closer to Chicago. I love the Bay Area, but I could see myself moving back to Chicago and loving it if I lived someplace like Belden and Clark, or River North. She could never go back – she'd hate it.
Last thought – I suppose I'd probably gain 20 pounds if I did, as the food I grew up loving – Italian Beef sandwiches, char-Polish and fries, stuffed pizza – is about as unhealthy as it gets. But I didn't eat those things every day when I lived there and I suppose, after a while, I'd have my fill and go back to having those things as the occasional splurge. If you get to Chicago, leave the dietary restrictions at home and live it up for a few days.