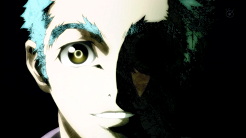 Let the wrong one in…
I continue to be entertained by Shiki, though certainly not for it's subtlety. The freakshow certainly was out in earnest in this episode. Not only did we finally meet the whole Kirishiki clan, but an extremely grotesque – though apparently human – teenager named Masou. He appears to be not much more than a creepy little social outcast, but there's no hiding what the Kirishikis are. The Dad has goth hair, the females have black holes for eyes, and the son has horn-hair. This is certainly not a mystery in the "Higurashi" vein, but a stylized anime version of a Greek tragedy – everyone knows what's happening except the people it's happening to.
We did have some exposition. The bishie monk is a writer, apparently of grisly tales about his village, and tried to kill himself by slashing his wrists. It was his essay that led the Kirishiki's to their new feasting ground – a fact revealed by their super-creepy daughter, Sunako. She's not as freaky as "normal" Masou, but a pretty delightful creation nonetheless. And the body count crept up by one (an off week) as Nao died of the same symptoms as Megumi. But this time, hunk Doctor noticed "insect" bites on her arm.
And then there's Natsuno. Is he a victim already, or just exhausted from being haunted by Megumi's restless spirit? His friend Torou was introduced, and death flags abounded for him – normal isn't a good plan in this show, and he invited the Kirshiki's son into his house (smart move, Guy). It's silly, but in a good way – over-the-top and proud of it. It should be fun to watch the Kirishikis as wolves among the lambs here, and the Doctor and Monk try to stop them.