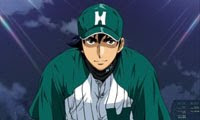 A two-episode review this week, thanks to the subbing schedule. 144 deals mostly with the resolution of the Murdoch fiasco – at least for now. Goro, being a bit of a hothead himself, seems to understand "Mad Dog" better than any of his teammates. With the team struggling and badly needing a win, the Hornets' manager – against the wishes of the owner – gives Murdoch one more chance to prove himself. And indeed he does – against his old team, the Panthers (a thinly-veiled version of the LA Dodgers). His old mates seem to be enjoying his suffering, mockingly intentionally walking the hitter in front of him to bring Murdoch to the plate. His new mates pick him up, and Murdoch comes through with a winning 3-run homer in the 9th, sending the Hornets off on a 4-game winning streak.
The theme of old teams and bitterness continues as 145 bring the Salmons – Goro's first US organization – to town, complete with old "friends" Fox, Sanchez and Bolton. They know Goro's temper and look to get under skin, ignoring his friendly overtures before the game and mocking his rookie status. Thomas, the CF, has a Salmons connection as well – he was beaten out for a job by the Salmons Japanese import, Sakaeguchi. While the game gets off to a good start, the Salmons tire Goro out, the Hornets show their frustration, and pretty soon the whole team is tearing at each others throats. Can Keene manage to hold the team together?
All of this happened just a bit too fast, for me – both the "all better" resolution for Murdoch and the complete disintegration of the team thanks to the Salmons chippy tactics. Still, baseball is a 162-game season – there's an awful lot of stuff to fit into 26 episodes. It's easy to forget that Goro is only 20, we've been together so long. Professional baseball is still an education for him. The series has done a good job shifting the focus from season to season, and never allowing Goro's GAR and talent to elevate him to God status. He still screws up and gets beat sometimes.
I have to say a word about the new ED – and that word is "fantastic". Love the song itself, but the animation sequence is great. It's basically a time-travelogue of Goro and Shimizu's relationship, starting from their 9 year-old Mifune Dolphin selves. Paired with the retro OP, it makes a nice bookend for a series in it's sixth season adapting a manga that's about to finish it's long run in Japan.