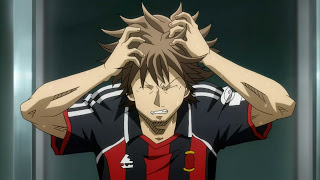 Another week, another win for ETU – this time a hard-fought 1-0 league match over Yokohama. This was ETU's third win in a row but they really had to earn it – Yokohama marked Gino with two men and forced ETU – unsuccessfully – to find their creativity elsewhere. The goal came on a corner kick from Gino, with Murakoshi getting a rare tally. More to the point dramatically, Sera continues to struggle – eventually getting subbed out for Sakai, who nearly scored in the closing minutes.
Natsuki, meanwhile, was used a decoy by Tatsumi to play head games with Yokohama's coach – he wasn't even on the bench for the next match with Shimizu. But Sakai was, and Sera continued to press. Just when it appeared he would finally get his scoring chance, he injured himself and apparently had to leave the game.
That was a pretty dramatic episode – well-paced as we've come to expect from this series (other than the usual pre-OP recap clips). The dynamic among the strikers is quite interesting. Sera appears not to be a typical striker in the Rooney mold – big and strong and dangerous in the air – but a small guy who tries to get by on energy. Sakai appears to be a more traditional forward, slower but taller. And then there's Natsu – dynamic and a little nuts, but seemingly with the right mindset for a forward – gung-ho, score at all costs. Sera's self-doubt is unhealthy for any player but especially for a striker whose job it is to play fearlessly and score goals. And all of these guys have their psychological issues – Natsu's desire for attention, Sakai's simmering anger at being passed over, and Sera's constant mental fidgeting about his performances. I think it's a bad idea for a striker to think too much – and Natsu clearly doesn't have that problem.
I had thought perhaps Sera would rally and Tatsumi might switch to a 4-4-2, but for now his injury appears to have put that problem to rest. It looks from the preview as if Natsu will get the call – which will leave Sakai even more resentful, presumably.