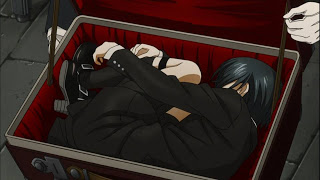 "Your shota in a box is ready."
Well, that was…interesting. Shota in a box, Sebby and Ciel back before the first eyecatch, Shota #2 vamps around in thigh-highs and gouges the maid's eye out. Other than that, not much happened.
Hard to say what we have until we get a better idea where this is going, but judging by the ED it appears as if all the previews and stills might have been a feint – Sebby and Ciel appear to have stepped right back in as the main characters. While I was highly skeptical of Kuroshitsuji without them, I must confess to being surprised at the balls A-1 showed here – and they did a helluva job hushing it up.
This leaves us with an essential problem, though – as soon as Sebastian was on-screen, Alois and Claude were pretty much an afterthought. If they are to remain as major characters – and we'll know when we see whether or not episode 2 has a new OP – they're going to be seriously overshadowed. Not that they weren't interesting, but Claude especially is going to be hard-pressed to be anything more than Sebastian Lite. His "Yes, Your Highness" felt like the lamest moment of the episode – a second-hand imitation of Sebby. Alois, at least, stands out as different. Unlike Ciel he seems to be a genuine psychotic, and more than a little bit of a perv. Homo-eroticism and shotacon were always a subtext with the first series, but with Alois and Claude it's more like the headline. It was fun to see the anime dance around the subject in the first series – if it's played as broadly as it was in episode I, that may grow cumbersome quickly.