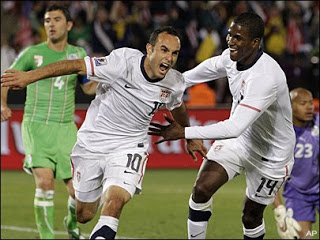 Well, that was quite the day.
I confess to a tear or two when Landon Donovan finally broke through the massive wall of frustration that had stymied US hopes all day. Robbed of yet another legit goal by a terrible call (offsides) the Americans were forced to press the attack relentlessly for the rest of the match, coming close time after time only to see their World Cup future seemingly snuffed out by poor finishing.
I have to give full credit to Bob Bradley and his guys – they may not be the most technically brilliant side, but they have tremendous resilience and guts. It's much more fun for me to root for the USA when they're in the rare underdog role – in hockey, and certainly football. Make no mistake, they deserved to advance – they were robbed by referees against both Slovenia and Algeria, and they clearly dominated the game. Jozy Altidore was a dominant force the entire match, but ironically it was Landon who scored, after having a quiet performance. And let's not forget that the entire sequence was set up by a spectacular throw from Tim Howard. Best of all, by winning the group the US avoided Germany and will face Ghana in the round of 16. We may lose anyway, but I think that's a more realistic opportunity than facing the German side.
A word should also be said for Nicolas Mahut and Jon Isner. 59-59 in the fifth set? How the hell can that happen? The match has been suspended by darkness – twice. The fifth set is already longer than any other entire match. Isner leads in aces – 98-95. I can even imagine how exhausted these poor guys are. Even on grass, the odds against no one breaking through in 118 games must be truly astonishing.