One of the things I wanted to do when I started this blog was add a few wine (and maybe beer and scotch) reviews to the site. I love wine – have since I was a teenager, though I've never been financially able to partake of the upper echelon of the wine world. Once in a blue moon I'll drop $25 bucks on a wine, and slightly more often get a glass of something medium-tier in a restaurant. But generally I'm a $10 and under guy. And since I've given up soda (43g carbs in one can!) and generally drink a glass of wine with dinner now instead, finding drinkable cheap wines has never been more important.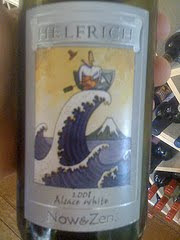 I buy wine a few ways. Trader Joe's is a great source, but generally a crapshoot – they frequently buy overproduction wines and odd lots and stick their own names on them. Sometimes you can find incredible values, and sometimes the wine is total plonk. There's a good website (http://jasonswineblog.com/) to help, but any info on TJ's wines is always helpful in knowing where the treasures are buried – and where the mines are. I also utilize places like Cost Plus and BevMo on occasion, and here in the Bay Area we're blessed with some outstanding high-end wine stores like K & L and Beltramo's that often have good sales. We also have mini-warehouses like Jug Shop and Spencer and Daniel's where you can find true steals. And of course, we're a couple of hours away from multiple wine regions – and tasting rooms can be a great way to discover wines you might not otherwise consider.
But generally, TJ's is my day-in, day-out source. And I wine I've bought many times from them and really enjoyed is white from Alsace called Now & Zen. It runs $4.99 and so falls comfortably under the "everyday wine" threshold. A classic (more or less) Alsatian blend of 29% Pinot Blanc, 25% Sylvaner, 16% Riesling, 15% Muscat, and 15% Gewurztraminer, Now & Zen is an off-dry wine, perfect for summer. I love Asian food and frequently cook it at home, and any dry Gewurtz or Riesling blend is a perfect match for it – or almost any spicy food. There's a lovely floral nose (thank you, Muscat) with sweet notes of citrus and tropical fruits in the foreground. The sweetness gives way to to a crisp, puckery acidity as the lemon-peel and stone elements dominate the mid-palate. And all through the faint spicy notes from the Gewurz and even a a little smoke from the Pinot Blanc add surprising complexity for a cheapie. The finish is tart and clean. This is a real bargain – a great food wine, but with enough character to make a nice sipper in the warm weather. It goes especially well with the Orange Chicken TJ's sells in the freezer section.