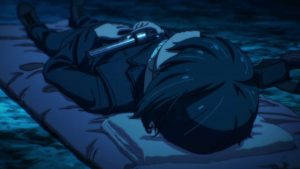 Kino no Tabi is certainly a very familiar name to anime fans of long standing.  It was a highly successful (including as licensed in the West) TV anime almost 15 years ago – and an adaptation of a popular light novel at a time when those were nowhere near as ubiquitous as they are now.  It also spawned several movies.  Now, a decade after its last on-screen appearance, Kino no Tabi is back with what looks like something in-between a reboot and a sequel, a mix of already adapted and new novel material.  Virtually everything about this version is different – cast, main staff, and studio – but the final product isn't as different as one might have expected.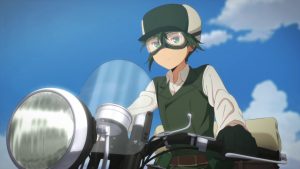 It's been a long time since I've seen any Kino no Tabi, and I was never that much of a fan – I appreciate what it brings, but frankly I never quite got what people were so worked up about.  But from memory, the feel and tone of this version struck me as pretty consistent with the 2003 version.  That was a pretty influential series in my opinion, oft-copied in the years since it aired.  And there can be no question that light novels were something different at the beginning of this century than now, not as driven by formula and raw commercialism.  I may have only mildly bought into Kino no Tabi at the time, but the goal posts have moved enough for me to have a greater appreciation for how much better it was than most of what would follow it.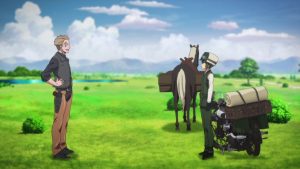 This version of the story (from Lerche) has no small amount of CGI in it, but I think it's pretty well-integrated.  It features Aoi Yuuki (who as an 11 year-old actually had a major role in the original's final episode) as Kino, and as you'd expect she great – Aoi is an incredibly versatile actress and while she's rarely asked to play a sardonic and subdued character like this, she's up to the challenge.  Hermes, the talking "Motorrad", is now played by Soma Saito and he seems fine to me as well. I don't ever remember Kino no Tabi being much for explanations (like what made this world the place it is and why motorcycles and dogs – but not all of them – can talk without anyone blinking an eye) and the 2017 is sticking with that tradition – what you see is just is what it is.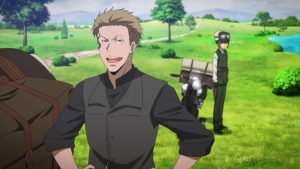 The episodic nature of this series is one of its most distinctive features, with Kino traveling from land to land for three days at a time.  I always found the writing a little pretentious and self-aware to be honest, as if it believed it was deeper than it actually was – and this week's intro chapter isn't immune to that.  The heavy-handed romanticism of an anarchistic country where murder is "not prohibited but not permitted" is more gimmick than serious social exploration, which is about what I felt about most of the setups in the first series.  But the atmospherics are good, and Kino remains an interesting enigma.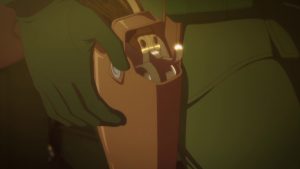 Speaking of which, it's interesting to note that while Kino was intentionally androgynous for most of the original series I'm almost sure she was eventually confirmed as female (it's been a while so I won't swear to it), which would mean either there was a subbing error here or the current version has decided to make Kino male (or at least try and restore the ambiguity).  I'm not sure it really matters much to the story in any practical sense (in fact nothing I remember would lend it any real import at all) but if this was an intentional change the fact that it was made at all is sort of interesting…