That was predictable.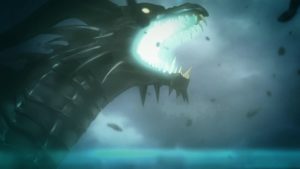 In talking about last week's Made in Abyss, I began by noting that "Sometimes even when you know something is coming, that does nothing to lessen the impact."  Well, this week's Shingeki no Bahamut was sort of that notion's ugly, troglodytic cousin.  Did I know – or at least strongly suspect – that the depressingly banal turn of events we saw this week was likely?  Yes.  Did that make it any less depressingly banal when it actually came to pass?  Not a damn whit.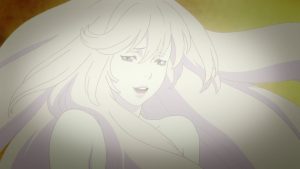 The thing is, this asspull of a redemption for the vile Charioce doesn't come close to explaining away the events of the past 22 episodes – not without considerable further explanation.  But the thing is that even if that explanation was forthcoming, it wouldn't really matter as far as I'm concerned.  Maybe we'll get an answer as to why Charioce engaged on a campaign of genocide and grotesque mockery of all that's decent and remotely human, because "we needed a king with an iron will" sure doesn't explain it.  But even if we get that explanation, so effing what?  I'm tired of people making excuses for fascists in real life, and I'm tired of it in anime.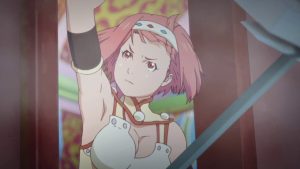 Predictable too was that Bahamut would be coming back – though that's not something I have an issue with, given the title of the franchise.  Does that mean Amira will be back as well?  That we don't yet know, though this development has certainly brought Favaro front and center of the narrative once again.  Of more interest to me was the faceoff between Kaisar and Jeanne, now at the head of a great army comprising humans, demons and angels (there's considerable irony in that).  Kaisar trying to stop Jeanne from marching against Charioice is sort of in character for him, with his relentless romanticism – but it hardly holds water against the practicalities of the moment, even given what Kaisar knew that Jeanne did not (which I don't think really changed anything).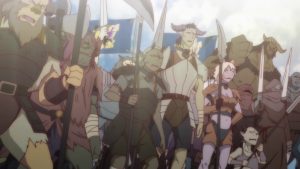 In fact there was really only one sequence in the episode which really had the ring of truth, and that was Jeanne's reaction to Kaisar's efforts to stop her.  It should be obvious to anyone who's been involved with the plot, but what the hell difference does it make whether it was Charioce who specifically ordered El killed by Alessand?  As Jeanne points out the king has been targeting her son for death since the beginning of the series – so how can an intelligent man like Kaisar possibly argue Charioce was "not involved" in the murder?  It's preposterous, and it's like Jeanne was the only one of the main cast thinking clearly this episode.  And for that, I gather we're supposed to judge her to be in the wrong – which place me as wholly out of step with "Virgin Soul" in pretty much every way that matters.