Somehow, I thought we might be getting a royal visit this week…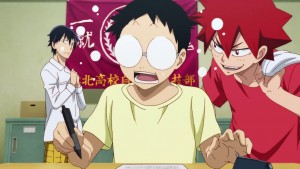 This was very much the episode of Yowamushi Pedal I expected this week.  And as far as I'm concerned, that's absolutely a good thing.  Yowapeda is an old friend at this point, after almost a hundred episodes.  What this series does well is some of the best sports anime in recent years has had to offer, and Sakamichi Onoda is at the very top of that list.  He's been a much less important figure this season than in the first two, and while that's been in the service of some interesting developments for other characters, I do think the show has a whole has missed him at times.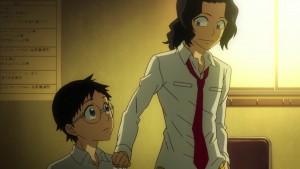 There's a kind of full circle effect to this scenario, which fittingly begins with Ododa-kun writing letters to Makishima (helpfully, Teshima provides him the address).  Onoda has been through this before – he's lost contact with his team and had to fight his way back.  This time around he carries both the benefit and the weight of experience and success – he knows he can do it because he has, but that #1 tag he wears is almost literally a target on his back.  As Teshima tells him, it's no longer about just listening to sempai (though it is ironic that it's a sempai telling him this) – it's about deciding for himself.  In professional grand tours decisions always come from the team car, but on the road things take unpredictable turns and sometimes, chaos reigns supreme.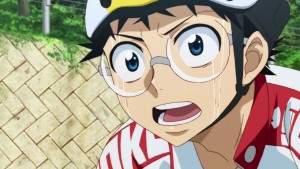 The small fry holding Onoda back are no match for him once he brings "Hime!" out of hibernation – and sadly for them, it's a powered up S2 version with a brand new OP ("The Princess' Spinning One-sided Love").  But Sakamichi is long way from the action by now – even the peloton remains far in front of him.  He is fortunate to run across a team leader who respects his achievements and considers it "ungentlemanly" to hold him back.  Road racing is a gentleman's sport – to an extent.  There are things that it's understood you just don't do. But those rules tend to get relaxed when that chaos begins to assert itself, so good sportsmanship is always a welcome thing.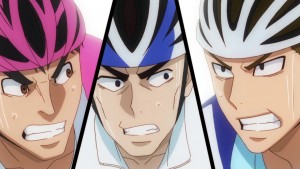 The legend of the "singing climber" precedes him, and Sakamichi gathers the support of the field as he cuts through them like a knife through butter.  However, when Onoda gets to the front of the main pack, that's when the rubber meets the road.  Finally, at long last, Chimera-kun makes his appearance.  And he has his entire squad with him – controlling the peloton but not chasing.  It may be that he's heard what's happened to Onoda, but I suspect Midousuji's plan all along was to keep Kyoto Fushimi out of the early squabbles, saving as much as possible for the main event on day 3.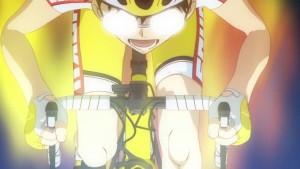 Whatever the case, it's a pretty juicy moment when Onoda catches up to KyoFushi.  He and Midousuji-kun are so delightfully opposite in every way that they have great screen chemistry together.  Midousuji still holds his team under his iron grip, including the third-year Yamaguchi – who's been told by the graduated Ishigaki that he must he Midousuji's "conscience" ("Why do I get the impossible jobs? indeed).  This is an opportunity too great for Chimera-kun to pass up, and like the spider inviting the fly into his parlor, he offers to work together with Onoda to work their way to the leaders. Why, he'll even send Yamaguchi with them to pull.  Their goals are aligned, so why not?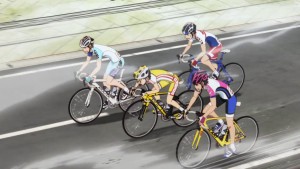 Needless to say, Teshima's advice to trust his instincts means Onoda knows any offer from Midousuji must be a poisoned pill.  The thing is that in traditional cycling races, this is indeed a common practice and a reasonable proposition – riders from different teams work together all the time.  But while working together the two most gifted riders in the field (probably) as these two are could certainly reach the front, would it be worth the cost?  Onoda has already spent a lot of his reserves just to get this far, while Chimera-kun has been taking it easy with his teammates.  Onoda would be unleashing the fox among the chickens if he helped pull Midousuji to the front.  It's not as easy a decision as you might think, but Sakamichi probably makes the right call by declining.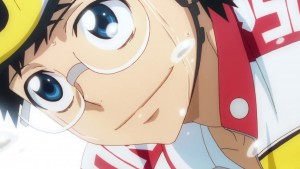 What's interesting is that Midousuji sends Yamaguchi – a sprinter – to try and contain Sakamichi when he breaks for the front.  What's his game here, I wonder?  He surely knows Yamaguchi can't slow Onoda down, so perhaps he's simply sticking to his original strategy and tossing aside his most disposable teammate and letting Onoda tire himself out in a fruitless chase for the mountain stage win.  When Onoda sheds Yamaguchi (after a kind-spirited exchange of words) and catches up to his teammates, Imaizumi has a message – if he's more than 3:30 behind, Onoda is to rest with his team and not chase the front.  But really – does any part of you expect him (or Imaizumi) to follow that order?  What would Princess Petanko say to that?  Wise or unwise, this is simply who Onoda is – there's a peak to bag, and rivals to chase it with.
Petankomake:
End Card: