This is what passes for normalcy in Shingeki no Kyoujin…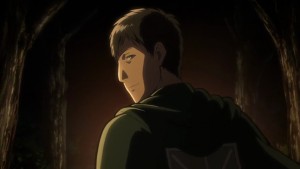 I suppose I have to hand it to Attack on Titan that after thirty episodes of lunacy and not infrequent illogic, it can still surprise me.  And last week's turn of events certainly did – it takes a lot at this point, but AoT pulled it off.  It wasn't the revelation itself (Reiner being a titan?  OK, that was one of many potential twists), but the way it was executed was so utterly whack-a-doodle that all you could do was shake your head and laugh (and rewind a couple of times to make sure you weren't imagining things, of course).  Given a choice I preferred Annie's coming out party – that didn't feel nearly so random and brought a real sense of drama and pathos to the table – but this was, at least, jarring.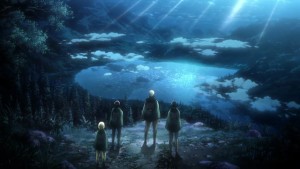 With that in the rear-view mirror, the series was free to more or less return to what it does best – big action set-pieces and breathless insanity of a more expected kind.  I'm still not sure what Reiner did makes any sense unless there's something more to it that we haven't been told (always a possibility with Shingeki no Kyoujin, which left Knox' rules dead by the side of the road long ago), but with this show I don't think it really pays to ask those sorts of questions  You just strap in and enjoy the ride, and don't worry too much about where you're going.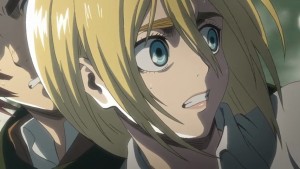 Now that Reiner and Bertolt have revealed themselves, it's time for Eren to do what he does best – growl in outrage and leap in head-first.  Bertolt was never much of a presence but Reiner is missed – he was one of the more coherent and compelling among the cadet corps.  Because everything is personal for Eren, what Reiner's betrayal means strategically is less important than what it means personally.  Mikasa is nothing if not single-minded – she's concerned with saving Eren's hide and nothing else.  Armin as ever is a few paces back, watching what's happening and grinding his gears, trying to figure out what it all means (he seems to have found a natural place at Hange's side, which I think offers some fascinating possibilities).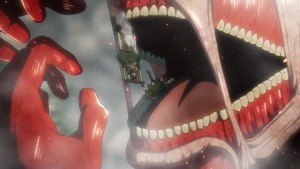 As most of the Survey Corps busies itself in dealing with Bertolt's colossal titan, Eren dives off the wall, changes to titan form and takes on Reiner's armored titan in single combat.  The colossal one definitely has weaknesses – he's as slow as he is huge, and doesn't have the rock-hard protective shell Reiner has.  His secret weapon is steam – Bertolt effectively turns himself into a radiator and makes himself too hot to approach by radiating steam, leaving that portion of the battle at a standstill.  Things are much more dynamic on the ground, as the armored titan is pummelling Eren pretty good and Mikasa is powerless to do anything about it.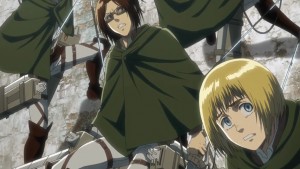 It's interesting that Eren remembers Annie in this moment (did we see that scene originally or is this flashback the first time?).  It must be said, Eren is much more in control of himself this time around driving the monster truck.  And he's right – at least at first glance, it appears the likes of Annie and Reiner made a mistake in helping their fellow cadets as much as they did.  It was all part of the ruse, sure, but that stuff can certainly be turned against you later.  Reiner doesn't want to kill Eren, clearly – his goal is to take Eren and Ymir back to wherever it is they came from.  But Eren maintains enough composure to realize that's the case, and try to respond accordingly.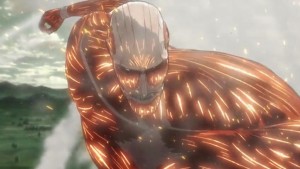 Ultimately, the question must still be answered – what makes people like Reiner and Eren (and Conny's mother) different from normal humans?  Eren's father certainly knew (knows) but he kept that information to himself.  To a certain extent it feels like the rest of this is all just marking time until we get around to addressing that, but the sizzle is at least as important to Shingeki no Kyoujin's success as the steak, and it's episodes like this one that tend to deliver the most sizzle.