Wait – what?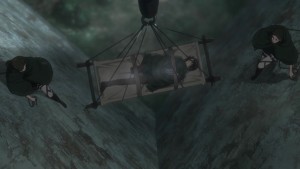 Heh – if you were popping in and out of Attack on Titan, this probably wouldn't have been the episode to skip.  In terms of exposition it gave the impression that this series is very much like a fault zone between two tectonic plates – unless there are occasional smaller quakes to relieve the pressure, it just builds and builds and when it finally goes, you get the big one.  And it certainly was that – though stylistically, it was one of strangest reveals I've ever seen.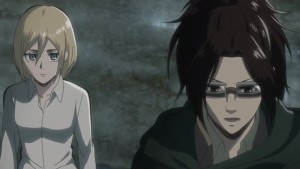 The development itself is straightforward enough, no matter how seismic (and one possibility I'd considered) – Reiner is the armored titan, and Bertholdt is the colossal titan.  But I'm struggling to understand the way it was finally revealed.  My God, it was casual – Reiner just dropped that truth bomb on Eren in the background of the scene, with the camera focused elsewhere.  It was incredibly mater-of-fact, like he was telling Eren what he'd had for lumch that day.  Even Bertholdt looked stunned by the whole thing – which is easily enough explained at least, if he wasn't expecting his friend to choose that moment to come clean.  As for Eren, he just looked sort of dazed – but then, this is Eren…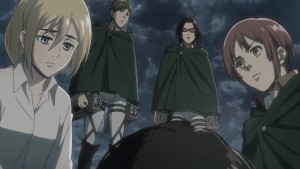 Is there a deeper meaning behind this bizarre staging, or is it just a stylistic choice by Ishiyama and/or Araki?  As best I can make out, it seems as if Reiner just kind of lost it – he reached some kind of breaking point where his old self and his new self were irreconcilable, and he snapped.  I don't think he suspected that Hange knew (or at least strongly suspected) the truth – at least if he did, he gave no indication of it.  I've never really understood Bertholdt's role in the narrative – he's always just sort of stood at the edge of the frame looking uncomfortable.  But Reiner was as solid and grounded figure as this cast offered, so his true identity certainly is a game-changer.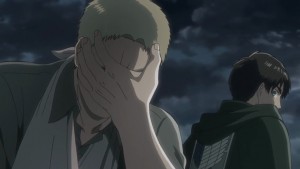 What's also crucial here is of course Reiner's preface to his statement to Eren – "Our mission was to make sure humanity was wiped out".  It's even more inexplicable that he said this just as casually as the rest of it of course, but be that as it may it fits with the larger conspiracy narrative Shingeki no Kyoujin has been laying out.  The real question now, perhaps, is whether the anime is going to complete the reveal – to even suggest otherwise would have seemed ludicrous not that long ago, but if this season tanks on disc as badly as Stalker suggests I guess nothing is impossible. I would think between international licensing, merchandising and miscellaneous extras this is still enough of a cultural institution to generate the revenue for future seasons (frankly, it's already generated enough profit to pay for ten more seasons if they were needed), but it's not the sure thing it once seemed to be.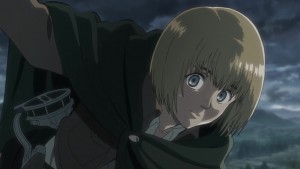 I have to reiterate again just how much the success of Attack on Titan seems to wax and wane depending on which characters it focuses on.  Reiner was one of the good ones, so if he goes the Annie route (gone from the narrative, for the most part) that will be a major loss.  But this show really needs more Armin.  His face is often the most dynamic sight in the series, because it reveals the wheels turning behind it.  In a cast split between characters who are either ignorant and/or stupid and those who know all the secrets, Armin Arlert is the one perfectly placed to be interesting – he knows very little, but he's so smart he's always figuring stuff out…