Phew.
OP:"Imakoko (イマココ)" by Nao Touyama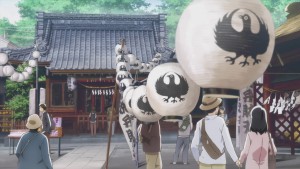 It's been a pretty scary start to Spring 2017, frankly.  Nothing has exceeded expectations so far, and the stuff on the pre-season bubble list has generally ranged from disappointing to awful.  So going into Tsuki ga Kirei I was already pretty worried about this season, and this show was one of those flyers that I had especially high hopes for (though not necessarily expectations).  Unlike Kabukibu! (we'll see) and Sakurada Reset (atrocity) Tsuki isn't a light novel adaptation but an original, so we at least had that going in our favor.  There was a lot riding on this premiere – at least as far as my psyche was concerned.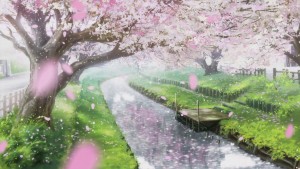 "Sigh of relief" doesn't begin to cover it.  I didn't like Tsuki ga Kirei, I loved it – and as much as I did, I'm totally unsurprised at the generally lukewarm reaction the premiere has received, as you could hardly design an anime more ill-suited to the stylistic fashion of the moment in anime.  Fuck that – people can like what they like, in the end it really doesn't matter apart from the fact that you'd love to see shows like this not tank commercially, so that the industry might be tempted to make more of them.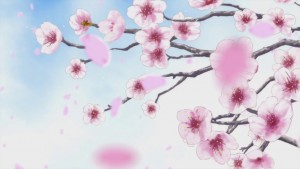 In the first place, let's talk about Kishi Seiji, the director.  He's oft-maligned, and I would argue unfairly.  Sure he's not an auteur who can salvage mediocre material – there's only so much he can do with like the likes of Persona or Danganronpa (no offense).  But when you give him good material, Kishi shines – as he did with Jinrui wa Suitai Shimashita, Kamisama Dolls and – perhaps most relevant to this series – Aura.  There's a broad stylistic range with those shows and that reflects Kishi's versatility as a director.  He doesn't have to do zany and frenetic and action driven – he can do thoughtful and composed too, and Tsuki ga Kirei displays that.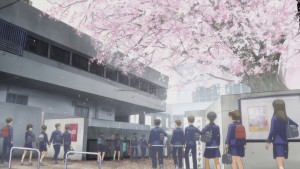 Another point I want to make is that shows about middle schoolers are sadly underrepresented, swamped by anime's obsession with high school.  The same behavior that seems forced or precious with high schoolers can play as totally authentic with junior high kids, because it's age appropriate.  There are plenty of high school characters who act like middle schoolers, but it's rare to see actual middle schoolers portrayed behaving exactly as middle schoolers behave.  This premiere got so many details right – that pit-of-the-stomach discomfort at interaction with the opposite sex, the agony of familial observation on one's personal life, the budding intellectual curiosity.  To me this felt completely true to the setting and the characters, and that's a pretty rare thing in anime these days.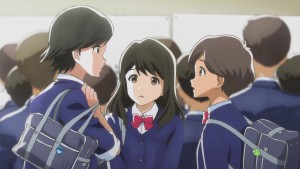 The main players in Tsuki ga Kirei are two ninth-graders – a quiet and bookish boy named Azumi Kotarou (Chiba Shouya) and a shy and timid girl named Mizuno Akane (Ohara Konomi).  He's in the Literature Club and an aspiring writer, she in the track club.  It's fitting that one of the books discussed in the premiere is "Schoolgirl" by Dazai Osamu – a story renowned as authentic to the female perspective despite being written by a man – because Tsuki ga Kirei is clearly both interested in and sensitive to the lives of boys and girls equally.  There are no tropes or anime cliches here – both these kids are believable and relatable, and fully realized characters in a single episode.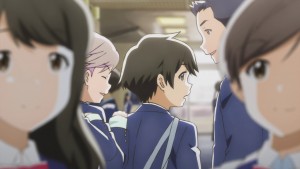 The shyness of these two towards each other isn't overplayed for comic effect, but it's deep and formidable – especially on Akane's part (and she's the one who becomes aware of romantic feelings first).  Through a deliciously awkward (the families sure don't help) chance encounter at a family restaurant to an occasional stolen glance in school to a meeting at-last in the equipment room, Akane and Kotarou are cautious and deliberate to say the least.  He has a friend in the local bookseller, who shares both high and low culture with him (for boys this age, an older friend who shows you cool stuff is a priceless resource).  She relies on her squeeze toy as a stress reliever, desperate to work up the courage to exchange LINE info with Kotarou.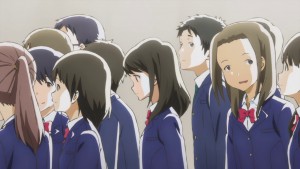 What can I say – all this totally works for me.  The budget isn't immense but I'm a sucker for the watercolor-pastel look Studio feel. employs here, and Iga Takurou's soundtrack is spot-on.  I love the quiet little touches like the way Kotarou switches from soda to iced coffee at the drink bar when Akane walks over, and the unhurried manner in which the series quietly observes the lives of these two children.  Hell, I even love the way the ED animates Kotarou and Akane's hands (and the seasons).  Anime, like all art, is personal – and to be honest you could hardly design an original anime more suited to my tastes than Tsuki ga Kirei.  Originals are always a bit of a lottery ticket in that you never know if the story has legs, but there's such a strong sense that this one is going to be treated with dignity and restraint that it's hard not to feel optimistic.  It's the best new series of the season thus far, that's for damn sure.
ED: "Tsuki ga Kirei (月がきれい)" by Nao Touyama