Who's up for a series that's nothing but Ishida Akira performing the classics of rakugo for 12 episodes? Why not 26?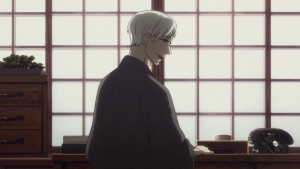 The really hard part with Shouwa Genroku Rakugo Shinjuu at this point is figuring out which element to single out for superlatives first.  It's pretty rare to see a series that has every element firing this superbly – the direction, the acting, the art and music, and of course the writing.  And in this episode we saw all of it on glorious display, each aspect showing at its very best.  Shouwa Genroku has been on a hugely impressive run for a while now, but these last couple of episodes have been truly special.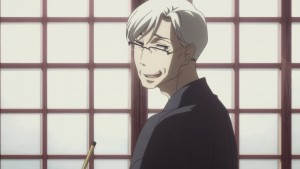 One thing that really stands out for me is just how tonally different last week's masterpiece and this one were.  Episode 4 was a celebration of gentleness and love and hope for the future, all epitomized in the beautiful visage of Shinnosuke.  This week was sinister and dark and full of foreboding, and in its final act genuinely quite terrifying.  Nothing can brighten the universe like the innocent happiness of a child we care about, but in this series the past and the future are never truly separated.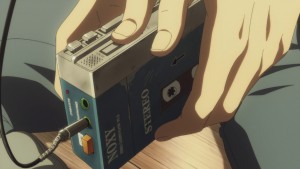 When we look at the face of a child we understand, on some level, that this small being will one day grow old and die – and in the process, we realize that we'll probably die before he does.  A reminder of hope and potential is at the same time a reminder of mortality and hopelessness. That, I think, lies at the heart of storytelling and has since man sat around fires and told stories to ward off the terrors of the darkness.  I don't think it's any coincidence that so many fairy tales are grisly cautionary warnings about that which can kill us, and I don't think it's any more a coincidence that so many rakugo stories are about men in the pursuit of sex.  The older we get, the more desperate we are to prove (to ourselves) that we're alive.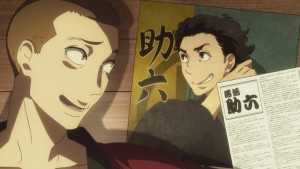 Things start off brightly enough this week.  Yakumo informs Yotarou that he's accepted a family performance at the Kabuki-za, the magnificent theatre in Ginza that hosts elite kabuki and (occasionally) rakugo performances, in two months time.  It seats nearly 2,000 people so a rakugo here is a huge deal indeed, even with Yotarou's popularity at an all-time high. Rumors are flying everywhere – of Yakumo's failing health, and of Yotarou's repeated visits to the red-light district.  I didn't feel especially angry to hear of those – there's no sign that Yotarou and Konatsu have any physical intimacy in their relationship after all (it's striking that he still calls her "Ane-san").  But the master is concerned with the propriety of rakugo – which is why Yota has to admit the truth, that he's been visiting not to satisfy carnal desires, but to finish the koi tattoo on his back.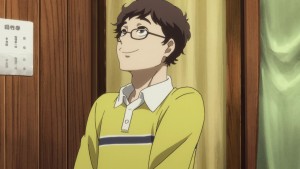 One mustn't get too hung up in symbolism, even (or perhaps especially) in a story as pregnant with it as Shouwa Genroku.  But this is obviously a significant exchange, above and beyond Yotarou's declaration that he "doesn't like leaving things half-finished".  That's a part of it, but mostly I think this symbolises the degree to which Yotarou accepts who he is rather than try to escape from it.  Like everything in this story, this is complicated.  Yota's acceptance of himself with all his faults is admirable, but it's also something that would be impossible for a man with a larger ego.  In a sense, it can be argued that it reflects a lack of self-worth – too much willingness to be the person others see him as, and that he sees in himself.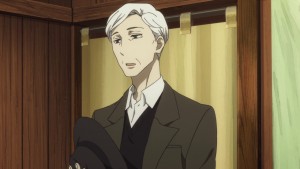 All this ties in to "Inokori Saheji", which is being built up as the crucible for Yotarou's character.  Master is firm in his belief that it must reflect the projected soul of the storyteller, but Yotarou (as he says) loves rakugo and the characters be portrays more than himself.  I have my doubts about Hii-sensei, but I think his instincts are right in nudging Yota in another direction – rather than project himself into Saheji, embody Saheji in a way none of the other rakugo masters on the tapes Higuchi does.  Their gift is their personality – they discover their true rakugo when they imbue Saheji with it.  But Yotarou's gift is his lack of ego – he can surrender himself to a character without coloring the picture with his own tones.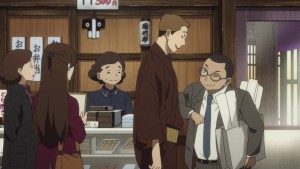 Are these two different methods to the same end – triumphant storytelling – or is Yota pursuing a shortcut, a cheat?  I don't know the answer – and I don't know if he can ever find "his rakugo" if he follows this path.  But then – who's to say he has to?  Perhaps Yotarou's rakugo is rakugo, plain and simple, and perhaps that's how he can help rakugo survive.  If his genius is the medium itself, surely it doesn't need to die with him – not if what his audience loves isn't Yotarou, but the works he performs.  In any event I'm not sure Yota could ever have gotten where he needed to get to in order to perform "Inokori" following Yakumo's path, so however you judge Higuchi's, in practical terms it may have been the only realistic course.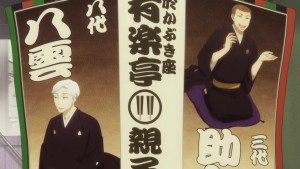 All this builds, as it so often does in this show, to the stage – the performance at Kabuki-za.  Yotarou begins the evening with a comedic tale "Nishiki no Kesa", and then Yakumo takes the stage to perform "Hangon-ko" – this to be followed by Yotarou's "Inokori" and finally Yakumo's "Shinagawa Shinjuu" (alarm bells should be going "Kong!" there). Clearly the drama should be in the second act of this show – the much built-up blossoming of Yotarou's "own" rakugo, followed by Yakumo reliving the performance which marked his awakening as a storyteller – and which so echoes the real-life events at the heart of this series.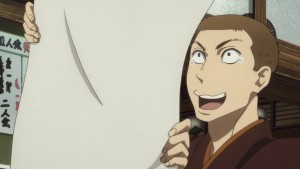 But fate has other plans, and Yakumo's "Hangon-ko" is yet another utterly unforgettable rakugo sequence in "Rakugo".  The old man has asked Konatsu to burn incense during his performance, telling him "You'll know the right moment." This is a tale of a monk who burns a special incense which allows him to see the spirit of his dead wife, and there can be no question what's on Yakumo's mind as he makes this request.  It might perhaps surprise some viewers that it's Miyokich that materializes from the smoke during the performance, but that Kikuhiko might have loved one of his principal foils in the drama of the first season doesn't mean he couldn't love both of them.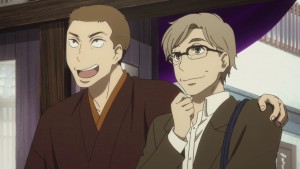 This is a moment of consummate drama, starting with Yakumo's astonishing performance building up to it.  He's old and weak, but Kikuhiko is still the master of the rakugo stage – when he kneels on the cushion and grasps his fan, he's in complete control of the theatre and everyone in it.  So to see him break down as he did here is truly unsettling on a visceral level – one can only appreciate the degree to which the old master is unmade by the visions he sees in the smoke.  And when Shin does appear at last, he finally speaks – and his words and deeds give one the impression that he's here to usher Bon into the next world, though which world that is Kikuhiko is quite unsure about.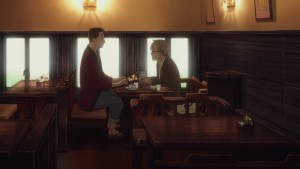 That's enough windbaggery, surely, but I'll wrap with this – that entire final scene was brilliant on a level few anime will ever reach.  I've heaped ample praise on Ishida's performance here already, but he's just so damn good – so much depth, so much range.  And the way Hatakeyama frames the shots, both real and "imagined" – the reflections, the candles, the close-ups and perspective shots – well, it's truly magnificent.  That anime is still capable of producing material like this in February of 2017 is the reason I haven't totally given up hope on it, despite a sickening acceleration of the cynicism and pandering that are the staple of the schedule these days.  I don't know if we'll see its like again – it would be foolish to assume, given the overall direction of the medium.  But knowing what anime can be, when talented people like the ones behind this series are given the freedom to express their brilliance, it would be even more foolish to give up hope.