One thing about Yowapeda freaks – they're super-freaky.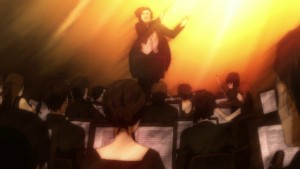 Another season, another outrageous supporting character.  I remember many years ago (before my time, but the internet lives forever) the great Andy Kaufman did a sketch where he played a talk show host whose desk was about 20 feet above his guests – a riff on Johnny Carson's desk being slightly higher than the chair and couch for his guests (and Ed) on the old Tonight Show.  Well, that's what I thought of as soon as I saw Ashikita Takuto riding next to his fellow climbers in the Minegeyama Hillclimb – "Andy Kaufman would have been proud".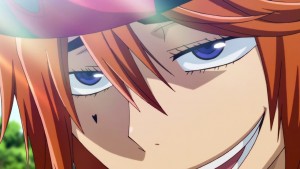 Without a doubt, Watanabe-sensei never skimps on the quirks – everyone in his cast is an oddball in a wide range from offbeat to utterly bizarre.  It would be hard to ever top Midousuji in that department of course – when he was first introduced I thought he was too weird for the premise, something that fell out of "Chimera Ant".  But he grew on me, because Yowamushi Pedal has a way of humanizing all these oddballs, and became one of my favorite characters in "Grande Road".  And Ashikita has nowhere near as long a road back from the desert of  bizarreness as Midousuji-kun.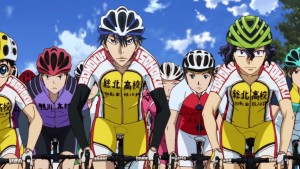 The Minageyama is the first real competition of the season, of course, and as such it has an important role to play in stage-setting.  This being a hillclimb the sprinters (Naruko and Aoyagi – plus an experienced cyclist) are sitting it out in the team car, leaving the racing to Onoda, Imaizumi and the captain.  One change from the first season – the Sohoku diaper dandies now have groupies (hey, that's a slice of real life right there), though it's Imaizumi who seems to have the most.  Neither he nor Onoda are comfortable with this sort of thing, obviously, but if Teshima is jealous he does a good job of disguising it.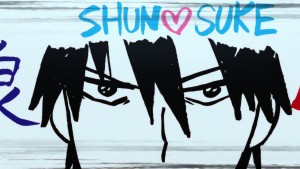 At some point in this race you know Ashikita is going to formally introduce himself to the Sohoku team (or re-introduce, as the case may be), and he has no trouble riding to the front with his crazy metronome dancing (why does everyone seem so wigged out when Maki-chan does almost the same thing?).  While no Chimera cyclist he is odd in ways apart from his great height – he listens to Beethoven in his head as he rides, for example.  And we can see from flashbacks that was always a big music fan (long fingers – sorry, Mr. President – are great for the piano).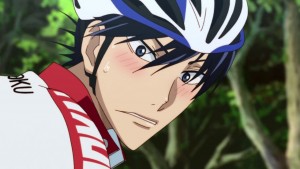 Ashikita was apparently very close with Teshima in middle school, and even before by the looks of things.  It was Teshima that got him into riding – and given that Ashikita so clearly surpasses him in talent, that's another theoretical reason for Teshima to be resentful.  Ashikita doesn't seem like a bad kid at all, and his mangled attempts at introducing himself to Onoda and Imaizumi with panache are the most hilarious moment of the season so far.  But he's here to win, and seems to have the ability to back it up.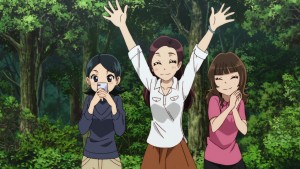 Clearly, Teshima struggling with his own mediocrity (though I'm skeptical he won't surpass himself) is a major theme of "New Generation".  He has lots of reasons to think dark thoughts, but for now he's able to focus on being an inspiration rather than an ace.  He does the job of a proper domestique here – he reels in Ashikita's breakaway and tries to tire him out while preserving his aces behind him.  As a bonus seeing the "average" Teshima ride so bravely inspires the freshman aces – and as we know, Onoda has been in a hell of a funk and needs some inspiring.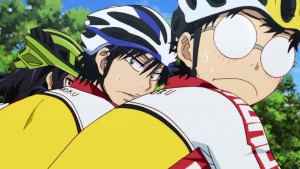 It works for now – but will  Teshima be happy playing this role forever?  Maybe he will, and it's certainly true that the most important thing for Sohoku right now is for Onoda to get the fire in his belly again and ride like the tireless terrier he was.  Even Imaizumi – likewise amped up from Teshima's example and ready to rumble – steps aside to let Onoda take the bit in his teeth and charge (partly because Teshima told him this might happen).  Presumably this hillclimb is going to come down to a battle between Onoda and Ashikita, as Teshima is surely spent.  It's early days, but this is a pretty important moment for Onoda.  He's an elite now – how comfortable is he going to be riding with that champion's jersey on his back?
Omake: