Is it just me, or is that child kind of terrifying?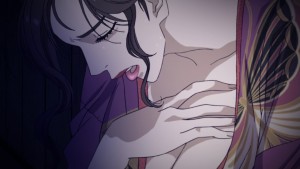 I found this episode of Onihei to be a fair bit better than the premiere, which was by no means bad.  If indeed this is going to be a serial style of narrative, with individual crime stories every week, pacing like we saw here works much better than the runaway locomotive we got in the first episode.  I would also note that that visuals were substantially better this week – which is very odd, since second eps are almost never budgeted higher than premieres.  The backgrounds were really lovely, the characters more on-model, and the animation generally more fluid.  Go figure.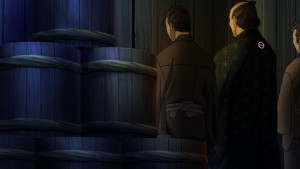 In essence, Onihei is a jidaigeki that just happens to be animated, right down to the instrumental OP and the Enka ED.  I get pretty pissed off when a non-anime person complains "why does this even need to be animated?" about a show with no giant robots or dragons, but rarely do you see anime so precisely mirror the form and function of live J-drama.  Fortunately it maintains a relatively restrained dramatic sensibility by the standards of Japanese historical dramas, and that's what makes it work for me when those dramas generally don't.  That and the fact that these Edo scenes are more beautiful in the hands of M2's artists than they are when comprised of sets on a giant lot in the North of Kyoto.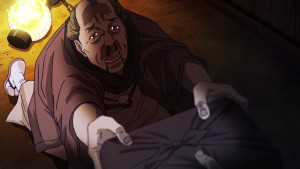 This week's serial involves a gang of ronin in Heizou's old stomping grounds who are terrorizing the local populace, effecting acting like Yakuza.  Much of the episode is flashback, showing us scenes of Heizou's time learning swordsmanship at a dojo in a local estate.  His best friend there is Kishii Samanosuke (Tanaka Hideyuki).  Both of them are sweet on the beautiful Ofusa (Hayashibara Megumi), daughter of the estate's owner, and they make a pact that if either of them makes a move on her, the other will kill them.  Eventually Ofusa is married off to a local merchant, and it becomes clear that Sama (still unmarried and childless) was the one who truly loved her.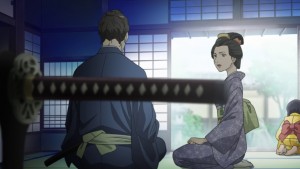 When Heizou returns to investigate the ronin, he and Sama meet and rekindle their friendship.  Sadly for both of them, Ofusa is involved too – she's the "wife" of the ringleader, and assists him in grifting the locals.  One of the real joys of watching this play out is listening to great seiyuu like these – that Hayashibara is superb is a given, but while he's not as widely-known Tanaka is equally great – one of those actors who commands the screen every time his character speaks.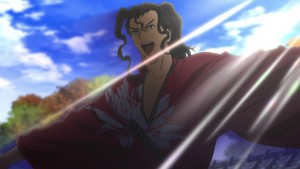 This is a fated tragedy, no doubt – Ofusa had her reasons for what she did, but the law is the law and Heizou isn't the sort to flaunt it for personal reasons (and likely wouldn't have the authority to in this case anyway).  But an old friendship is reborn, and in general the story is more compelling than the one in the premiere because it's given sufficient time to unspool itself.  I'm not sure how much of a market there is for pure historical drama that offers no anime tropes whatsoever, but Onihei definitely walks the walk – it delivers the whole package, and it's proving itself very adept at conjuring the atmosphere of old Edo.