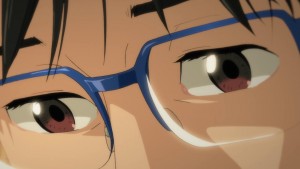 I enjoy twitter, most of the time anyway.  But one thing I've definitely noticed over my time in that world is that it's an absolute minefield for two things – anime spoilers and sports results.  Goc help you if you DVR a live event and forget to avoid your twitter feed, because it's a sure bet you'll know the result without ever turning on your TV.  And as for anime spoilers, I'm sure I don't need to elaborate on that here.  That made today a double-whammy twitter day, because Yuri!!! on Ice (like any good sports anime) combines the worst of those two problems.  I just avoided the place all day, but in the end if I had seen the results of the Grand Prix Final, I don't think I would have been much surprised.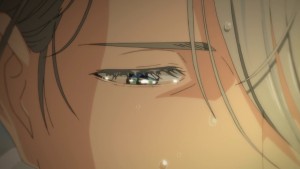 I wonder if Yuri!!! on Ice might be the TV anime that's had the biggest mainstream crossover since Shingeki no Kyoujin.  It might well be, especially in the West, and that's because many in the figure skating world have embraced YoI in a big way.  For the finale, the show added Stephane Lambiel for some verisimilitude – he's the Swiss skater-turned-coach who joined the "broadcast" of the final event on Japanese TV.  Lambiel also happens to be the coach of Deniss Vasiljevs, the 17 year-old Latvian rising star who's made his appreciation for Yuri!!! on Ice known on twitter. And so the circle closes.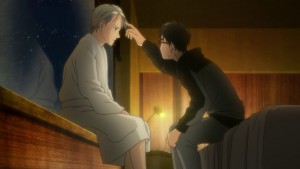 There was always going to be a lot of drama in this final episode built around the free skate, but it did face an interesting narrative quirk.  With Yuri in fourth place, the rules are the rules – if Yuri!!! on Ice was going to maintain any semblance of realism Yuri had to skate third.  That meant there would be three skaters after him, which begs the question of whether it would be possible or advisable for Yuri's program to be the dramatic high-point of the episode.  In skating terms I'd argue it was, and I'd also argue that it did rob the episode of a bit of its narrative momentum.  Once Yuri had skated flawlessly, it was always going to come down to he and Yurio – which rendered Chris and Otabek's free skate largely anti-climactic.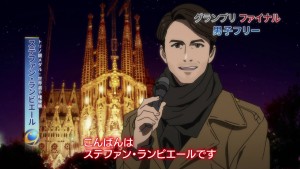 That's not to say the other skaters didn't have their moment – they did.  But most of the time and (clearly) most of the budget was spent on the two Yuris.  J.J. started it off, and as I've come to rather like him I was pleased to see he got the chance to redeem himself a little (as well as show off his Eric Cartman outfit – a last-minute returned homage?).  He missed the start of his music and mildly muffed one jump, but gathered himself and did what J.J. does – skated easily the most difficult program in the division and suck up points.  That's J.J. Style!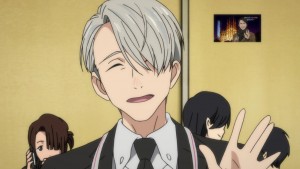 Phichit was never going to beat that score even if he skated perfectly (and he did) but then, this was obviously never really about scoring for Phichit.  He was there to entertain the crowd and make a statement on behalf of his country, and he did those things very well. It says something about him that his dream wasn't to win the Grand Prix or Olympic gold, but to create a "Phichit on Ice" show – clearly to showcase Thai culture.  He's a sweet kid, but if anyone was ever a winner just by being in the competition, it was Phichit in the Grand Prix Final.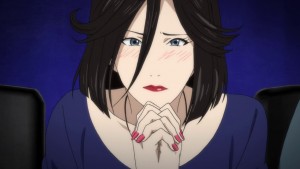 So, then – Yuri.  This was the Yuri I've come to enjoy as a skater, the guy who has a swan-like regality and contained athleticism that makes him seem different than all the other skaters.  His step sequences have always been more graceful than anyone else's, but this time around he finally embraced the moment instead of running away from it.  He nailed every one of his jumps, even changing a couple of them (including adding Viktor's signature Quadruple Flip as the cherry on top).  It was a beautiful and refined program animated beautifully (though a few sequences were looped, and I don't mean a triple-toe) and it broke Viktor's free skate record (his short program record having already fallen to Yurio).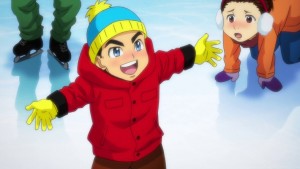 I'll get to the narrative dynamics of Yuri's performance in a sec, but let's finish with the actual skating.  Otabek was obviously the odd man out due to dramatic imperative, and that's a shame because he may be my favorite skater in the cast now when it comes to the actual skating. He's embraced his culture as Phichit has, but there's a passion and elegance to his skating that Phichit lacks.  It's a shame that after he skates almost flawlessly Otabek misses the podium, but that happens a lot in figure skating – difficulty is a huge factor in scoring, and guys like Otabek and Phichit have huge hurdles to overcome before they ever take the ice.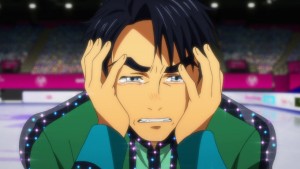 Our little Yurio took the ice in skates with lightning bolts on them (of course he did), and proceeded to prove that it wasn't ostentatious.  He did stumble out of one quad but skated a hellishly difficult program perfectly the rest of the way.  Yurio doesn't just land jumps, he lands them with more difficulty than the others.  In the old days when "Artistic Impression" was a formal part of the judging, I suspect Yurio would have suffered from his relative lack of, well- artistic impression.  But he did just enough – and I mean just enough –  to win the gold.  Yuri takes silver, and J.J. sneaks onto the podium for the bronze.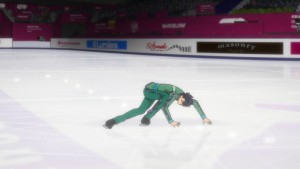 I said earlier that it would have been kind of a cop-out for Yuri to win, because I didn't think that's what his arc was really about.  But there was a more direct reason why he shouldn't win, because that would have deprived him of the motivation to keep skating.  I was fine with Viktor coming back or not coming back – what more did he have to prove, really?  But I suppose the Yuris breaking his world records is a motivator, and for Yuri, skating his best and being true to himself but still coming up short was what really needed to happen to give his arc closure.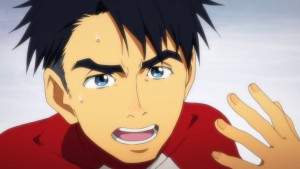 I'm generally pretty satisfied with how things were left here.  Yuri will soldier on (perhaps going back to his old coach), and Viktor will come back to challenge the two students who threw down the gauntlet.  That works for practical reasons (more on that shortly) but also narrative ones.  I think Viktor and Yuri as coach and student had run its course (I think Viktor knew this too), but Viktor and Yuri as a couple certainly has not.  It speaks to the fantastical nature of the world Kubo-sensei has created that the two of them could skate as a pair in the exhibition – both the world at large and the world of figure skating are still far too bigoted for that to happen without causing a huge scandal.  But it's nice that it can happen somewhere – I mean, better in an anime than nowhere at all.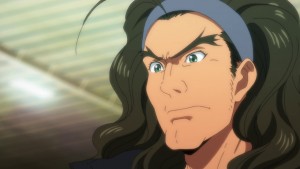 So then, will there be a second season?  I'll take Kubo at her word when she says she and Yamamoto conceived Yuri!!! on Ice as a one-shot, but I don't think either of them expected it to be the (likely) monster commercial success and pop cultural phenomenon it is.  Plans change – and if indeed those two want to do a sequel, they've certainly left the story in a fine place to pursue it.  The Olympics?  The World Championships?  Yuri and Viktor's wedding?  Yurio struggling with being on top of the sport?  It's a world of possibilities, and there's no inherent reason why a second season couldn't work just fine.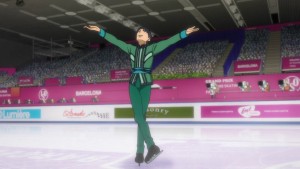 I won't say Yuri!!! on Ice came as a total surprise to me, because it came from a strong studio and featured a talented director (albeit one I sometimes don't care for) and staff.  But no doubt about it, Yamamoto-sensei stepped up with her best work here.  The infectious love she and Kubo share for skating was obvious, and YoI's depiction of a kind of idealized world of tolerance took on a real charm.  And of course, the ground Yuri!!! on Ice broke in showing a gay male couple courting in a matter-of-fact  and non-exploitative way can't be overstated – that was a very big deal.  In was a fun, goofy and sometimes thrilling ride, and if the train comes around again I'll be happy to hop on-board.