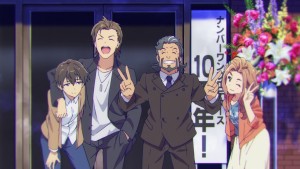 A question I found myself asking a few times during this episode is this: has Girlish Number sold out?  I don't deny this is a low-tolerance area for me, and I've certainly commented ad nauseam about how pulling its punches would be a death knell for this series.  But the honest answer for me is no, it hasn't – with the caveat that next week is the finale, not this, and we don't know what the hell any show is going to do in its last episode until it happens (especially an adaptation of an ongoing source material).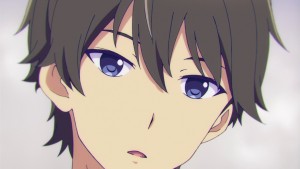 Rather, here's how I see it.  Girlish Number (in anime form anyway – I can't speak to the source material) simply proved itself to have a somewhat different focus than it initially appeared.  Along the way, it also proved itself to be a far more compelling character story that I thought it would.  That's in part because of the strong showings by the supporting cast (led by but not limited to Momoka), but just as much because of Chitose.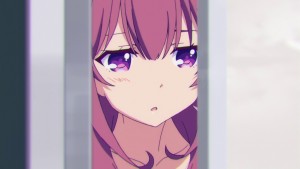 I admit it – I was wrong in calling Momoka the false main character here, but Chii-sama is indeed the main character.  If Girlish Number had been the show I thought it was – one primarily concerned with being an expose on the modern anime industry – Momoka would by necessity have been the de facto MC.  No one else was in a position to offer the perspective she did, and certainly not Chitose.  But because G;N turned out to be a character drama at least as much as a social commentary, Chitose was more than up to the challenge.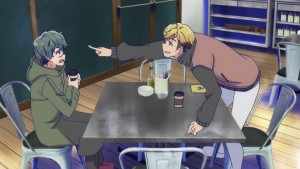 What I appreciate about Chitose – what for me gives off some of the same "dark moe" vibe as Tomoko from Watamote – is how real she is.  She's deeply flawed (though obviously in a totally different way than Tomoko), but who are any of us to judge someone for having flaws?  All of her friends and her brother go around in circles trying to describe her flaws in words, but basically she's just a weak person with one particular strength.  She's not exceptionally smart, talented, or driven.  She craves attention, and jealously even more so when it's focused on others.  She can't be bothered to do more than she's in the mood to do for the sake of others – she's solely driven by what she wants for herself.  As flaws go, those are no small blemishes.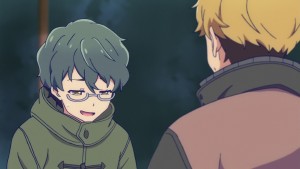 Given all that, seeing her downward spiral in the last two episodes has been rather impacting.  Maybe it would be the best for everyone if Chitose did give it up – this is a brutal industry and she's no prodigy – but why do I so badly want to not see that happen?  Why do Momoka and Kazuha, and Yae and Koto?  There's something irrepressibly straightforward about Chitose – what Yae calls "dumb" but doesn't exactly mean that way.  Almost all of us want to be liked – we're just not all as transparent about it as Chitose.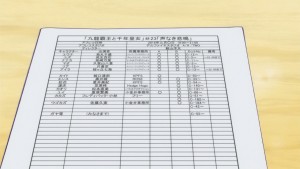 It's funny that it was Yae that finally called out what Chitose really needed to bust her out of her funk. I rather expected it to be Momoka who spoke with Goujou-kun, and part of me suspected that Yae did indeed have a "black heart".  But Goujou didn't need to be told, really – he just needed to be shamed into doing what he knew he had to.  Chitose's love and respect for her brother is very real, and thus his obvious disapproval of her (and let's be honest, he always makes it obvious) hits her incredibly hard.  Like so many superficially confident people Chii-chan is riddled with self-doubt, and Yae's right – coming from almost anyone else, words of encouragement would have been cheap.  But not from Goujou.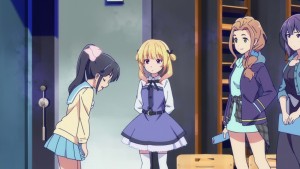 We still don't know what really happened with Goujou – Koto presumably does, as it turns out she was his classmate.  Maybe we'll find out in the final ep, maybe not.  The personal side of this story and the critical side can certainly be brought together with a strong finale – Chitose's lament about what it means to be new and then be yesterday's news is an obvious theme to build around.  I suspect it'll be more focused around Chitose's resurgence and that's fine, but a lot of damage could still be done if Girlish Number goes too far towards an idealistic conclusion.  So far it's managed to strike a near-perfect balance between grim realism and guarded optimism, so here's hoping it can balance on the high-wire for one more week.