Girlish Number certainly knows how to expose the dark, lonely corners of the human soul.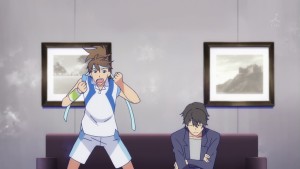 It's ironic that a new season of Wake Up, Girls! was announced on the release day of a new Girlish Number.  Setting aside the fact that anime is so creatively bankrupt that it will even fund sequels to idol shows that failed rather than try something new, there's this: G;N is everything WUG briefly pretended to be, but isn't.  It's what happens when you have the courage (or just don't give a shit) to call a spade a spade, rather than be a transparent attempt to cash in on a trend under the thinnest veneer of satire.  I suspect the fact that Girlish Number is Watari's "B" series is the reason why – he doesn't really care if it makes money or not (unlike Oregairu, his meal ticket) while Yamakan still has designs on salvaging his career.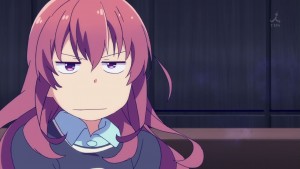 G;N has done something very important over the past few episodes – it's made me sympathetic towards Chitose.  I never disliked her – not the way I do Kuzu-P.  She was always annoying, but there was never really any malice in her.  What's become clear over the past few episodes is twofold – first, that Chitose is aware of her own shortcomings (and yes, bothered by them).  And second, that she has an ambition to try and be something more – but like so many of us, she can't find the reserves of fortitude to make it happen (even if her talent is sufficient, which is very much an open question).  That goes a long way towards making her a relatable main character (though I'm not convinced she is the main character)  She's almost taken on a sort of Kuroki Tomoko dark moe vibe.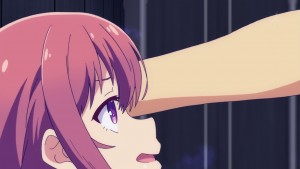 Girlish Number is very good at bringing us incredibly annoying charas though – and it's a miracle that it keeps throwing them at us and remains so watchable.  The reason of course is that these people are supposed to be annoying – they're caricatures of people in the industry that Watari has crossed paths with.  Nanami is absolutely insufferable – and that's coming from someone who believes she's genuine and not faking it (at least mostly).  I don't care if she's really that hard-working and genki – I still want to pack her in a shipping crate and put her on the next unmanned rocket to the I.S.S..  Her role in forcing Chitose to confront her own shortcomings is a vital one, though – that, and the faultlines she's exposed at the agency.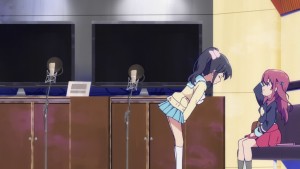 Then we have Matsuoka (Matsuoka Yoshitsugu – ironically) the insufferable boor chosen to be Chitose's "sub-manager".  He's a caricature if there ever was one – though maybe there are those in his position who dress like tennis instructors, I don't know.  I've never been a fan of that sort of leadership style because it's not leadership – it's just bullying with a smile, an ego trip that's not really about the person you're purporting to help.  Matsuoka is also exactly the wrong sort of manager for Chitose, who doesn't need to have her nose rubbed in her own failures like a puppy forced to sniff its own accidents on the carpet.  She knows, dammit – that's the whole point.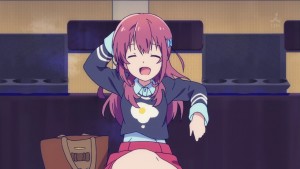 Ultimately, the grim tale of Girlish Number leads back to Goujou and Chitose and their dysfunctional co-dependence.  This is an area where G;N really excels, because Watari is an expert at laying bare the fears and insecurities of his characters (it shows through even in the deeply flawed Oregairu), and the anime does so beautifully using body language and sidelong glances.  The really sad thing here is that Chitose deeply admires Goujou and wants to understand why he made the choices he did, and Goujou wants to protect his sister and feels he can guide her career in ways no one else could.  And of course they love each other in that complicated way siblings do.  But they just can't connect – there's too much static on the line.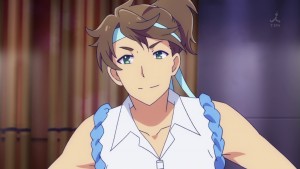 We don't yet know the full details of Goujou's exit from acting, but I think the question his experience – and Chitose's, too – is asking is this: is it worth it?  I mean, given what one has to do to succeed as a seiyuu these days, given the deplorable state of the industry, is this goal even worth pursuing?  It didn't make Goujou happy, clearly, and it doesn't seem to be making Chitose happy either.  And to be blunt, it seems to me that she's simply not cut out for this.  She's not that good at it, and she's not naturally inclined to bust her ass or to kiss other people's, both of which are pretty much necessities in the seiyuu industry these days (if you don't have nepotism on your side, anyway – and even then, it doesn't hurt).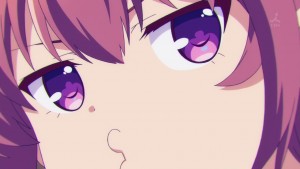 There would be no shame in Chitose admitting that this life just isn't for her, and doing something else.  But I think she doesn't want to, partly because she loves the idea of being a seiyuu/idol (if there's a difference anymore) but mostly because she doesn't want to disappoint Goujou and follow in his failed (as she sees it) path. Maybe that's also the reason he doesn't encourage her to do just that. But the even larger question G;N dances around the edges of is whether or not any of this is worth it – if this is what anime is in 2016, how hard should we really be fighting to keep it alive?  I don't expect Watari will ever ask that question outright (certainly not in the anime), but it's remarkable enough that he's willing even to suggest at it.