"Hello, Yamamoto-san?  I have an idea for next year's NoitaminA block."

"Oh?  Let's hear it."

"Well – it's based on a book.  And it's already been an award-winning movie."

"Wow – sounds great.  What's it about?"

"It's a thriller about compiling a dictionary.  It's- Hello?  Are you still there?"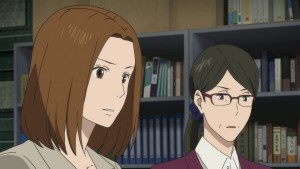 The new NoitaminA announcements came out today, taking us through the beginning of 2018.  And it pretty much confirms that they've packed it in on the whole "expand the audience and take risks" thing.  First we havre the Kaji Yuuki star vehicle "It's Nothing Like Free!, Stop Saying That", followed by "That Seinen Nobody Thinks is Actually That Good."  Finally it's "Season 2 of the Zombie Show That Never Should Have Been on NoitaminA and Made No Sense, But Was Popular".  It seems a fitting exclamation point on the death sentence for 2017 in anime.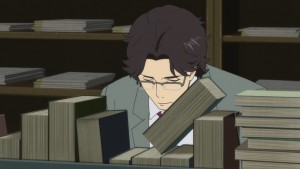 The thing is, if Fune wo Amu is indeed the last hurrah of the old, "art for art's sake" NoitaminA, at least they picked a perversely uncommercial lead balloon to go out on.  If you'd told me you could make a genuinely exciting series about compiling a dictionary, I'd have said you were crazy.  I'm vastly more geeky and esoteric than 90% of the population, I'd bet, and I find dictionaries pretty boring.  For most people (even those that love books) dictionaries are things we take for granted almost as much as air.  Yeah we need them sometimes (even if they're now mostly online) but why would we ever want to think about them?
Who'd have thought two of the shows I'd be most vested in this season would be about dictionary writing and figure skating?  God bless writers (and producers) who take chances.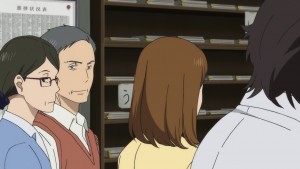 It's not really a surprise that The Great Passage would be going over rather wistful and emotional as we reach the endgame, but what is surprising is that it's also become genuinely suspenseful.  This has become a race against the clock, of course – Matsumoto-sensei is clearly running out of time (the hints have not been subtle) and the disaster of the missing word is a huge  setback for the process.  Majime decides that the entire 4th revision has to start over, which means every word has to be cross-checked to make sure it's present.  And that means hiring a team of young temps to do marathon sessions helping out (did Genbu really pony up the dough for that?).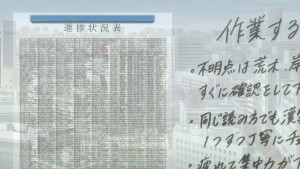 As with so much of the dictionary process, Fune wo Amu really makes one stop and think about things that never crossed the mind before (like why drawings are better for dictionaries than photographs). A missing word – when you do think about it, for a dictionary writer that's an epic disaster.  What happens to your credibility if you go to print missing a word (and someone will surely notice sooner or later)?  Not knowing how it happened, you'd have no choice what to do what Majime did here, because you can't rule out some systematic flaw in the process that might have led to other omissions.  It's a catastrophe under any circumstances – but under these…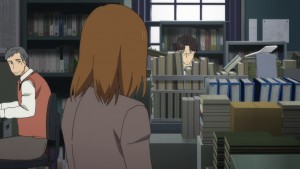 Things have gone from bad to worse with Matsumoto, who's hospitalized just when the arduous cross-checking marathon has begun.  As Majime says, he wouldn't be surprised if Matsumoto was 90 years old – or 68.  Whatever age he is he's running down, and it's very much a dicey proposition whether he's going to live to see "The Great Passage" come to fruition.  This is a labor of love for him, but not just that – it's his labor of love.  He was the one who brought these people together, and to a very real extent it's their love for him that's driven them to work so hard to try and get the book published as quickly as possible.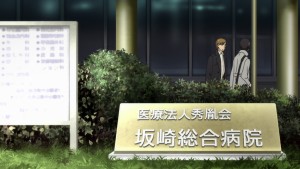 There are lots of really nice little touches in this episode.  I loved the way the passion of the team rubbed off on the bewildered and exhausted Millennials drafted to save the day, and the tie-in of the dictionary omakes to the story (the little blue one, Kai, turns out to be the mascot Nishioka creates for "The Great Passage"), and the nautical design of the book jacket.  I also really enjoyed the quiet little scenes with Majime and Kaguya, (might she be pregnant?) which shows both the sacrifices Majime is making for this project, and the understanding nature of his wife in realizing its importance to him.  And the post-ED photo shoot with Obaa-san and the original Tora was a sweet and sad touch, too. The Great Passage has done an awful lot of things right, and in a sense, I'll be seeing NoitaminA sailing off into the sunset right with it when this series ends.