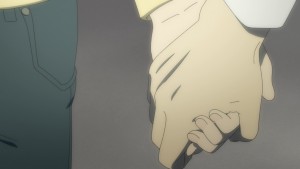 Time skips in anime are always a nervous subject, and with good reason.  I can think of may shows that jumped the shark pretty hard as a result, but with The Great Passage I think it stands as pretty likely that things will be different.  First of all there's the nature of the story itself ("Dictionaries can't be written in a day").  And then there's the large store of confidence the very experienced anime staff has built up with their work through the first seven episodes.  And finally, this series is based on a very well-respected source material, which was obviously able to pull this off.  So normal anime disclaimers probably don't apply here, since Fune wo Amu is anything but a normal anime.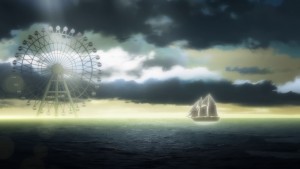 For all that, I confess I didn't see it coming.  A good deal of time has clearly passed – "13 years" is the figure tossed around, though whether that's since the actual start of work on "The Great Passage" or since we last left the narrative I'm not sure.  Our first clue that something is up comes when Sasaki introduces Majime as "Chief", and  soon it's clear a lot of water has flowed under the bridge. Tora-san is still around but Obaa-san, it seems, is not.  Majime and Kaguya are now married, and Araki has – as promised – gone down to part-time.  In fact, Majime is the only full-time employee left in the dictionary editing department.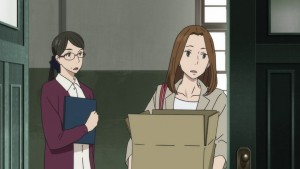 There's a strong sense of melancholy to all this – this is such a Quixotic project, so unloved and forgotten.  Yet there's a certain hopefulness to it too, a sense of the plucky optimism of this underdog undertaking.  We see it through the eyes of Kishibe Midori (Hikasa Youko, "Bungaku Shoujo" herself), the new employee the publisher has finally seen fit to throw at the department.  She's a refugee from one of the company's fashion magazines, "Northern Black", where she apparently clashed repeatedly with her co-workers and editor over her obsession with "the importance of words".  If you think that sounds like a good fit, you're definitely right.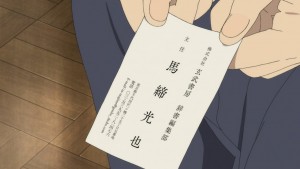 The scenes where Kishibe suffers through her first days in this strange exile are mighty uncomfortable to watch.  Majime's people skills haven't improved much, and Kishibe really has no idea why she's here.  All she can do is organize and agonize, waiting for direction from Majime that never comes.  But with a welcome dinner at Kaguya's restaurant (her suggestion) Kishibe meets the rest of the team, and things begin to turn for the better.  Nishioka clearly still considers himself a part of it, and as usual he complements Majime's weaknesses splendidly.  He gives the tipsy the "how would you define "right"?" test, and she passes with flying colors.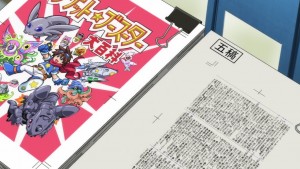 There's a lot I'd certainly like to know – for example, what's happened between Nishioka and Remi?  But as usual, The Great Passage stubbornly dances to its own beat, waxing eloquent on the subject of the stickiness of dictionary paper and the meaning of "out-of-placeness".  For all that this series is about the characters and their quiet passion for what they do, ultimately the titular dictionary is the central focus, and while we're told "The Great Passage" is in its third proofreading, it's clear this is a race against the clock.  Matsumoto-san is quite old now and fighting a stubborn "cold" (even when the source material is a novel, you have to take notice when an anime goes there), and the "team" continues to be sidetracked by inconsequential but time-eating side projects (like editing character encyclopedias for video games).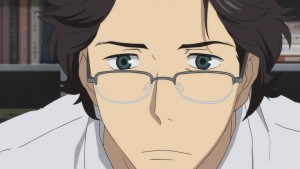 As much as we as an audience would like to see the team finish "The Great Passage" for their sake, in the end creating it is something that they're doing not for themselves, but for posterity.  Fune wo Amu is a series about passion, and the true test of whether or not one is passionate about something is whether they want to do it not for their own gratification, but for the rightness of the thing itself.  And clearly for Majime and the rest of the department (including Kishibe, it seems), building that ship that will allow others to share their thoughts and feelings is the work of their lifetimes, and will long outlast them.