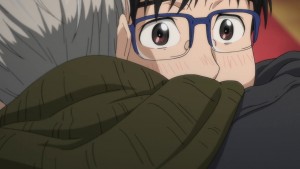 If there's anything that's surprised me about Yuri on Ice (well, a few things have surprised me actually, but…) it's just how much of a sports series this turned out to be.  Of course if I'd known that both Yamamoto and Kubo are apparently huge figure skating freaks that probably wouldn't have been the case – but based on track record I certainly didn't expect this.  The majority of the past few episodes have been spent on the ice, in competition.  And for me at least, that side of the series has proved to be the most involving, so as far as I'm concerned that's not a bad thing.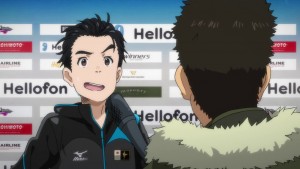 All of that's not to say that the character side of the story hasn't been developed too, because it has.  But with Yuri on Ice that and the sports are inseparable, and if anything I'd say it's the competition that's driving the character arcs rather than the other way around. We've seen a lot of attention focused on skaters other than Yuri, especially lately, and that's risky – but I think it's worked out for the best. If you're going to spend that much time showing guys skate we'd better have at least some interest in whether they succeed or fail.  That's especially true with skating, where the tension comes from worrying whether the competitor is going to blow up or not.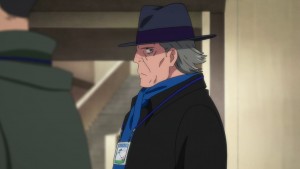 Again, I see the story of the Crispino twins as the weakest one we've seen so far.  Honestly, would we really be expected to find an incest plotline moving and full of pathos the way Yuri on Ice clearly tried to sell this one?  It's dumb, just as animanga's obsession with incest is dumb – but hopefully we're done with it, since (spoiler!) Michele is now eliminated from the Grand Prix final.  It's through no fault of his on this day however, as he looked like a different man on the ice after Sara broke his heart – again, I'm very impressed with the way this series is able to communicate the personalities and moods of the skaters through their performances.  Michele's free skate took on a kind of melancholic beauty – Sara should dump him before every performance.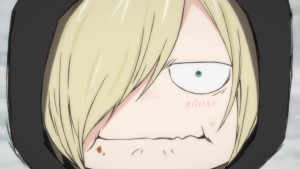 I like Emil, but truth be told he wasn't really a part of the drama here.  Neither was Seung-gil, who flamed out royally (a Korean in an anime never really stood a chance).  No, this was really all about three skaters – and it's Yurio that goes first.  His development may be the most interesting of the main cast for me, and he too looks like a different man on the ice here – and I use that term intentionally.  Yurio looked older here, and it wasn't just his hairstyle – he had a grim determination and fierceness to him that was lacking before.  The presence of Grandpa – and his katsudon pirozhki – no doubt had a lot to do with that.  But ultimately the sense was that Yurio just decided it was time to grow up and seize the day, and that's exactly what he did.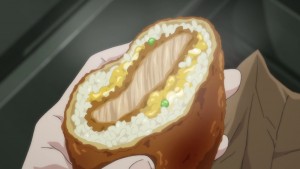 Yuri was next, and that meant Yakov didn't have to go anywhere – though truthfully, he didn't have much apparent interaction with Yuri here.  We see Yuri once again stumble under the bright lights, and this is definitely the pattern of his career – we can use Viktor's absence as an excuse, but the fact is that we've never really seen Yuri perform well when he was expected to perform well (except in the skate-off with Yurio, and that was a sideshow rather than a real competition).  Yuri flubs several jumps and generally seems distracted, which Yakov at least has the decency to rip him a new one for it at the "kiss and cry" – in effect, he's let Viktor down.  But Yuri does manage to prevent a complete meltdown, which gets him fourth place – good enough to match Michele on overall points, sending Yuri to the final on a tiebreaker.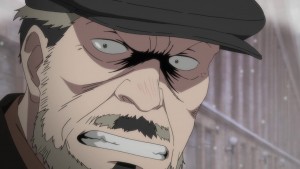 That just left J.J., and I was worried after last week that we'd see a complete breakdown from him as a pretext to get Yuri to the final.  But no, I really liked that Yuri on Ice did with J.J. here – there was a risk of him becoming a cartoon villain, but we saw him as a truly great skater who for all his arrogance does this out of love for the sport and competitive fire.  J.J. too has his sights set on Viktor, and he skates a flawless program despite having the highest difficulty in the competition.  Thus, it's no surprise that he comes through in first place, pushing Yurio to second.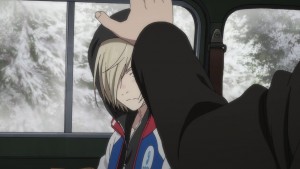 That leaves us to finish with the personal side of the story.  Yurio rooting for Yuri?  I liked that a lot – again, real development for him.  Yuri going on a hugging spree after the competition was a cute touch, and it does raise an interesting question – is he simply too nice to rise to the top of this sport (not to mention, why was he wearing a mask?  I don't recall any mention of his having a cold)?  Back home, to no one's surprise (not mine, anyway) Maccachin was fine – and Yuri effectively proposes to Viktor at the airport.  Setting aside the romantic implications, does this mean Viktor really is done with competitive skating?  That would surprise me a bit, but I think Yuri on Ice still has a few more surprises up its sleeve before we're done.