My goodness, it just keeps getting more depressing…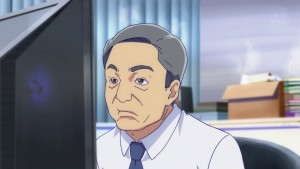 I give in – it's got a category.  I've been skeptical, but Girlish Number may just be the most interesting (thought not the best) series of the season.  That's in part due to how interesting the fan reactions to it are and will continue to be, but not only because of that – this series is a genuinely good one on its own terms.  We haven't seen a series so unsparingly turn the camera around in a long time, but in the process it's also proved to be a mirror for the audience (and told us a lot about it).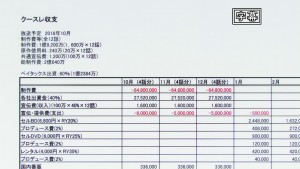 The funny thing is, to me Girlish Number could hardly be more transparent in its condemnation of the industrial dumbing-down of anime.  Yet the audience is so much in denial that it seems many folks watching G;N still don't want to see it that way.  There's a widely-held view that "Millennium Princess X Kowloon Overlord" isn't the problem – that it's probably a great LN that just got screwed over by those naughty studio types.  This, mind you, is despite the fact that numerous times characters up and down the food chain have flatly stated that "Millennium Princess" sucks.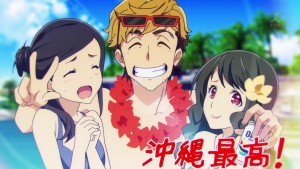 I didn't write this series, but the author's point seems pretty clear to me.  Anime's got problems, and they aren't isolated or simple.  G;N isn't a story of a poor, naive author having his masterpiece tainted by a bad adaptation.  It's the story of an industry that's rotten to the core – one that's stopped looking for interesting material to adapt (or create), which in-turn has caused the talent in it to become cynical and fatalistic.  And if it doesn't do something to change that soon, its creative demise is only going to accelerate.  Change has to come from the top-down, from the bottom-up, from everywhere.  Everybody (including the fans) are part of the problem.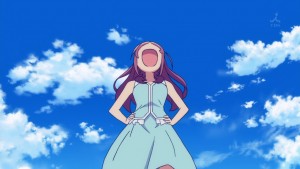 Thank goodness Girlish Number exists, because somebody has to rub anime viewers' noses in this reality.  But what saves it from being preachy or insufferably bleak is that there are genuinely relatable characters here, people trying to do their best being ground in the gears of this dehumanizing monstrosity.  I said early on that one of my issues with G;N was that there were no characters to genuinely root for, but to its credit I think that sale has been made.  This episode, for example, did an admirable job of giving us a deeper look at the other girls in the seiyuu cast, all of whom have their own story to tell.  And even Chitose – insufferable as she is – is now more a subject of sympathy than anything else.  She's in way, way over her head.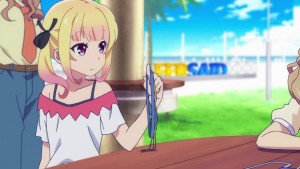 Momoka (I can't help but think of Han Megumi a bit with her) has been the most likeable of the girls from the start, and she's still probably the best character.  She's fully aware that her name has opened doors for her, and she resents that without being obnoxious about it.  Fact is Momoka does have talent, and a good head on her shoulders.  Her dilemma now is whether or not to accept an unearned role in a "Purepara" update – a franchise her mother famously starred in.  Shibasaki, meanwhile, is showing the cracks from the strain of carrying all that haughtiness and righteous scorn – cracks revealing themselves as a surprising fondness for alcohol (which causes her Yamagata accent to slip out).  And Koto reveals her worry that the door on her career as a seiyuu was closing – "too old" at 26.  As for Yae, she's still the cipher of the group, but there are hints she has a cutthroat side hidden under her kawaii dojokko exterior.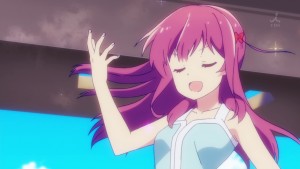 The crucible that brings this to the surface is Kuzu-P's last ditch effort at salvaging the production, spending the last of the budget on a trip to Okinawa and pressuring the girls into doing gravure shots for the BD extras.  This is degrading and disgusting – and as such, classic Kuzu-P.  The girls take some comfort in the shared nature of their humiliation, and the opportunity to at least get drunk and trash a hotel room at the production committee's expense.  The saddest thing about all this for me is how even good guys like Gojou-kun are pressured to go along, and how resigned the girls (including Momoka, who knows the industry better than any of them) are to this reality.  The truth is that with each passing year, guys like Kuzu-P run the industry more and more, and as long as they do shows like G;N will be closer to a reality than a fantasy.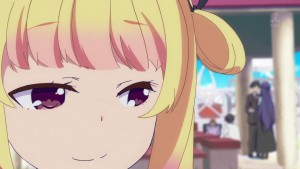 Unfortunately for Chitose, inside the world of Girlish Number it seems that things are only going to get worse.  The second cour of "Millennium Princess" is only going ahead because it was agreed to in advance, and even Kuzu-P has decided to flee the sinking ship.  And the fact that Chitose isn't a good actress is hardly incidental, given that she has nothing else (like family connections or a winning personality – or even a resume) to get her roles.  Depraved as it is, this is her field of dreams – and as pathetic as that may be, it's still kind of heartbreaking to see it chew her up and spit her out.  But apart from that Mrs. Lincoln, how was the play?