I have no idea what that was or why it exists, but I quite enjoyed it.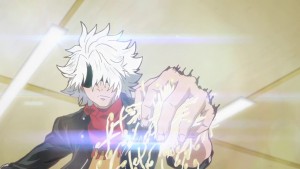 After the pre-open of ClassicaLoid, I was convinced that it was the greatest anime ever made.  Then I heard Kaji Yuuji as Mozart, and suddenly I was sure it was the worse anime ever made.  20 minutes later, and it seems to be somewhere in the middle. There's an awful lot to like here and in the end, I had a good time with it for the most part.  But it does seem as if ClassicaLoid might be leaving some potential on the table.  We'll see.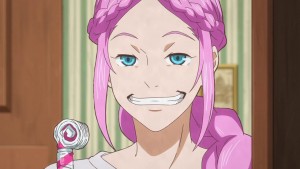 One thing I do sort of love about anime is that series like this get made, you know?  It's completely random craziness, and it mostly works.  That cold open is a perfect example, introducing the four main cast members in a screaming-frenetic montage of quick cuts to the strains of Beethoven's "Ode to Joy" from his Ninth Symphony.  None of it makes any sense whatsoever yet somehow, looking back, it was the perfect introduction to ClassicaLoid – because that about 90% describes the whole series.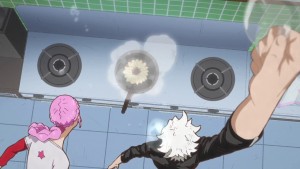 In brief, what we seem to have here is this: a girl named Kanae lives in a run-down mansion which belonged to her grandmother.  She has a childhood friend named Sousuke who's kind of a classic slacker doofus, who's filled one of the rooms at the mansion (which is about to be torn down, by the way) with his junk.  For some reason modern spins on Mozart and Beethoven live with Kanae, and Beethoven is obsessed with making gyoza while Mozart generally fools around and makes an idiot of himself.  And there's an old steam organ which never plays, above which hangs a painting of a ball from the mansion's long-gone glory days.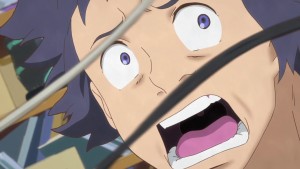 The overarching premise of Kanae's attachment to the old house is fairly well portrayed, and she and Sousuke come off as pretty likeable kids.  Beethoven as portrayed by Sugita Tomokazu is a winner – a mad scientist type (I still don't quite get the gyoza thing) obsessed with fate and spectacle.  Mozart is pretty much a write-off, sadly (a shame as he's both the greatest talent and greatest character among the classical giants) – like a caricature of a caricature of him that doesn't really even exist.  There's also a slightly effete male Siri who lives in Sousuke's tablet and is played by Ishida Akira, a shoebill with a scarf who lives on the roof, and apparently the Gendou Ikari figure behind whatever conspiracy brought these figures to 21st Century Japan is Bach.  Naturally, it had to be Bach.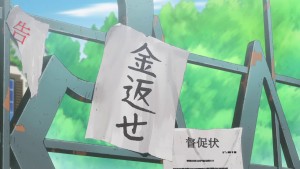 If all that weren't enough to convince you how whack-a-doodle all this is, it's directed by Fujita Yoichi of Osomatsu-san and Gintama fame.  He obviously knows screwball comedy, and apart from the misguided portrayal of Mozart (about 70% of which isn't even Kaji's fault) he strikes the right notes here.  I love the manic energy and the creative use of classical pieces, the dialogue is pretty funny and there are even touching moments here and there.  The production is obviously done on the cheap but Yoichi is enough of a stylist to turn that into if not an advantage, at least an opportunity.  ClassicaLoids is good, wacky fun, and there's enough here to give me hope it might even end up being a little more than that.  But I sure wish they'd gotten Mozart right…