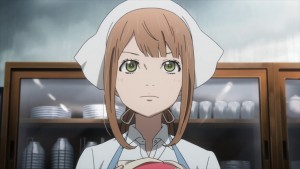 This is definitely one of those posts where I stare at the screen and the keyboard in turn for a while, wondering where the hell to start.  How do you sum up an emotional roller-coaster ride like that in a few paragraphs, for goodness sake?  Should you even try?  There are times when I think the answer is no, that I've said everything I had to say about a series by this point and it's time to just say a few words and let it go.  But invariably I look up at the end and I've got something the size of a Tolstoy novel staring back at me.
The first thing I'd note, I suppose, is that I was marveling at how much Hamasaki Hiroshi and his team had managed to fit into 22 minutes – this seemed like the densest episode ever.  Then I read after the fact that the final broadcast had been an hour long, including cast interviews at the end – and I realized that the final episode itself had been 37 minutes.  Well, duh.  But what a great thing for a series like Orange to be able to have that extra time to get every detail of the ending right – what a luxury, and one almost no anime ever have.  And I don't think Hamasaki wasted a moment of it.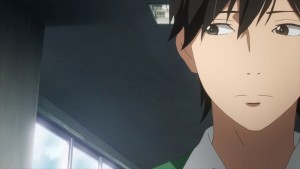 It's tough for me to read the fan reactions to this series, because the criticism it receives stings my heart.  Not because Orange is perfect (it's not, by any means) but because – and you'll have to forgive me for being so blunt – I believe so much of it misses the point.  I knew the manga was somewhat divisive, but the anime has been even more so – and that's due in no small measure to the fact that anime fans are less tolerant towards series that break with accepted formula than manga readers.  Emotional openness is generally scorned in anime, and Orange is as emotionally open as it gets.  But you know, I think that's the fucking point.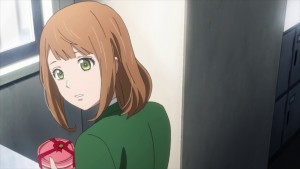 When I see Orange dismissed as manipulative and melodramatic (the latter especially being a much-loved buzzword anime viewers who think much of their own hipness use to trash anything that dares to trade cynicism and irony for straightforward human drama) it drives home just what a square peg this show is.  How many slice of-life/romance/shoujo-seinen hybrids are out there?  And when I see a frankly shocking avalanche of bile spat upon Kakeru's character, I think one can see a pretty sharp divide between those who've experienced depression and suicide in their close circle and those who haven't.  Like Watamote, Orange rings true as the work of someone who's walked the walk (and I say that based on my own experience and not anything second-hand).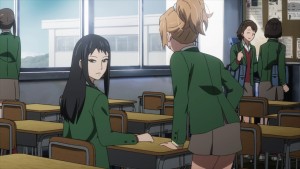 Frankly, I think some people try and read too much into Orange – that, and try and judge by the framework of anime constructs it has no interest in adhering to.  Ultimately this is very simply a love story – nothing more than that.  Not so much a romantic love story, though that's certainly an element, but more a tale about the power of love and what it can do, both for good and for ill.  It's the love Kakeru's five friends feel for him that drives everything that happens in Orange.  It's their love that refuses to allow them to forget their friend, or to forgive themselves for losing him.  And ultimately, it's their love that saves him.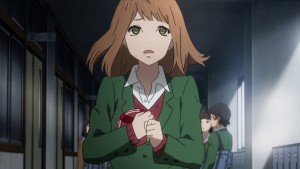 I think the concept of love is very important here, especially as it plays into the whole parallel worlds idea.  It may sound contradictory, but in Buddhism love has a negative connotation as well as a positive, because it's a form of material attachment.  Romantic and even parental love for another person has a selfish element to it, in that it ties us to the material world when what we're meant to be doing is growing beyond our material desires and embracing our Buddha nature.  A Buddhist priest will never tell you loving your spouse or children is a bad thing, but they will caution you that it can be an anchor – and that there's another, purer form of love that should be aspired to.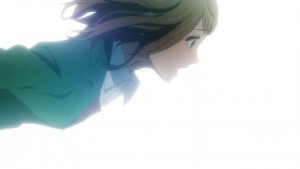 The Greeks coined the term "agape love".  Originally it literally meant "the love of God for man and man for God", but over time it's come to take on a broader meaning as selfless and charitable love.  If we look at the actions of Naho, Suwa, Hagita, Azusa and Takako, the meaning of this becomes clear in the final episode (this is due, once again, to Hagita spelling things out more adroitly than anyone else).  They want to help Kakeru because they loved him, and regret that they couldn't save him.  Yes, there's a selfishness to that desire in that they feel a sense of guilt over what happened, but the key moment comes when Hagita lays out the truth – even if they could in theory save Kakeru, they would have no way of knowing if they were successful because the only way it could happen is if parallel worlds existed.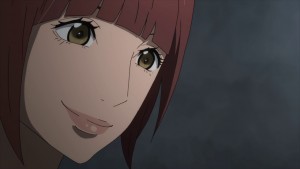 This is the essence of it: ultimately, those five want to see their friend again, to be able to talk to him and apologize to him and tell him they love him.  But they'll never have a chance to do so – even if they somehow do defy time and save him, it's only in the parallel world where it will happen.  So they do what they do knowing they have no personal gain at stake – just as the Suwa of the parallel world acts to bring Naho and Kakeru together knowing full well he's doing so at the expense of his own happiness.  This, for me, is the ultimate point of Orange – that when we act of out love knowing we're doing so purely to help someone else, miracles really are possible.  It's the ultimate triumph of love that it can tip the scales in the unending war between regret and possibility towards possibility – but only when we love for the sake of others, and not ourselves.  That may be an unacceptably romantic (in the larger sense of the word) notion for the bulk of today's anime audience, but it's a powerful and quite straightforward message.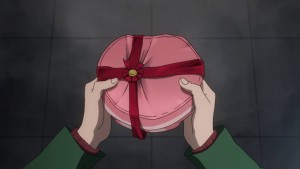 I think in that context – among others – Orange got the final denouement of Kakeru's story just right.  Kakeru literally hiding from Naho is powerful symbolism, because his actions – up to an including suicide – are a case of his fears winning out over his hopes.  "I won't date anyone" is his way of saying he's not good enough to date anyone – that he's incapable of not hurting those he allows himself to get close to.  Of course Kakeru wants to be with Naho, and of course he wants to be happy.  But he knows what happens to those who love him, and feels that happiness is too good for someone like him.  Even after Naho finally manages to poke her head out of her burrow long enough to admit that she wants to actually be a couple, and even after Kakeru admits that he wants that too, the doubts just won't go away.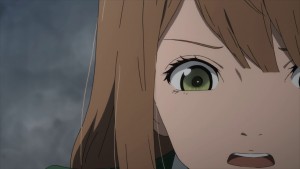 If you put yourself in Kakeru's shoes (which I admit isn't the easiest thing for everyone to do) the timing of finding his mother's cell phone could hardly have been more telling.  Just when he'd broken down and admitted that he wanted to move on, it's as if she reached out from beyond the grave to remind him of his crimes.  For the others, knowing what happened on that date the first time around, there are no easy answers.  Short of admitting the truth about the letters they can't prevent Kakeru from living his life, even knowing what happened that night.  So they do the only thing they think they can (though one of them does a bit more) and wait at the scene of the tragedy, hoping to prevent it from repeating itself.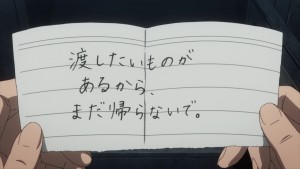 The crucial detail the finale got right is this: it had to be Kakeru who acted to save himself in the end.  Yes, Hiroto could have arrived in the nick of time and pulled Kakeru out of the path of that truck – but what would have been the point?  Someone in Kakeru's shoes has to want to save themselves in order to be saved – that's a crucial thing one must understand about depression.  One could argue that Saku trashing his bike saved Kakeru (oh, what a clever boy you turned out to be), but I would counter that Kakeru would have done the same thing either way – stopped himself at the last moment.  Why?  Because the love of his friends – relentless and tireless and fierce – finally broke him down.  Yes, Kakeru wanted to live and have fun and be with Naho, as anyone in his shoes would.  But he stopped himself because he thought of what it would do to his friends if he didn't, because their love for him had changed him in a profound way. Saving himself was an act of selfless love, just as their saving him was.  And if that's not a powerful message I don't know what is.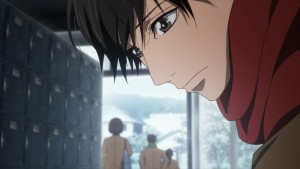 And so, once more, I sit here staring at "War and Peace" on my monitor – but you know, I'm OK with that.  Orange has inspired me not just to feel deeply but to think long and hard about what it says about life and fate.  A story like this surely isn't going to please everyone, and it's just as surely going to be a weaker one if it tries to.  I appreciate Takano Ichigo's commitment to telling it in all its raw honesty, and to Hamasaki-sensei and the anime staff for adapting it so faithfully and brilliantly despite obvious budget issues. There is more Orange to come – Mirai, a film premiering this November that adapts part of Takano's Suwa-centric spinoff manga "Orange -Suwa Hiroto-" – and I'll be looking forward to it.  But the main story feels complete, bittersweet and exhausting as life itself.