Summer 2016 really was the season of good endings.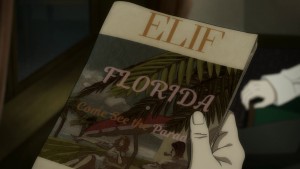 And so, another place in the year-end Top 10 is all but assured. And Shuka is well and truly on the anime map.  Everyone will, I'm sure, want to talk about the ending – and we'll get there, I promise.   But I don't want to bury the lead, which is that 91 Days was an out and out triumph – a show that knew exactly what it wanted to do and what it wanted to be and never lost sight of that right up until its final frames.  As far as series television goes, this was Storytelling 101.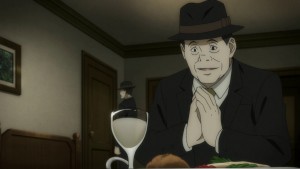 It hasn't been so much on display these last couple of years as their quality has declined (right along with their creative ambition) but 91 Days is a shining example of the possibility of original anime.  When you put a show in the hands of a very good writer – and Kishimoto Taku is superb, though his anime work to this point has been all adaptations – and give them the chance to craft a story custom-fitted to the time available, you can do wonderful things.  There's no alterations necessary, no speeding up or slowing down or deciding what (or who) to cut.  To me, original anime is like a bespoke suit – of course you might get a great one off the rack once in a while, but it's pretty rare for the fit to be just right.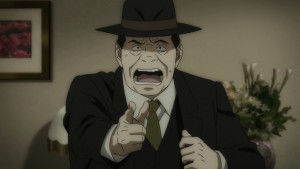 I've speculated about why such a smart and compelling series as 91 Days doesn't seem to generate more discussion, and maybe it's just that – it's so well-fitted that there's not much need to explain anything.  Maybe that changed with this ending, of course, but for the most part this was a series that eloquently spoke its piece and painted a very clear picture.  And of course, there's the fact that it's so authentically American as to have very little that's distinctly anime about it.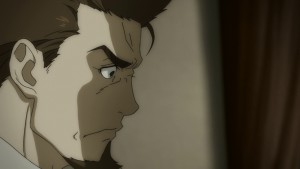 I find that true right up to the ending – and I think some of the consternation I've seen about that goes back to the fact that it no way feels like an anime ending.  I've yet to see an ambiguous ending go over well among anime fans – or at least not for a very long time.  But for the kind of story 91 Days is trying to tell – a morality tale, a Greek tragedy, a classic mafia drama – it fits like a bespoke jacket.  When I say 91 Days has a very Hollywood feel about it, that's not the insult that some have taken it to be – and anyone with a good grounding in classic Hollywood films by the likes of Hawks and Scorsese (and even Spielberg) would tell you that.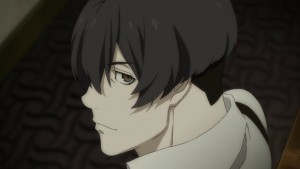 There are a number of interesting elements in the finale, starting with the fact that the excellent Kaburaki Hiro elected to go with a quite subdued and quiet feel overall.  That he's able to achieve this in spite of the outbursts of brutality we see playing out is testament both to his skill and Kishimoto's premise.  The fall of the Vanetti empire and the blooding of Lawless is a fait accompli at this point, and acts almost as an elegiac orchestral score to the personal drama between Angelo and Nero – which is really the point of the episode.  And really, of the entire series.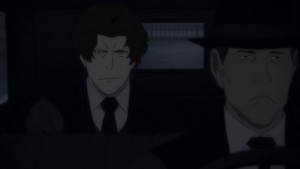 The road trip Nero and Angelo shared early in the series under very different circumstances was one of my favorite parts of 91 Days.  This time, of course, things could hardly be more different.  Both of them are effectively dead men walking, and in Angelo's case there's very little resistance to that fact.  Whether it's Strega or Nero who finishes him off is irrelevant, but either way Angelo feels no special desire to live on.  In point of fact, it's always been obvious that he was feeling a strong sense of survivor's guilt over being the only member of his family to escape death on that fateful night.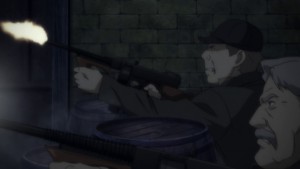 For Nero, he's experienced something of what Angelo did – he's watched his family die (Frate by his own hand), and been the only one to walk away.  But Nero still seems to possess a desire to live on – the crown of a mafia prince never rested easily on his head, and the choice is simpler.  One can be alive or one can be dead, and since sooner or later (likely sooner) they'll be the latter forever, they might as well slog through being alive for as long as fate allows.  There's always another diner or another bottle of booze to look forward to.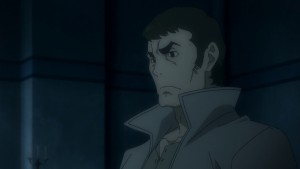 What's interesting here is that Nero doesn't hate Angelo, even after everything he's done.  He feels rage towards him, certainly, but perhaps there's just a bit of Nero that believes he and his family deserved what Angelo wrought upon them.  And Angelo reciprocates – and the end of everything (even the land) he admits to Nero that he didn't kill him at the playhouse because he didn't want to kill him.  There's a part of each of these young men that genuinely likes the other in spite of all the evil they've done to each other.  And I'll wager there's a part of most of the audience that likes both of them in spite of all the deaths they're responsible for, because in the end both of them come off as surprisingly relatable human beings.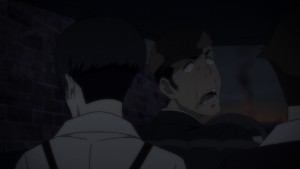 So what did happen at the end?  It was a lovely sequence, that reprise of the earlier road trip weighed down by heavy fatalism.  The key moment, I think, comes when Angelo tells Nero that in spite of seeing his revenge play out in textbook fashion, Angelo got no satisfaction out of it.  His family and Corteo were still dead, and he was still dead inside.  But rather than making Nero hate Angelo (and again, rage and hate are two very different things) I think it makes Nero pity him.  Eventually the ropes are cut, eventually Angelo is eating and drinking and taking his (terrifying) turns behind the wheel.  And eventually the pair reach the end of their aimless journey at the ocean.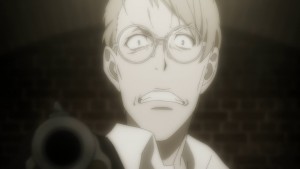 When I watched this play out in real-time, my feeling at the time was that Nero had shot Angelo, and was just about to be caught by Strega's men.  Now, though, I'm not so sure.  Would Nero shoot Angelo just after telling him "You don't need a reason to live.  You just live."?  Would he have smiled that particularly affectionate smile just after doing so?  Maybe – it's possible Nero was speaking those words to himself more than to Angelo.  But you know, there was no blood in the sand, and for the series to end as it started – with a gun in Nero's hand pointed at Angelo, and an intentionally errant shot – would have a kind of grace note to it.  But Nero might have thought ending Angelo's life there to be a kindness – I don't think it's a stretch.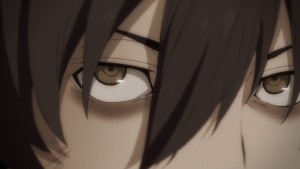 I get the frustration with an ending that leaves you guessing, but that kind of ambiguity seems a perfect fit for 91 Days to me.  One could imagine almost any possibility here, and that's the point – there is no right or justice in this world. only life and death. What should have happened to Angelo and Nero is moot.  You leave your footsteps in the sand for a while, and eventually the waves wash them away and it's as if you've never existed.  If there's any moral lesson to 91 Days that's probably it – and I think both Angelo and Nero learned it in the end, whatever happened after Nero fired that final shot.