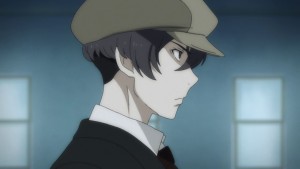 Why, I wonder, does 91 Days seem to engender so little discussion?  I certainly never would have expected it to be a commercial hit – it's a seinen series about the mob, with minimal anime affectation and no moe or bishounen to speak of.  It fares well enough in English-based viewer ratings, but seems to generate almost no post traffic – even here, which tends to be the refuge of the commercially untenable shows and the viewers who adore them.  What gives, I wonder?  It's certainly one of the very best series of the season, and arguably the most mature in tone and style.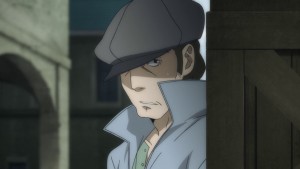 Maybe 91 Days simply does too good a job speaking for itself.  Maybe it's so lucid and eloquent in telling its story that not a lot of explanation or rationalization is required, and people just figure everyone else gets the same stuff out of it that they do so what's there to talk about?  There's no question this is one of the most cleanly and efficiently-written anime I've watched in a good while.  There's a kind of simple poetry about it, much as is there is with many especially good mob stories – there's something so poignant in the tales of men who do bad in order to try and do good, and in the fate that usually finds them.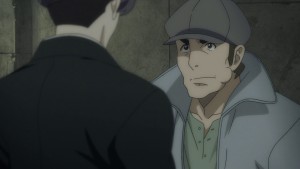 I don't know what's going to happen to Angelo – hopefully we have two episodes left to find out, though the recap ep has left that somewhat in doubt.  But what happened to Corteo this week was far from a surprise.  Again, by nature 91 Days is more a tragedy than a thriller – the drama comes from seeing how the tragic events we know are coming are arrived at.  Last week I noted that Corteo's role was to press the question of whether or not there was any humanity left in Angelo – whether there was a trace of the boy who ran away that fateful night, or whether that boy had been fully consumed by Avilio Bruno.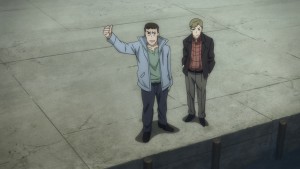 Well, we have our answer.  Whatever else has happened to him, Angelo has not lost himself so much that he's forgotten the one person who stood by him when his world exploded around him.  Corteo saved Angelo that night, and now Angelo saves Corteo by smuggling him out of Lawless and accompanying him secretly back to the village where he'd been hiding when Ganzo's letter found him.  While Angelo tries to cover this up in the blanket of his trip to Chicago to negotiate with the Galassias, Barbero especially is suspicious and won't let it go.  Nero wants to believe in Angelo, but Barbero isn't likewise blinded by sentiment.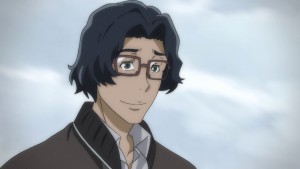 I'd wondered if Barbero might have been working with Ganzo, but it seems not – and Corteo isn't totally off-base in noting that Angelo represents a threat to Barbero's position at Nero's right hand.  Corteo is alive because Ganzo has a need for Angelo, and because Angelo still loves him as a brother.  But Ganzo doesn't care whether Corteo lives or dies, so when Angelo's position is threatened he doesn't hesitate to call Corteo back to Lawless.  And Corteo doesn't hesitate to come, even though it's a suicide mission, because he loves Angelo as much as Angelo loves him.  And he's always been the one to make sacrifices for his brother, so there's no reason to suspect he would hesitate now.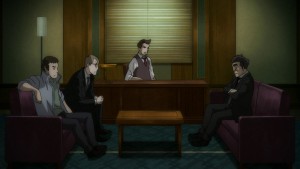 All this makes the death of Corteo hard to take, and seeing this side of Angelo is going to make his own inevitable (I assume) demise a lot more painful too.  It's not a surprise that Nero should make Angelo do the deed – if he's loyal, it shouldn't be a problem (and there's a certain symmetry, given that Angelo maneuvered Nero into killing his own brother). Nero is, at heart, a simple and straightforward man – he lives in a world of emotional primary colors, which has been both his strength and weakness as a mafioso.  His time as Don is coming soon, clearly – Vincent is nearing the end of the line whether it falls to Angelo to finish him off or not.  But one suspects that he's not calculating enough to thrive in the world he's about to enter, and he'd eventually piss the Galassias off enough in the name of familial pride to get himself taken out whether Angelo was around or not.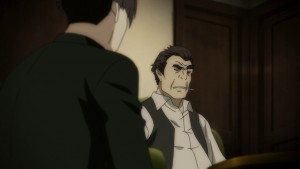 What we have, then, is probably not so much a question of whether Angelo can successfully take his revenge on the remaining assassins from that night but whether he can do so before they're dead anyway.  I don't think Angelo particularly wants to survive all this, especially after killing Corteo – money, women and power matter not a whit to him.  He wants to avenge his family (and that includes Corteo now as well) and then join them in eternal rest.  And whether Ganzo was the fourth gunman that night or not (I suspect he was) Angelo will surely take him down too when the time comes to bring all this to a close.