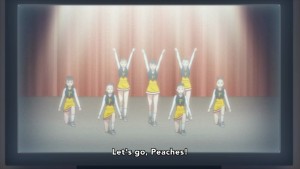 So Cheer Danshi!! seems to be the bubble show that's survived the longest, which isn't necessarily what I would have predicted as recently as a couple of weeks ago.  But here we are anyway.  To be honest, while it isn't the best reason a part of it simply comes down to Tuesday and Wednesday being dead days this season – I have nothing else at the moment apart from any manga or OVA releases that crop up (and ReLIFE) on those days.  But I do have affection for this show – it's likably goofy and unpretentious.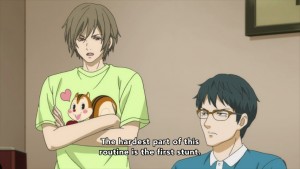 We're back in "Hey Kids, let's put on a show!" mode, which is always a critical juncture for a series like this one.  The show Breakers decides to put on is the same one Kazu's parents performed in college, which is kind of sweet.  It's not a supremely difficult one – there's one major aerial trick and a lot of synchronized dancing, which makes is a pretty safe for their first performance (which is in two months time).  As to the question of which flyer is going to do that trick, I think you can guess how that's going to play out.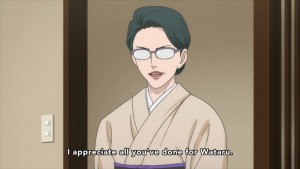 The practice sessions are pretty routine (Wataru has turned out to be ultra-rich, and he supplies the team with all the equipment they need) but the fun stuff is the banter that goes along with them.  Stuff like Ton having a girlfriend – and what it does to the others – and everyone dying their hair a difference color (that had to be Kaz' idea).  There are also hints at a couple of new members – presumably the son the Chinese professor refers to, this boy (I assume he is – it's the second gender-uncertain character Murase Ayumu is playing this season), though he looks way too young for college (maybe he's a genius), and this guy.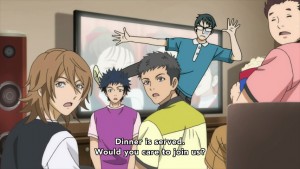 As for the performance itself, I think it goes about as well as can reasonably be expected.  Haru conquers his fears and manages the flip, the dancing isn't a disaster, and Shou gets off a nice tumbling run.  It's a pretty extended blast of Engrish and I'm not sure why they had to include "B-O-Y" in there, which makes the whole thing kind of sympathetically cringe-inducing.  But that's a good cringe – that embarrassment for the guys is definitely an intentional part of Cheer Danshi's appeal, because they're trying to do something that's not all that socially accepted and that takes a thick skin.