This season is almost over and all we got was this lousy seaport?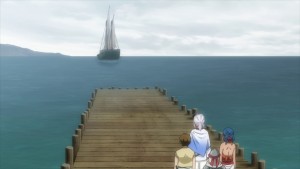 I certainly don't know quite what's happening with Arslan Senki, but one thing is clear.  If next week is indeed to be the swan song of this series in anime form, the Gilan arc seems a very odd way to end things.  It may very well not be the end of course, but absent any hard evidence to the contrary I think we have to acknowledge that this could very possibly be it.  I'm not sure just what I was expecting, but one episode doesn't seem like a lot of time to conjure it up from the ether.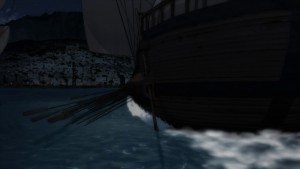 It's not so much that the Gilan storyline has been bad or anything – it hasn't.  But if I would slap an adjective on it I think it would be "routine".  Events have been very by the books here, right up to the way things were resolved.  Narsus was once again the smartest guy in the room, and used a trap to lure his enemies out into the open and take them out. Arslan was once again the nicest guy in the room, and exercised mercy when almost anyone else in his position would have been ruthless (and I'm not entirely sure unwisely).  And the opponent was altogether an easy mark, with a populace only too ready to throw the bums out.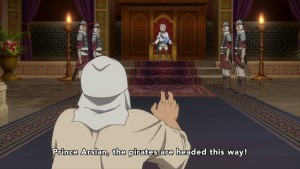 If anything, I was kind of struck by Narsus' selfishness in taking on Shagard one-on-one at the end, when it was clear Shagard's men had been routed.  Given his obvious importance to Arslan's cause, was it really worth risking himself in single combat against a man who was apparently his equal?  Indeed, Narsus didn't win that duel with Shagard (for which is seemed LIDENFILMS saved up some budget) – it wasn't until Azrael intervened on his behalf that he was able to get the upper hand.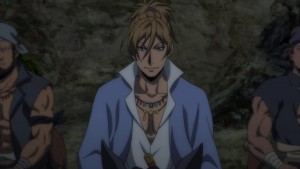 What of Arslan's decision to sell Shagard off for a year of slavery rather than have him executed?  Well, that's a pretty classic Arslan move.  Especially in the sense that it can be debated whether he was too kind for his own good, since in spite of Daryun's chest-thumping there's always a chance Shagard will return to be a thorn in Arslan's side down the road.  I suppose Arslan would argue that the way to defeat slavery would be one convert at a time, and one as connected and clever (within reason) as Shagard could be a potentially valuable ally.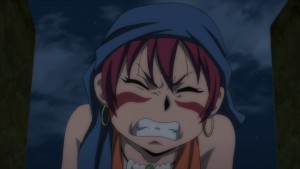 What gives me some hope for the finale is that we seem, at least, to have left this plot behind and are free to close with some potentially more interesting twists.  Etoile has arrived in Gilan, and her request to Arslan – "Please save King Innocentius" – is surely one that will be serious food for thought.  There's been a sense for a long time that the alliances in Arslan Senki were going to end up looking a whole lot different than they did when this story started, but just exactly how they'll eventually shake out is still in flux.