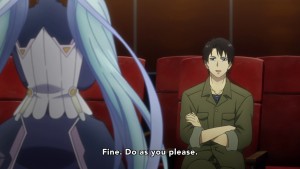 Planetarian is one of those quietly powerful little stories that come along every so often whose simplicity belies their depth of feeling.  I totally get why Visual Arts fans have raved about this story for all these years, because it seems to be a kind of perfect storm of emotional impact – a very elemental premise that hits exactly the right notes.  It's also quite unlike anything else in the Key catalogue, at least anything else I've seen.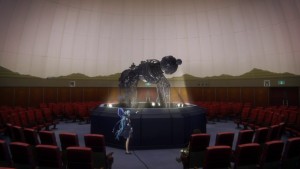 David Productions' treatment of Planetarian is quite befitting, because it's properly straightforward and simple.  It just presents the material more or less at face value without a lot of fussiness or flash.  It doesn't require a big push on my part either, because it speaks for itself far better than I can speak for it.  An episode like this is a collection of moments: Kuzuya tucking his cookies away rather than defy Yumemi's instructions.  Miss Jena "bowing" before the projection begins.  Yumemi's line deliveries, so earnest and lacking in pretext (and given their hokiness, I don't know that a human could pull that off).  These moments together comprise a feeling – the feeling we get in watching these two characters interact in a bubble of serenity in a dying world.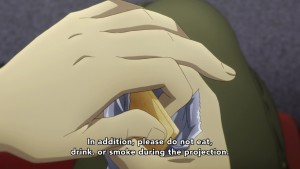 The projection itself was actually quite beautiful – all the more so because it's the kind of cornball presentation the Japanese seem to love in settings like this. There's an innocence to it, just as there is to Yumemi herself – and that's surely what fascinates Kuzuya so much, because if anything had seemingly passed from the Earth in the world he inhabits it would be innocence.  What possible logical reason could there be for a man in his position not just to fix Miss Jena, but then to tell Yumemi to finish the projection using the power of her own voice alone after the literal power runs out?  The answer, of course, is none at all – but what separates existence from living is that which goes beyond logic.  And as long as a man is alive, no matter how hopeless his environment, surely there's a part of him that longs to live rather than merely exist.