Man, Planetarian is just relentless, isn't it?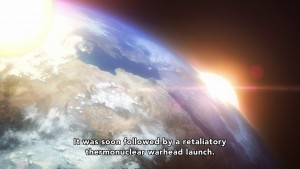 It really comes down to what I said last week.  The magic of Key happens when you know you're being emotionally manipulated, and it doesn't matter to you.  That said, though, Planetarian is comprehensively different from every other Key adaptation in almost every way.  This story is so ridiculously simple, but it's that very simplicity that makes it so powerful.  There's no explanation necessary here – while there is exposition in this episode (germ warfare, nuclear retaliation, 75 hours of battery life) none of it is really necessary to understand what we're looking at.  Our heart tells us that.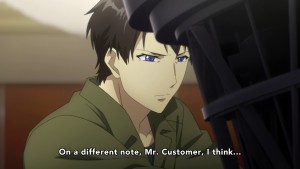 Even if Planetarian isn't necessarily subtle, it is restrained – again, much more so than any other Key series I know.  And Yumemi's utterly relentless stream of consciousness is a soundtrack to itself.  It's easy to see why Kuzuya was initially aggravated by it, but in the send seems to have been won over by it.  Yumemi is a child of the past in every sense, a relic of innocence in a more innocent time.  And really, what better does Kuzuya have to do?  Fighting for survival in a dystopian hell may be necessary if you're living in such a hell, but it's not very rewarding on an existential level.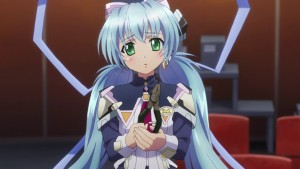 I can't imagine this is going to end in sunny-side up fashion, especially with the revelation that  Yumemi has only 75 hours to "live" before the declining power available to her forces her into a deep sleep from which it seems safe to assume she'll never wake up.  Emergency generators don't fix themselves, and even if Kuzuya can fix a high-tech projector by jury-rigging, I'm sure he has neither the means nor the tools to fix one. With no power, Yumemi will have no means to recharge and no means to wake up.  Such is the way of robots, I suppose.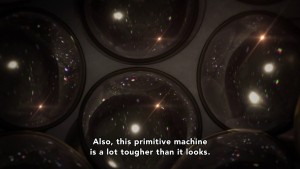 Planetarian is then, I guess, a quiet grace note in a dying world – something of a humble cousin to Yokohama Kaidashi Kikou.  It's a lonely man taking a few days to bestow an act of kindness on a machine that makes him feel more human than he has in a very long time.  I'm sure Miss Jena will be humbled but still beautiful when she lumbers to life, and I'm sure Yumemi's wish to her Kami of robots will be heartbreaking.  We'll know it's coming but we'll still be heartbroken, because that's the kind of thing a story like Planetarian does – not that there are many of them out there.