Orange punches like Joe Frazier in his prime.  It's only the third round, and I'm already on the ropes.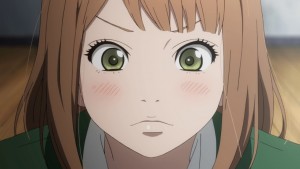 I seriously don't know if I'm going to survive ten more weeks of Orange.  To be this wrecked by a third episode…  It's going to be a tough haul, that's for sure.  The temptation to just read the manga now is overwhelming to say the least, because the emotional bar has already been raised so high.  It's definitely not a story that takes its sweet time in laying out the drama – the punches start early, they come often, and they don't let up.  At least not so far.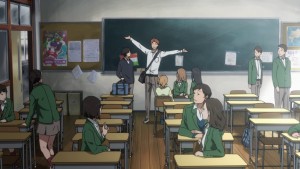 It's interesting that two of the best shows of the season involve young adults in their mid-late 20's interacting with their teenage selves in unnatural ways.  Adult Naho seems to have things a lot more together than Arata in ReLIFE, it's true, but both of these stories are in effect time-travel pieces about young adults passing advice to teenagers – in Naho's case to herself, and in Arata's to the friends he makes in his second go-around.  I don't use the word "unnatural" here by chance – it isn't natural for a teenager to have the benefit of adult experience in dealing with adolescent traumas.  And I think it's very much an open question whether it's good for an adult to push that experience on a child, no matter how kind their intentions.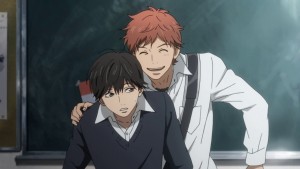 I also don't use the world "child" by chance, because in watching a series like Orange it really hits home that kids in high school – especially before their final year – are children.  They're almost adult-sized and some of the boys shave and some of them are engaged in the full spectrum of romantic entanglements, and they might have part-time jobs or take care of younger siblings – but they're kids.  That's why this story is so heartbreaking, because we're watching kids go through something that kids should never have to go through.  The six members of this little social circle are bonding in all the carefree innocence of youth, enjoying their lives, but a freight train is barreling down the tracks towards them – and one of their number has already suffered a terrible emotional blow.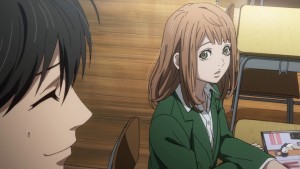 How integral is Ueda Rio (Sakura Ayane) in the events to come?  We don't yet know, but she was certainly integral in making this an incredibly gut-wrenching episode.  She's the glamorous sempai who's taken a liking to Kakeru, even as he and Naho seem to be drawing ever-closer.  There are clearly changes to the timeline of the older Naho's letter already – Kakeru decides to join the soccer team rather than quit, for example.  And it's Naho he asks to call him at 5 A.M. to wake him up for morning practice (which is a pretty big imposition, truthfully).  When together they shyly dance around the subject of their mutual affection, asking leading questions whose meaning should be obvious to both of them.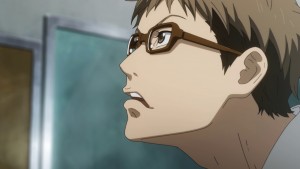 But when Ueda asks Kakeru to date her, he doesn't instantly turn her down – he begs off till after the school break.  His answer to Naho's "Do you like Ueda-sempai?" was refreshingly honest: "I like her looks." (dammit, I really like this kid – that's what makes what's coming so agonizing).  Naho hasn't confessed, and she's had her chances.  You just want to reach into the screen and bash their heads together, but these are the silly things kids do.  What ends up happening is that Kakeru slips a note under the cover of the eraser Naho loaned him, and her older self has warned her about its presence.  It's notable that even knowing that note was present Naho still can't bring herself to look at it right away – that's how hard being an adolescent really is.  When she finally does read it, it contains a simple question – "Is it OK for me to date Ueda-sempai?"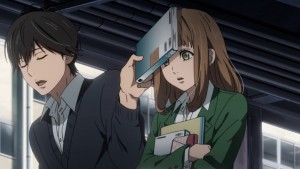 Well of course, we know what the answer is.  And to her credit, Naho finally writes a note with an even simpler reply: "NO".  But she slips it into Kakeru's shoe locker and by the time he reads it, it's too late – Ueda has pressed the issue and Kakeru has accepted her proposal.  You have to ask – is it possible that in pushing her younger self to write that reply, has the adult Naho made things worse? Is it regret over knowing how Naho really feels that pushed Kakeru into depression, and down a path from which he won't recover?  Who knows – we're dealing with uncharted waters here, trying to change the past from ten years in the future.  Maybe that note was a size 12 boot that trod right on a butterfly's wing.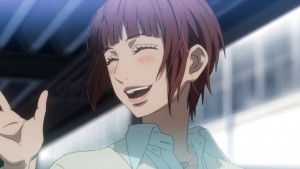 The final scene of the episode features the five surviving friends gathering together to open a time capsule they'd buried ten years earlier, and it's pretty brutal stuff.  None of them have achieved those childish dreams – "Pro soccer player", "Doctor", "Marry a rich guy" – fair enough. But Kakeru's dream for his future is actually a benediction to his friends – "I hope you're still together, and you're happy".  It's the note of a boy who believes he has no future, which of course calls the circumstances of the "accident" which took him very much into question (especially given his family history).  It's heartbreaking to see the broken child in these five barely-adults bubble to the surface at Kakeru's words, but it's also quite vexing to see Naho – with Hiroto as her husband and their child close at-hand – confront the issue of changing what's happened in the past.  To what end – and at what cost?  I have to ask again, is she doing this for Kakeru's sake or for her own?  Regrets are terrible things to live with, but sometimes living with them is the best alternative available to us…