That's it?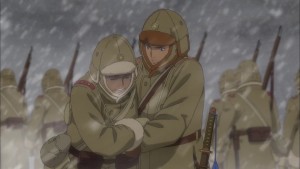 It seems only fitting that Joker Game would end in wholly perplexing and unsatisfying fashion, because this show is an enigma I defy even Alan Turing to conquer.  I didn't think any series would top Mayoiga as far as giving us an ending that wasn't an ending this season (I literally had no idea it was that show's last episode until I read it online later) but Joker Game didn't even make a pass at it.  I'll give it credit for consistency, which I suppose counts for something, but that's about it.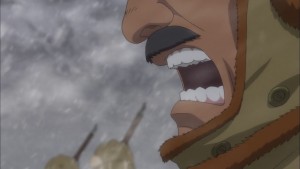 In the end, I really can't figure out just why this series existed. I'm glad it did, because it certainly wasn't a cookie-cutter modern anime by any means.  But what was the thinking here?  Was there any intent to tell a complete story or develop any connection to the characters, or was it intended to be exactly what it wound up being – a largely unconnected string of modestly well-crafted spy tales about a generic cast?  I've long since given up on Joker Game taking any sort of moral or ethical positions (and beaten the topic to death), but the matter of a narrative purpose is an awfully important one.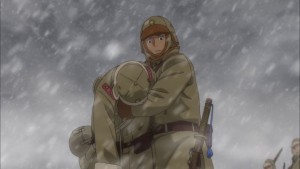 Ultimately I think this is more important than the issue of historical context, because even if I was quite put off by the lack of introspection or self-awareness, not everyone will be.  But the flat nature of the cast and the lack of narrative direction is a problem I think we can all share.  Apart from Yuuki I don't think I could have named a single character in the end – maybe Miyoshi because he died last week and was back this week (timeskip), but certainly not the hero of this episode (Odagiri) or anyone else in Yuuki's D-Agency.  It's fine to give us more insight into the guest cast than the recurring cast (especially since apart from Yuuki there really wasn't one), but given the lack of political or social criticism, what else is there to really care about at the end of the day?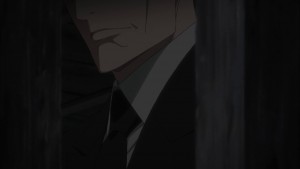 If nothing else, at least in Odagiri we did get a little insight into the emotional life of one of Yuuki's men.  He actually found himself drawn into the case (a German triple-agent double-crossing both the Nazis and the Soviets dies mysteriously) because his subject's actress girlfriend resembles the woman who raised him.  It's fitting that both his colleagues and the series itself should judge Odagiri so harshly for being human, since that's clearly anathema to both – and of course it's true, a spy must be able to maintain an ironclad emotional detachment when he's on the job (something woman are apparently incapable of doing, according to Yuuki).  Still, even if that's true it's not especially dramatic, and Odagiri (who ends up resigning from D-Agency in the end because his impassivity has been compromised) was something of a break from that.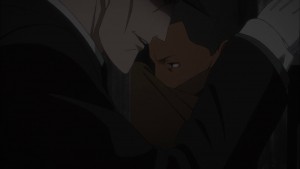 This ended up being a pretty unusual season for me in that two of my top three series going in – this one and Bungou Stray Dogs – significantly underperformed, and yet the season survived that, thanks to the superb Shounen Maid and Tanaka-kun wa Itsumo Kedaruge picking up the slack.  I wasn't nearly as let down by Joker Game as by Bungou – I enjoyed this series right up to the end (for the Kawai Kenji soundtrack not least), and its mature and restrained style was a nice contrast to the most of the schedule.  But ultimately Joker Game leaves me feeling pretty hollow, as if I really wouldn't have missed it if it had never existed.  And for a series that seemed to show suck promise, that can only be classified as a disappointing outcome.