"The Winds of Winter"
I think, in the end, what's happened on Game of Thrones this season was fairly predictable.  Effectively what we're watching now is fanfiction, and it plays like fanfiction.  Except it's fanfiction with the biggest budget in TV history and a team of professional writers and directors at the helm.  But this happens a lot when a very strong mythology veers away from the narrative voice of the writer who created it (not least in anime, for that matter).  I guess the only real surprise would have been if things hadn't gone in this direction.
These last two episodes have certainly been the apex of this trend, a combination made up almost entirely of pure spectacle and audience wish-fulfilment.  Lots of big set pieces, a huge body count, old baddies dying badly with old goodies smiling over them.  Last week's denouement of the Ramsay Bolton storyline may have been held the crown for a while, but what we saw in "The Winds of Winter" gave it a pretty good run for its money.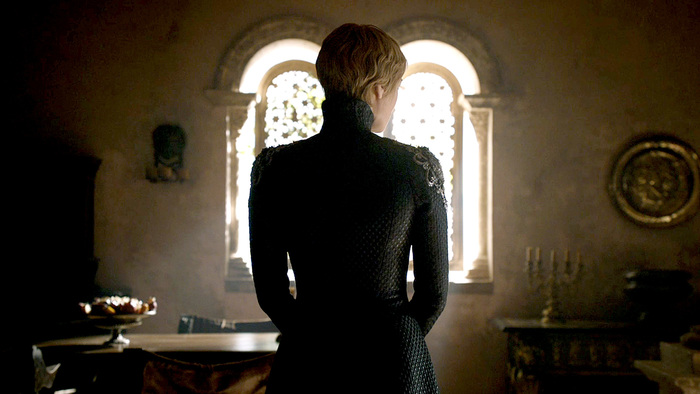 If such things still mattered in the TV version of the series, I'd be very curious to see what Jaime Lannister is going to do now that he's confronted with what his sister-lover has become.  But this Jaime has long since left behind the conflicts and complexities of the one that he's based on, so it doesn't really matter a whole lot.  In this version, the characters are mostly here to drive the story – they magically appear where they need to appear and when, they say whatever the plot needs them to say, and do what it needs them to do.  There are still a few holdouts like Davos, whose sheer courage in choking down his rage and heartbreak in order to do what must be done before confronting Melissandre is totally in-character with the Davos I know.  But moments like that are few and far-between now, like the dying echoes of lost voices in a cavern long after their owners have gone.
To sum it up, Cersei completely left behind any semblance of sanity and killed, well – almost everyone.  Margaery and Loras, their father, the High Septon, and indirectly her son – an act for which she seems completely remorseless.  That's how you know Cersei has totally left her original behind – her love for her children was the only really human thing about her.  No doubt the notion of a Cersei completely without anchor is a pretty terrifying one, and it is kind of humorous that we spent a whole season with the High Septon and Margaery and Olenna playing mind games, only for Cersei to render them all meaningless by being so batshit nuts she's free to go off-plot.  But long arcs that come to nothing have become something of a specialty of Game of Thrones. Characters don't really matter now – it's all about blowing shit up.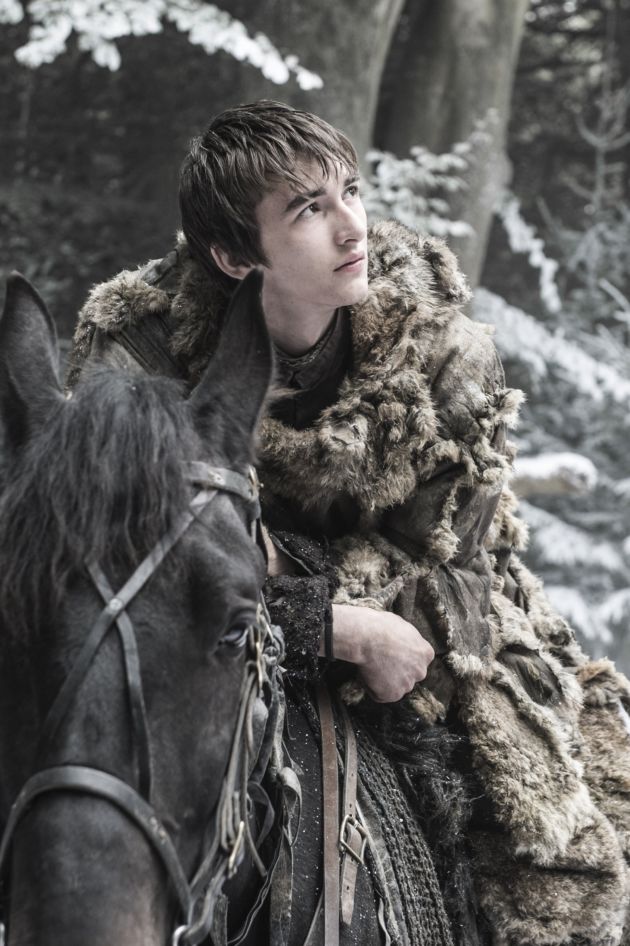 Up North, all kinds of stuff happened.  First off, R + L = J was confirmed – one point GoT is sure to share with A Song of Ice and Fire.  What does that mean in the big picture?  Well, that's undeniably an interesting rabbit hole to wander down.  Jon and Sansa are still clearly askew in their relationship (Benioff & Weiss' explanation of why Sansa didn't tell Jon about the Knights of the Vale was her saying "I should have told you, I'm sorry") and I have to wonder if she's going to be a little resentful of his being hailed as King of the North.  Littlefinger certainly will be, and he's still doing his best to sow discord between them.
The irony here is that even as Jon is being de facto legitimized as a Stark by the lords who spurned him (complete with more inspirational loli Mormont), the truth is now out (to us, thanks to Bran) that it's not the North he's the legitimate heir to – it's the Seven Kingdoms.  I could certainly see this posing a problem for Daenerys, since as a male Targaryen he has a better claim to the throne than his aunt.  This effectively confirms that Jon is the "Ice" and Dany the "Fire", but they certainly aren't the only game in town.  In addition to the madwoman sitting on the throne we also have Dorne, Highgarden and the Iron Islands – which while in theory are all now in league (Varys officially joins the time warp club), are also full of people with way too much ambition to sit by smiling as Dany rules Westeros and spoils their fun.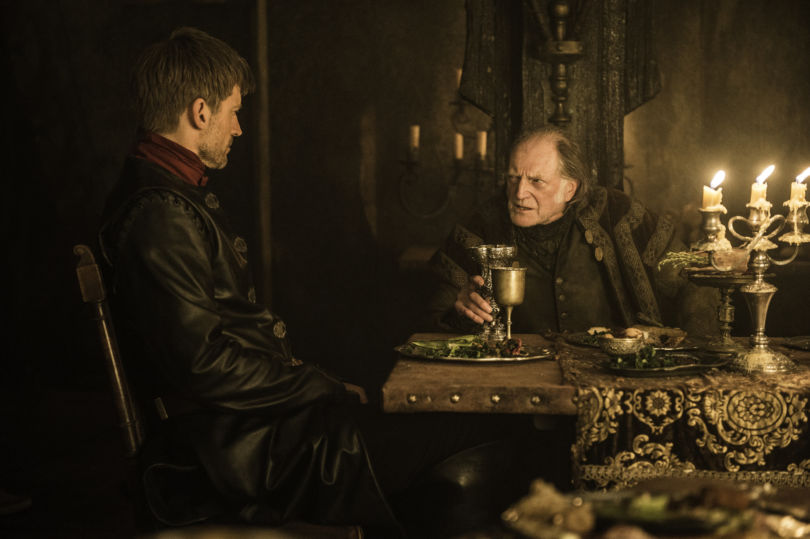 There's that, and then we have the Stark story.  Arya turns up for her bit of fanservice, finally putting an end to the late Walder Frey and reminding us that she's still a lost soul.  Bran is headed south of The Wall, leaving Benjen (who cannot pass, being dead) behind.  That technically makes Bran the rightful Lord of Winterfell, though with being Three-Eyed Raven as his day job and the Army of the Dead approaching I doubt he'll file a claim.  At some point before this is all over I would imagine the surviving Stark children will have to get together – perhaps swapping rueful stories about how much of what their father told them was a pack of lies.
What else?  Well, I give credit to Olenna Tyrell for finally giving us a watchable scene in Dorne and saying what most of the audience have been saying since those sisters first showed up.  Tyrion is now officially hand of the Queen, his first act being to throw Dario over the side as a potential liability.  I'm not crazy about seeing Tyrion waxing poetic over a woman I consider only marginally less unfit to rule Westeros than Cersei Lannister – I think Tyrion is too smart to be so taken with her power (unless all that wide-eyed stuff is an act, which I don't think it is).  With Daenerys we at least know what she wants – absolute power.  But my feeling is that anyone who wants that as badly as she does certainly shouldn't have it.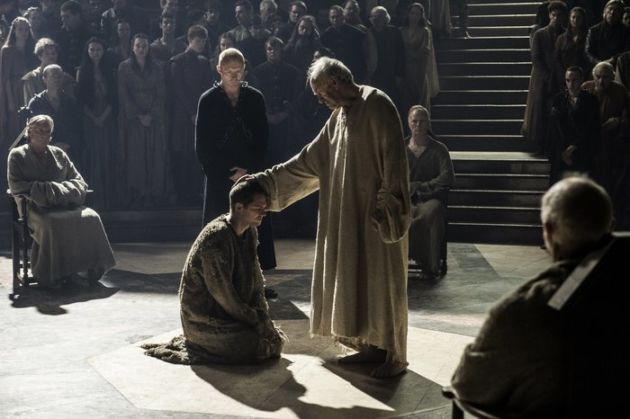 This is the corner the TV version of this story has written itself into (we'll see about the print version), it seems to me.  No one in this cast who wants to sit on the Iron Throne is fit to do so.  Dany certainly isn't, and Jon certainly doesn't want to.  Where does that leave us? The madowman on the throne certainly won't finish the story there.  Are we going down the path of some kind of gender revolution, where the sins of medieval male rule are laid bare and the women of Westeros liberate the Seven Kingdoms, or will a candidate for the throne emerge from nowhere and take the story by storm (that would be in-character with Benioff and Weiss' track record).
When we came into this season, I felt sort of unburdened in knowing we were headed into new territory – unburdened by foreknowledge and comparison. To be honest, now I feel unburdened by expectation.  For a while this season it seemed as if things were still on-track, that Martin's vision still survived in the unfamiliar events we were seeing.  Now I realize that A Song of Ice and Fire will only ever be a book series, not a TV show – whatever connection existed between it and Game of Thrones is effectively severed, and it would be pointless to look for it.  In that context I approach the final two seasons (which will be a total of 13 episodes, if early indications are to be believed) with a sense more of mild curiosity than anything else.  I'll watch, I'll gape when it unleashes an amazing spectacle, but I won't really be looking for the feelings I had in reading the books. That's less painful, but it's still kind of sad.