"No One"
I really mean it this time – these Homeric Game of Thrones posts leave me knackered and let's be honest – "Battle of the Bastards" is going to be another "Hardhome"-caliber epic.  So I'm forcing restraint on myself this week whether I want to or not.
On the whole I found this episode pretty uneven.  There were some strong elements to it, no doubt, but more genuine lulls than the last three weeks have offered (though that's been one of the best stretches since at least Season 4, to be fair).  I'm going to start with Arya, because her story was obviously the centerpiece of the episode.  In brief, I found it pretty underwhelming.  There was no added layer behind her carelessly letting herself be cut down by The Waif last week.  There was no explanation as to why she's able to laugh off what should have been fatal injuries (assuming Waify knows her job) by a couple of days sleep, or why she can run around like a circus acrobat with those wounds seeping blood.  It was just loose writing.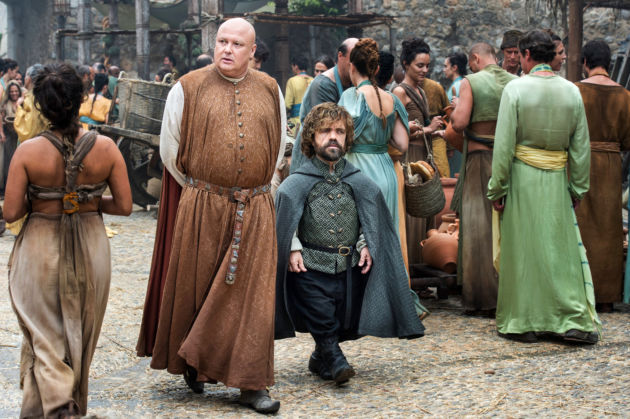 The biggest disappointment for me, really was that Arya's whole detour in Braavos felt kind of pointless.  If more had been made out of the empathy she supposedly learned for Cersei at seeing her children die, or the pain of all those people she'd priced with Needle, maybe it would have played differently.  But Arya's final speech to Jaqen implied that all this was really about was Arya learning that she really is Arya Stark, not no one.  Seriously?  To me, this was a creative cul-de-sac – a way to give Arya something to do until she fits back in with the main story.  We'll see if Martin had better plans in mind for Arya in Braavos.
Brienne and Jaime, Pod and Bronn, Edmure and The Blackfish – reunions were everywhere in the Riverlands this week.  Seeing Jaime like he is here only makes me sad for what might have been had Benioff and Weiss stuck with his character arc from A Song of Ice and Fire, but Brienne does seem to bring out the best in him.  Is there something there on either of their parts – or both?  Without a doubt, respect at the very least – for Jaime to let Brienne keep her sword certainly shows her that.  And letting her flee unchased at the end despite knowing she was going to Sansa Stark a certain level of affection, too.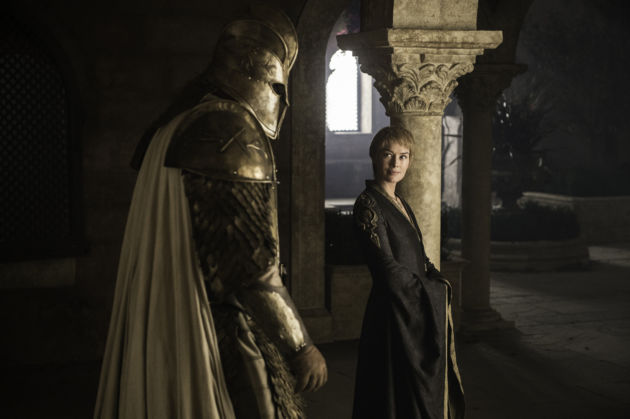 In the end, TV Jaime really is as he says – a guy who doesn't care about anything much except fucking his sister (the callback to the first episode catch phrase was a nice touch).  I don't think Jaime really cares if the Starks kick the Boltons out of the North (there is enough honor in him to be somewhat repulsed by the Red Wedding), or who holds Riverrun – or who dies in taking it.  It's hard to know just exactly why Edmure did what he did – surely he doesn't have that much affection for a wife he didn't ask to marry and never saw after their consummation, or even a son he's never met.  Maybe he really didn't want to see all of his men die in a fight he knew they couldn't win – or he sees this as the only way he'll be able to live with himself, and sleep at night.  But for The Blackfish to die so pointlessly and off-camera (though I suppose that invites the possibility that he's not actually dead) really rankles.  There was never a question that he'd refuse Sansa's request and surrender his home, but at least if he had something would have been gained in exchange for that loss.
Tommen royally (heh) screwing his mother over was certainly satisfying.  The High Sparrow really is a cunning old codger – he seems to be many steps ahead of Cersei (well, that's not so hard) at every turn.  For Cersei to have her ace in the hole ripped away from her hurts – for Tommen to have done it is the salt in the wound.  I'll be very interested to see what role Margaery takes in all this, given that she's effectively the enemy of both combatants.  Publicly of course she has to take the High Sparrow's side, especially since her main goal here is surely to get what's left of her brother back safely.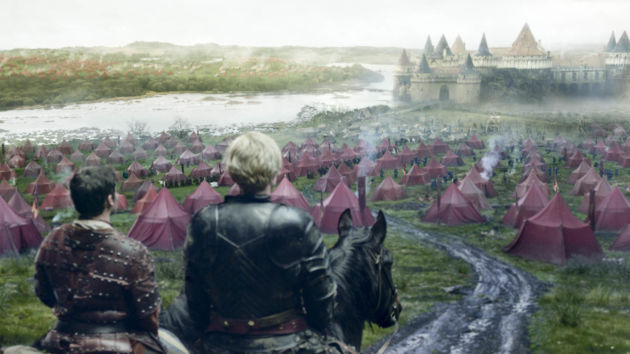 Tyrion telling jokes with Grey Worm and Missandei?  Amusing I suppose, but I'm very sad to see Varys go (secret expedition to find some ships, it seems?) , and those jokey scenes always seem rather pointless in the end.  Tyrion is very lonely now, and I do find his oddball friendship with Varys rather touching.  As for Daenerys conveniently arriving at the very moment the Masters arrive to take Meereen, well – it's par for the course with this storyline.  Nothing I've seen in this arc has really resonated, even with the arrival of Tyrion.
Maybe the best part of the episode for me was, again, Sandor.  I was very pleased to see The Hound hook up with the true Brotherhood Without Banners, because I think that's a good place for him to find some meaning in his life without becoming a complete animal driven by pure vengeance.  Plus, Paul Kaye (Thoros) and especially Richard Dormer (Berric) are wonderful actors.  I was pleased to see a reasonable explanation for why what happened to Brother Ray happened – the men who did it were not truly representing the Brotherhood.  Berric and his men clearly have their sights set on the real enemy, and I think they mark a nice medium between Sandor Clegane's bloodlust and Ray's pacifism.  Here, The Hound can fight for something that means something – as Berric says, to "help a lot more than he's harmed".  And I think that's something Sandor, who has decency in him buried under a lifetime of pain, truly wants.