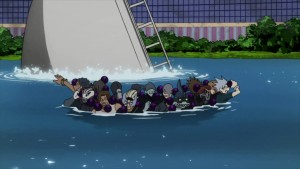 There's been an interesting (and frankly, irritating) thread developing in the discussion around Boku no Hero Academia.  First off, declaring the anime a "failure" on mysterious grounds I can't fathom, especially since the first volume hasn't even gone on sale yet.  It's projected to land somewhere between 3-4,000 units, which for a Weekly Shounen Jump series not a sports anime is certainly above the norm – never mind the fact that disc sales are a trivial part of the financial equation for WSJ titles, as witness the likes of Ansatsu Kyoushitsu and Hunter X Hunter.  The latest volume of the manga (a far more important metric to the production committee) sold 200K volumes in just three days, putting it on target to easily surpass earlier volumes, and all those earlier volumes re-appeared on the chart.  None of this is to mention the massive merchandising campaign surrounding the series – do people think money is spent on those for series that aren't profitable?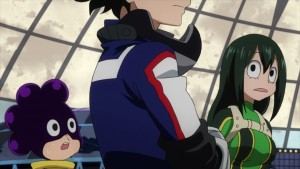 But it's the reasoning behind why Boku no Hero supposedly failed (if it's only one cour it must be a failure, the thinking seems to go) that I find especially interesting.  Supposedly, it's because – we're confidently told – the anime is "stalling" and there isn't enough action.  If Bones had only avoided padding out the material and just done what the manga did everything would be fine.  Except by making that claim those that make it prove they've never read the manga, because the anime has been a religiously loyal adaptation (almost panel-for-panel).  Horikoshi paced the series this way because he wanted it paced that way – whether or not Bones may have cost themselves a few disc sales by not cutting out "slow" material (like character development) is another argument, but the fact that they didn't – and in the process showed no inclination to rush through the material – shows that they have confidence in it both artistically and commercially.  I know I shouldn't let inanity like that bother me – you still see Dragon Quest jokes and remarks about "Hunter X Hunter being popular because of Madhouse" on anime forums – but it makes me feel better to call it out.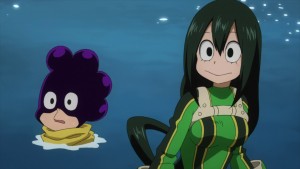 Setting that silliness aside, this episode provides material that should make even the peanut gallery happy – it's almost wall-to-wall action, heroes and villains both in their element.  Fortunately Horikoshi-sensei and Bones both know that these climactic moments are much more impactful when they're properly build-up to.  This one is especially important because it provides the first real lesson our budding heroes have received in what it means to be a hero – and a villain.  No classroom simulation or field exercise could have prepared them for this – which, if you ask me, is really the fundamental problem with a place like Yuuei Academy.  Not that I have a suggestion for anything better…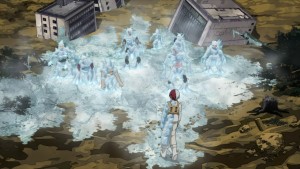 The dream team of Midoriya, Tsuyu and Mineta have used their combined powers to overcome their immediate adversaries, but this leaves them with the dilemma of what to do next.  The logical thing would be to flee to safety – and indeed, that's what their teachers would want them to do.  But Izuku understands that with only two lone teachers defending them, the eventual outcome of this war is certain.  And it's becoming increasingly clear not just to the trio but to all the students that part of the villains' strategy was to simply overwhelm with numbers – that a good many of the villains (especially those assigned to deal with the students) are zaku.  And Izuku being who he is, he decides that the next step must be to see if they can provide any assistance to Aizawa-sensei without getting in his way.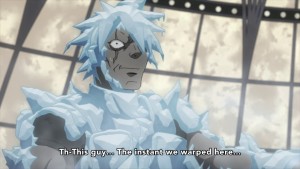 One lesson emerging from all this, of course, is that Deku and the other students have no idea what they're truly up against.  And indeed, for the powerhouse students like Kacchan, Todoroki and Yaoyorozu, this fight doesn't seem so bad after all.  But Thirteen and Eraserhead are taking a bullet for them in a big way, taking on the villains who are more than just bulk enemies meant to clog the plumbing.  Each of them is willing to give the last full measure of their devotion to save the students, and it looks like they just might – Thirteen seemingly atomized by Kurogiri's warp pulling against his black hole quirk, and Aizawa by the sheer number of enemies, culminating in the one they call Noumu.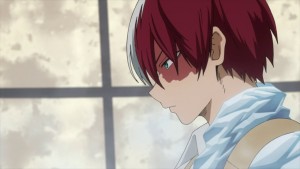 Just what is Noumu?  Shigaraki (AKA the hand guy) says he's a bio-engineered "anti-Symbol of Peace", and Aizawa concludes from the agonizing damage to his body even after Noumu's quirk has been erased that he's as strong as All Might.  He's also clearly the reason why the villains came into this fight believing they could win even as they thought they'd be fighting All Might – though both Kurogiri and Shigaraki admit it's probably "game over" after Iida (finally) flees to get help from the school.  Taking down two teachers not necessarily specialized in group combat and a bunch of still-green students is one thing – taking on a score of professional heroes quite another.  But before they go, Shigaraki decides he's going to give All Might something to remember the occasion he missed by – and reveals that he's known Izuku and his friends were watching in horror all along.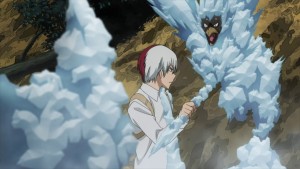 When the moment comes, there's never a doubt that Midoriya is going to act to save his friends and his teacher, even if the odds are impossible – he's a hero to the bone.  And his "Get Your Hands off Her" Smash!! is definitely the best attack name we've heard so far.  But against Noumu is has no effect – did Midoriya control his quirk at last, or did Noumu simply absorb the attack so easily that it caused no damage to Midoriya?  That seems like a moot question (for the worst of reasons) until All Might himself arrives – alone.  This is a hero whose heroism is never been in doubt, and he gives hope to the Deku and the others just with his presence.  But the villains are just as happy to see him – this, after all, is what they wanted all along…