This is a tough show to wrap my head around.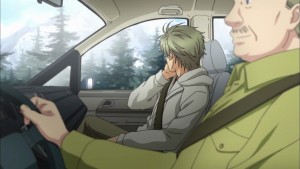 I don't know what to make of Super Lovers, to be honest.  Based on the promo art and the premise, it's frankly a pretty creepy series.  But the manga seems to be pretty well-respected, and the anime has a pretty good staff and cast over at Deen.  One might be tempted to say it'd be better all-around if "The End" had popped up at about the 18:00 mark and that was that, but even within the premiere episode there were a couple of moments that struck a somewhat unsettling note.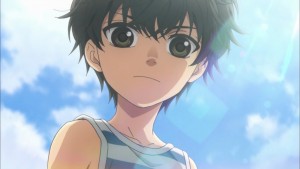 The fact is, though, that for the most part the first episode of Super Lovers was pretty good.  There were some genuinely touching moments in the story of a half-Japanese youth named Haru (Tomoaki Maeno) who goes to Canada to visit his novelist mother Haruko (Tanaka Atsuko) who he hasn't seen since he was eight.  She pretty much a terror (she refuses to be called "Mom" and seems unmoved to see her son after a decade) but she's also driven the story forward by adopting a wild child named Ren (Minagawa Junko) who's more at home with her pack of dogs than in the house.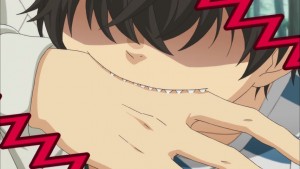 There's the makings of a really nice story here.  Ren has clearly been abused (he has cigarette burns on the soles of his feet) and even Haruko seems worried for him.  Haru slowly brings the boy out of his shell with kindness, and it's clear Ren is desperate for that (and for a decent male role model).  That's all good, right?  But then out of the blue Haru raves about how cute Ren is and kisses him on the lips. That makes the fact that he's invited Ren to sleep in his bed totally squirmy when it really shouldn't have been.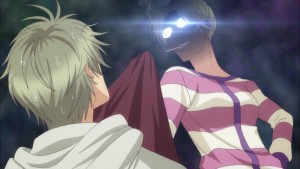 Knowing where this series is going (and I don't mean Japan, though it does head there at the end of the episode) it's hard to get too caught up in the charm of the moment.  I suppose there's a morbid curiosity to see how what's clearly a good writer and a competent anime staff navigates what can only be called a thoroughly disturbing storyline – can they possibly pull this off without it being skeevy as hell?  I suppose another question would be "Why do they have to?" – because there's clearly plenty of good story here without taking us into the realms of creeperdom.  I suppose I'll probably drop Super Lovers before it really goes out there where the buses don't run, but I'm sort of interested to see how long it can keep up the strange balancing act it pulls off rather adroitly for one episode.