The moment we've been building towards for 12 episodes finally arrived, but it was no less impactful for being so expected.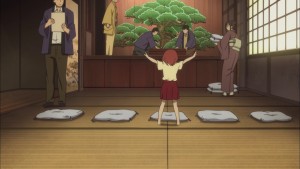 If there was anything that stood out for me about this latest in a run of really excellent episodes of Shouwa Genroku Rakugo Shinjuu, it's that it managed against all odds to make me forget about what I knew was coming.  The tragic events that would end Sukeroku's story have been hanging over the series from the very beginning, a constant companion.  But the atmosphere in the first half of the episode was so enrapturing that it managed to crowd out even that shadow, at least for a little while.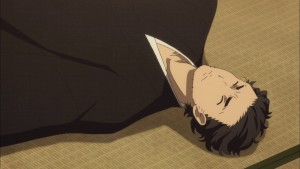 As always, the choice of performance in this show is far from coincidental.  Kikuhiko chooses Akegarasu ("Raven's Revenge"), a tale of a naive young virgin, Tokijirou, tricked into going to the Yoshiwara pleasure quarter by two friends who tell him the gate is actually a shrine's Tori gate, and that since the three entered together they must leave together.  Tokijirou falls in love with a beautiful courtesan named Urazato.  One of the themes of this story is "men must love women, whether they want to or not" – and this certainly casts an interesting light on Kiku's life story.  It's also worth noting that the two principals in Akegarasu are later part of Japan's most famous double-suicide (which Rakugo Shinjuu has referenced before).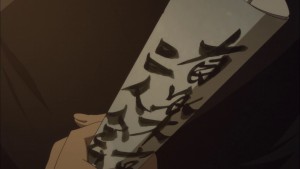 As ever, Bon's performance is nuanced and regal, betraying no signs of rust.  The same cannot be said of Shin, who chooses a work seemingly ill-suited to him – Shibahama, the story of a lush of a fishmonger who straightens up and flies right after his wife pulls a clever if cruel trick on him.  The meaning of Sukeroku choosing an earnest story for once is obvious, and his performance here is interesting – he's visibly rushing through the tale, his nervousness altering his normal relaxed pace and manner.  But the depth of feeling behind the performance wins over the audience (especially Konatsu) anyway.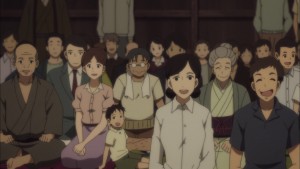 We've talked a lot of about Ishida Akira's performance in this series – and with good reason – but Yamadera Kouichi is just as remarkable.  For a 54 year-old actor to project so much youthful vigour and vulnerability is quite a feat, and he displays his full range in this episode.  There's so much hope and optimism in the aftermath of the performances at Kame-ya, and the natural inclination is going to be to blame Miyokichi for everything going wrong.  Blame is always a presence in Shouwa Genroku Rakugo Shinjuu, insistently asking us to make a judgment and then forcing us to question it.  Now, with the events at the inn after she returns to the scene, the topic can no longer be procrastinated.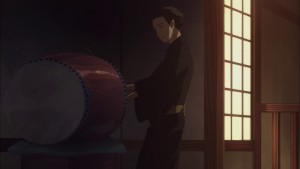 First, we have the reunion of Kikuhiko and Miyokichi – which actually comes after the return of Matsuda-san and a sweet moment when Sukeroku, a sleeping Konatsu on his lap, seems to accept Kiku's invitation to return to their master's house (now Kiku's) and accept the Yakumo role.  Notable here is that Bon states that this will happen "after he finds Miyokichi" – and one wonders what his intentions are with her.  When she finds him, it's likewise unclear what he's thinking – and there are long stretches of agonizing silence in this scene drawing out the suspense.  Eventually it becomes clear that there is indeed a strong physical desire at play on his part – something that was not always obvious – and the choice Kiku makes is to honor it.  Men must love women, whether they want to or not.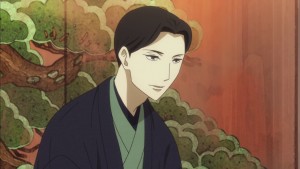 Bon's choice having been made, it now falls to Shin to choose.  When he barges in on the two of them after Miyokichi suggests a double-suicide with Kiku, having eavesdropped, I was wondering if he might accept the obvious truth of Miyokichi's feelings and offer to step aside.  It would have been the easiest path – Konatsu likely would have been fine with it, as deeply resentful (with good reason) of her mother as she is, and it would have allowed the fairy tale reunion of the rakugo dream team to move forward.  But instead, he tearfully pledges to clean up his act and quit rakugo, declaring that he loves Miyokichi and Konatsu more.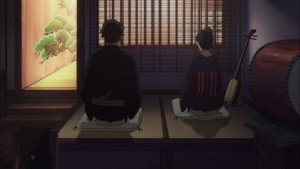 Her reaction – "Why would you say that now?!" – very much mirrored my own.  It's easiest to blame Miyokichi for the tragic events to follow, but it's really this choice Sukeroku makes that seals everyone's fate.  There are many, many elements at play as the moment we've dreaded finally plays itself out.  Rakugo is, in the end, a thing and only a thing – it cannot give a man what the love of other people can.  His protestations aside, Kikuhiko cannot be happy being totally alone – even if he surely knew that the notion of happily sharing a house with a family of Sukeroku, Miyokichi and Konatsu was a fantasy, he pursued it.  And Sukeroku cannot cast aside his wife and child to return to the childish fantasy his life once was, though in his heart he surely knows he's not the man Miyokichi loves.  If tragedy as a dramatic form is knowing the ending and being fascinated in watching it play out, then tragedy in human form is seeing the folly in one's actions yet being unable to avoid them.