In pondering another brilliant episode of Shouwa Genroku Rakugo Shinjuu, I can't help but be reminded of a passage from another great tragedy – in my view the greatest among Shakespeare's:
And all our yesterdays have lighted fools

The way to dusty death. Out, out, brief candle!

Life's but a walking shadow, a poor player

That struts and frets his hour upon the stage

And then is heard no more. It is a tale

Told by an idiot, full of sound and fury,

Signifying nothing.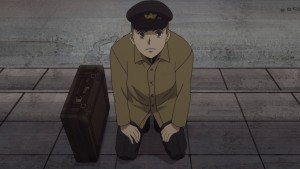 That Shouwa Genroku is a tragedy is a subject about which I've already expounded at length.  And apart from the obvious shared imagery from those famous words of Macbeth, to compare any tragedy to that one is about the highest praise I can give it.  But really, in anime terms this series is the complete polar opposite of the final words of Macbeth's speech – "Full of sound and fury, signifying nothing".  This is a series that speaks for itself quietly and reservedly, and in doing so realizes great emotional significance.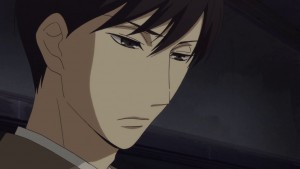 The first of the supporting pillars of the story has passed, and it's the one you would have expected to go first – Yuurakutei.  It seems in a certain sense Kikuhiko has already surpassed him, but for the apprentice to have an admirer grovel to be accepted as his apprentice in front of the master is an abject humiliation.  In a society obsessed with rank and protocol and a sub-culture even more obsessed with it, such things just aren't done.  I won't say that incident was what killed the old man – he'd really been dying a slow death for a long time – but symbolically it was obviously a crucial moment.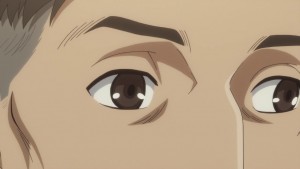 What really strikes me about the aftermath of Yuurakutei's death are two lines of dialogue from Kikuhiko.  In the first, he says to himself  "Now I truly alone", as if desolate.  And later, on-stage for the first time since Yuurakutei's passing, he thinks "At last, this is the solitude I crave."  For me, this summarizes the sad and complex nature of the man beautifully.  On some level Kikuhiko has always felt more at home with his own company than anyone else's – which when you think about it makes the vocation of a rakugo storyteller a natural fit. He craves the stage to himself – yet he refuses to take on the Yakumo name, no matter how often his late master the association president entreat him to.  In this moment, with his master dead and the responsibility for his legacy not yet thrust upon Kiku's shoulders, he's as free as he's ever been in his life – and part of him likes it.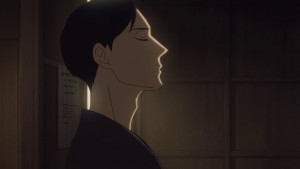 That first performance is a powerful and unsettling one brilliantly delivered by Ishida Akira, as Kikuhiko chooses to tell the tale "Shinigami" about a man for whom the candle of life is burning out.  It's a shocking choice in a way, but as Kiku says to tell a sentimental story would not be "his rakugo".  This is a man for whom belonging is forever a mere dream, always in his own mind an outsider no matter how successful and connected he becomes.  That he doesn't shed a tear at Yuurakutei's funeral is not a surprise – not because he feels nothing but because that too, would not be his rakugo.    To borrow a phrase from a better-known but lesser Shakespearean tragedy, "To thine own self be true".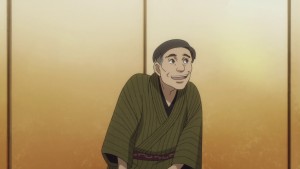 The circle of the story is a long one, starting with the boy who came into Yuurakutei's life when he was a boy, threatening to steal both his father's affections and name through his easy brilliance.  That was the first Sukeroku, and in true Shakespearean fashion we've looped back to find Konatsu, the spitting image of her father, telling comic rakugo tales in a soba-ya in a Shikoku onsen town. Bon has gone there to find Shin, and in the process some kind of closure – but of course we know that will be anything but the case.  The grip of fate on the characters is strong in tragedy, and Shouwa Genroku is no exception – and its grip on the audience is nearly as unbreakable.