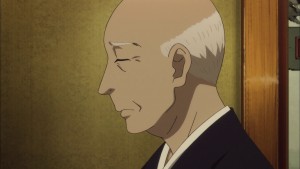 Shouwa Genroku Rakugo Shinjuu proves its bona fides as a tragedy with this week's episode.  You may know what's coming, but that doesn't make it any less gut-wrenching when it arrives – which is pretty much the essence of the tragic literary form.  The rules for this sort of story are rather different than with a mystery or thriller, in that when something predictable happens it's actually a mark of quality.  The behavior of the characters should always be true to itself, and the progression of events true to that behavior.  And so it was here.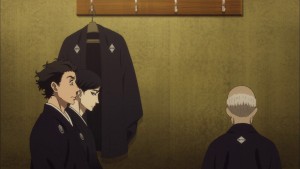 I know the instinct when watching an episode like this play out is to judge, and to blame.  And it's easy, because there's plenty of blame to go around.  But the truth is, I think Shouwa Genroku Rakugo Shinjuu is ultimately just a story about flawed people.  And flawed people (which is pretty much all of us) make mistakes, often mistakes which hurt those we love.  All of the principals (and I include Master Yuurakutei in this) are broken – damaged by a past which they carry at all times, wrapped around themselves like a shawl.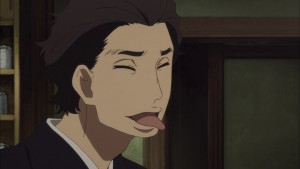 What do we see in this episode?  Well, in the first place it's arguably director Hatakeyama Mamoru's finest work of the series – there's a ton of flair here, stuff like the reflections in glassware and the depiction of Kikuhko and Yuurekutei as if they were on stage.  It's no coincidence that Hatakeyama-sensei has made probably DEEN's two finest-looking series of the decade, and by whatever name you choose to call him he's one of the elite talents working in anime today.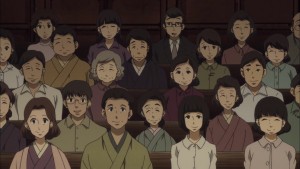 Hatakeyama is also quite unsparing in showing us the warts-and-all side of the major characters here, none of whom come off looking very good.  Sukeroku's disrespect and arrogance start his career as a Shin'uchi on the wrong foot, as he performs the President's special rakugo ("Saheiji"), and later those qualities get him expelled (again) from Yuurakutei's circle.  Kikuhiko's ambition and aversion to emotional commitment drive him to break up with Miyokichi, and her neediness and insecurity immediately drive her into Shin's arms.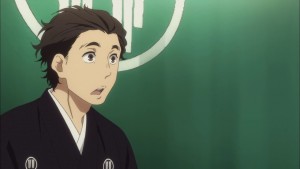 We all knew that was coming, and it would be easy to throw both of them under the bus – especially Miyokichi.  But if Bon has responded to his abandonment issues by encasing himself in a protective shell, Miyokichi has done just the opposite – she clings to whoever she can pull close to her, afraid to be alone.  The irony here, of course, is that Bon tells her she needs to learn how to take care of herself and not depend on anyone, while he's quite clearly dependent on Shin (in a way he'll never be dependent on her).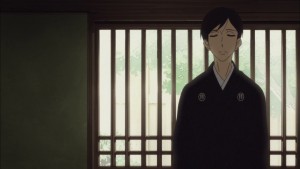 As is so often the case between brothers (which is effectively what Shin and Bon are), each has spent a lifetime being envious of the other.  Sukeroku resents the way "good boy" Kikuhiko has always been in the good graces of the Master and his colleagues, and Kikuhiko has always resented Sukeroku's ease with people, and on stage.  The decision to give the Yakumo name to Kiku – predictable as it was – is the final wedge between them, much more so than the fact that Sukeroku and Miyokichi end up together (Kiku knows because he smells Miyokichi on Sukeroku).  Kikuhiko is indeed, as he says, in no position to judge either of them for that, and it's admirable that he realizes it.  But it's still troubling that this doesn't wound him more than it does.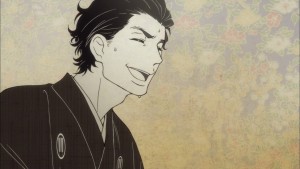 There's no romance between Shin and Miyokichi, even if there is eventually going to be a child (Konatsu).  They meet up by chance in their darkest hour, she just having been dumped by Kiku and memorably threatening to "haunt" him, he having been disowned by Yuurakutei.  The meeting takes place under the cherry blossoms in Hanakawado Koen (where, by the way, stands a statue of Sukeroku – hero of the legendary Kabuki "Sukeroku: The Flower of Edo"), and they more or less fall into each other's arms in desperation and loneliness.  Miyokichi could be seen to be using Sukeroku here, playing on his weakness (she speaks of how she misses Kikuhiko even as she and Sukeroku lie together)  but I think he knows exactly what he's doing.  Sukeroku is a sad and somewhat small man, but he's neither naive or a fool.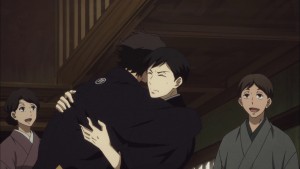 It seems quite in-character that the last thing Kikuhiko sayss Sukeroku before his departure isn't a recrimination or  statement of personal affection – it's an admonishment that whatever happens, Shin must continue with rakugo.  I think as much as Bon loves rakugo himself, the thought of Shin quitting is even more horrifying to him than having to quit himself.  Sukeroku as a tragic figure is never more apparent than when it comes to rakugo, because his view (prescient as it is) that rakugo must change with the times is so abhorrent in a culture and sub-culture so obsessed with continuity and tradition.  In this sense it's Shin, the natural performer, who's taken the more challenging road as a performer – Kiku's path of upholding tradition is very much swimming with a very strong current.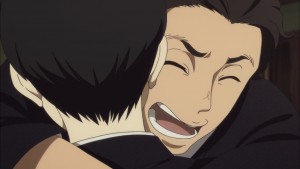 It seems next week we may fill in the last big gaps between the flashback and the present.  Sukeroku and Myokichi will leave Tokyo and Konatsu will be born, and Kikuhiko will continue his dutiful rise up the rakugo ladder as he prepares to inherit the Yakumo name.  But their fates will converge together, explosively.  As for what happens after that, we may not get a chance to see much of it – if DEEN produced a second season of Shouwa Rakugo it wouldn't be their first time doing so for a series with modest disc sales, but I wouldn't necessarily expect that.  If it feels as is this show is wrapping up what's really only half its story, that's because it's clearly true.  It'll be a shame if that's all we get, but I'll be grateful for it just the same.