Osomatsu–san has never been the easiest series to write about, but this episode might have set a new standard.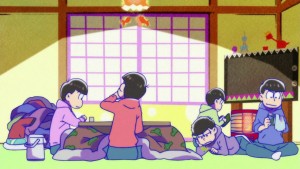 As one tries to chart the course of Osomatsu-san's future, it becomes clear that this series is a bit different than most of the other mega-hits of recent vintage.  There's no source material, for starters, but truth is there's really no plot either.  The show is just a free-associative satire on hyperdrive, pinballing from idea to idea and gag to gag at a dizzying clip.  Obviously there will be be more – series that sell 100,000+ disc volumes don't just stop.  There will be more seasons, manga, maybe movies, spin-offs…  But maybe not for a few seasons.  And where are the ideas going to come from – does Osomatsu-san have staying power, or is the creative team going to exhaust the well by going all-out to top itself in weirdness week after week?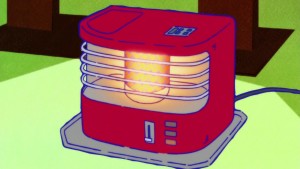 This week's episode was definitely one of the standouts for straight-up strangeness, among the most Python-esque material yet.  It starts out with a largely dialogue-free number where the brothers are lazing about at home (now there's a shock) when the heater runs out of kerosene (those things are still pretty common in older houses in Japan).  In the interest of taking NEET-dom to the purest form none of them want to actually get up and refill it.  I think the lesson here, if anything, is that the seemingly nice ones (Totty and Jyuushimatsu) are the scariest of the bunch – but we probably already knew that.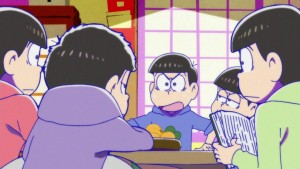 If you imagine this episode as a Monty Python's Flying Circus where the whole ep is Terry Gilliam's animation, you might be getting pretty close to the surrealistic reality.  The sketches link in true Python fashion, with Choromatsu sent off to buy kerosene (nominated by Jyuushimatsu) and Osomatsu and Karamatsu following when he doesn't come back.  The three of them end up in a pub, and then in a Dayon – literally inside him, that is.  It's a kind of psychedelic Fantastic Voyage with vomit, with a bit of Barbarella mixed in.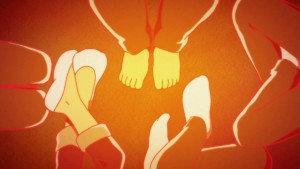 What more can one say about this, really?  It's left to Totty to more of less be the voice of reason when he and his brothers Jyuushimtsu and Ichimatsu end up inside Dayon too when searching for the others – "Seriously – what the fuck is this?"  It's funny, though not uproariously so – really, it's more bizarre than hilarious.  I do wonder when I see episodes like this (especially given the ending, which I saw coming a mile away) what the long-term prognosis for Osomatsu-san might be.  This show is going to need to find something more than shock and gross-out humor and simple outrageousness to stay on the cutting edge of anime comedy – though there's been enough good stuff in 23 episodes to suggest it might very well do just that.