The Japanese get cats.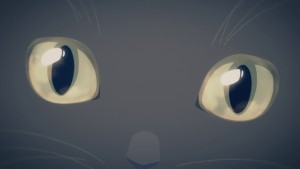 There's an interesting history behind this short anime.  It's an evolution of a five-minute independently produced OVA by the great Shinkai Makoto – the first time Shinkai really got noticed by the Japanese audience.  Of course he's gone on to have a superb career, establishing himself as one of the greatest visual artists in anime history, though by no means a commercial powerhouse.  It's that which no doubt caused a revival of interest in She and Her Cat, and allowed this 4-episode mini-series from LIDENFILMS to be produced.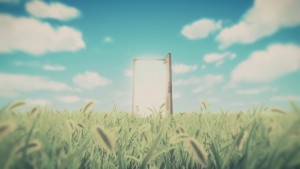 As far as I can tell Shinkai has no direct involvement in this version of the story apart from licensing it – Director Sakamoto Kazuya is a Kyoto Animation guy, having worked in lesser roles on many of their works, and Animation Director Umishma Senbon is a talented young animator who's never filled the role on a series before.  And to be blunt, you'd never mistake this for an animation drawn by Shinkai himself – but that's a standard too high for anyone to be held to, and not how this version should be judged.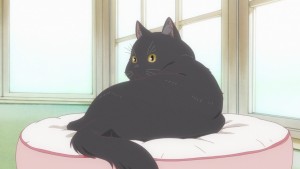 My take?  Kanojo to Kanojo no Neko works because it doesn't overreach, and that was the key to Shinkai's OVA (indeed, his writing always seems best when it's simplest).  This is a very elemental story of the love between a cat and a graduating college student, told from the cat's perspective (and very effectively too). Asanuma Shintarou provides the voice of Daru the cat (why the name change I don't know), who in turn provides the narrative voice for the series, and Kana Hanzawa provides the voice of the girl.  Daru sees the world from a cat's perspective, which is different from a human's – we see what's happening, but it's Daru's voice that provides the interpretation.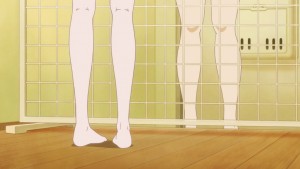 I always laugh when I hear people say that cats are "independent" and don't really care about their owners.  It's something you never hear in Japan, where there seems to be a fundamental understanding of cats that's often missing in the dog-obsessed West.  From my perspective as a cat person, it seems to me that She and Her Cat is a series that would appeal primarily to viewers who love cats – but hey, what do I know?  In any event this isn't an especially complicated story, but if you understand the dynamics involved (which you do if you've shared your life with cats) it's quite a powerful one.  Perhaps the most salient point is that this series in no ways betrays the spirit of Shinkai's – if anything it's a more fleshed-out version of the original.  As a fan of anime, cats and Shinkai, it works a treat for me.