What a strange final post this is.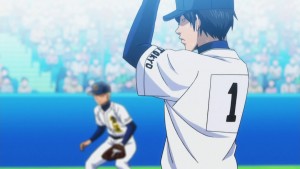 I think I said pretty much everything I had to say about my parting of the ways with Diamond no Ace last week, so there's no point in rehashing it.  I don't know what's really going on here as far as why what happened in last week's episode happened – whether Terajima Yuuji was in fact ordered by his editor to make Sawamura Eijun his protagonist over Furuya against his will, or he's just a massive troll.  Whatever the case may be, this is a writer whose perspective is seriously fucked up, and I just don't want to subject myself to it any longer.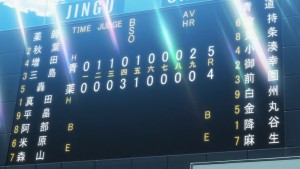 Did I watch the finale?  Yeah, mostly – though I would be lying if I said I went into it with an open mind.  Anti-climax would be far too generous a description for what it added up to for me.  But I'm not going to talk about it much because it left no impression on me at all – I checked out after last week's episode and I was just along for the screencaps.  Were there any surprises in the way things ended?  No, none at all – as with another series that ended this week, stupidity was rewarded and consequence doesn't exist in this universe.  And that's a big hurdle to overcome as far as I'm concerned.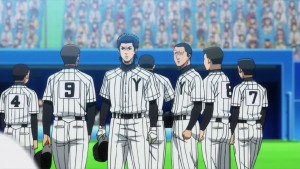 Maybe the most interesting question is whether, after 125 episodes (or however many it was) do I regret tagging along with Daiya no A?  Hell, I even read the manga for a while.  I think on balance the answer is "yes and no".  I mean, I really do think Eijun is a terrific sports protagonist.  And there were some fantastic episodes along the way (usually after horrible ones almost bad enough to make you drop the show).  The baseball side of the show was relatively good, and Yakushi was an excellent opponent to play off of.  With Madhouse and Production I.G. on-board visuals and sound were fantastic.  So there was a lot of good here that I'm happy to have experienced.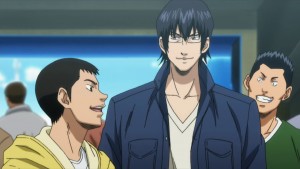 In the end, though, there is a lot of regret at having wasted so much time with an author who finished off the story (as far the anime has gotten) in such a horrendously tone-deaf and idiotic fashion.  Clearly, he really did think all along Kataoka was a great man and Furuya a great teammate.  There was just no payoff here, no reward, and while that might not be so galling after a one-cour show, after 10 cours it's a sharp stick in the eye.  None of it really means anything – it was just creative masturbation.  How could anyone not have mixed feelings at best under those circumstances?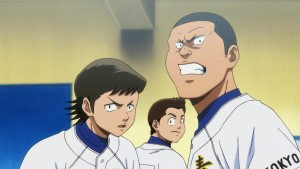 None of this matters now, because the series is history – it is what it is.  There's more manga and most likely will be more anime someday, but I'll content myself with Battery this summer and waiting for the inevitable anime for Major 2nd and Mix – series by authors I know from experience aren't complete douchebags towards their characters and audience.  Fool me once, Terajima-sensei – fool me 125 times… I will miss having this series be a part of my week, and Haruichi and Raichi and especially Eijun – all of whom deserved better (especially Eijun).  But I won't miss being pissed off about it most of the time.  Life is too short, even if Diamond no Ace ended up being two episodes too long.