The charm level of Dagashi Kashi is pretty much off the charts at this point.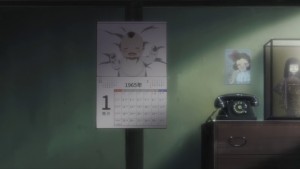 For me, there's no question Dagashi Kashi is the most unabashedly fun series of the winter season.  It's completely unpretentious, offering no apologies for gleefully immersing itself in matters trivial and inconsequential, yet the characters are relatable and very likeable.  The show captures the pleasant idyll of small-town adolescence about as well as any I can remember, even thrives on it.  Being a kid – especially in a setting like this – often seems to revolve around killing time as a life-and-death priority.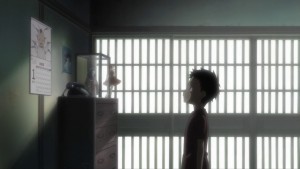 The first order of business this week is ghost stories, piggybacking on the arrival of a typhoon.  I had no idea the stories Tou was telling came off of gum packages, because I had no idea Japan had such a gum.  What's fun here is everybody's peculiarities in relating to these tales – Saya is terrified no matter how absurd they are.  And Kokonotsu is absurdly literal and practical, asking all the wrong questions (which is going to pose some interesting challenges if he ever actually becomes a mangaka).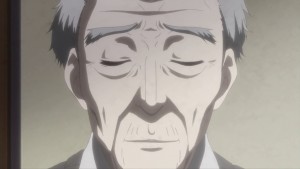 Next up we have a hilarious riff on popularity, revolving around the dorkiest hobby possible – kendama.  Tou is desperately trying to convince Coconuts that kendama is a hit among the "Harajuku hip-hop kids" who must seem like space aliens to rural teens like them – so desperately, in fact, that he spends the vast sum of ¥2600 (about $22) on two of the kendama that have been on the shelf at the candy shop since Coconuts was a little kid (what that proves I don't know, but somehow – it fits).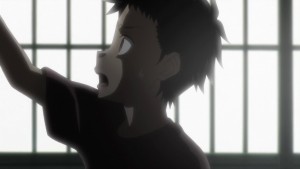 Here's the funny thing – it's actually kind of true.  Among the irony and contradiction-loving Japanese, kendama actually have become sort of a craze with the Tokyo teen set.  Now naturally enough Tou is hopeless at the game (Kokonotsu isn't much better, but at least he avoids injury), but as you'd expect Saya turns out to be a prodigy (as soon as I saw kendama, I was waiting for that moment).  She even involuntarily lapses into a sort of hip-hop routine as she plays (it's kind of hypnotic) – which prompts a "Chou Kakkoii!!" from Kokonotsu.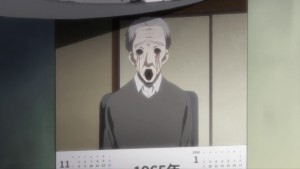 Having failed miserably at this venture, Tou pinballs off on another tangent about popularity.  This time he convinces Coconuts that the way dorky guys like them get women is because they "understand" them (good luck with that).  I actually think the broken pre-digital clock may have stumbled onto a kind of epiphany here, but naturally Tou still gets it wrong – referencing Saya's fashion magazines as a source probably being a bad idea. They convince him that girls' love of fortunetelling is the key to everything.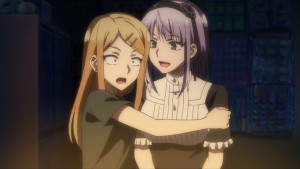 And the key to fortunetelling?  It's apparently a cheap packaged chocolate that tells your fortune with circles and Xs – another weird Japanese candy I'd never heard of (Dagashi Kashi is definitely the most educational series of the season as well as the most fun).  The payoff here is Tou's test for whether the chocolates are accurate – his desire to see a pantsu shot.  It's not entirely clear whether those two circles on the wrapper were justified or not, but whatever Hotaru's leap provided was obviously close enough for government work.  Another triumph for Japanese candy.