Yeah, I admit it – this is one of the posts I've least looked forward to writing since I started blogging anime.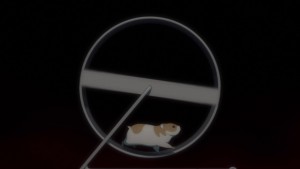 There's really no two ways about it – I knew there was going to be the shitstorm to end all shitstorms after this episode of Boku Dake ga Inai Machi.  Why?  Well, if significant changes were made, the manga readers were going to be incensed.  And if the manga were followed religiously, the anime-only viewers were going to be up in arms.  Most likely, it would be some mixture of both – which is exactly what we got – effectively pissing off almost everybody (which I tried in a non-committal way to warn new viewers of last week).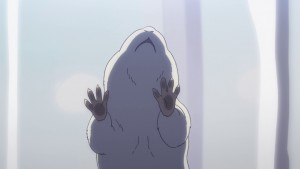 Not only is this a no-win situation for Erased, it's a no-win situation for me.  And that's because I was pretty much certain from the degree of controversy this section of the manga caused that the bulk of opinion was going to be negative (as it has been).  And if I were to defend the direction Sanbe-sensei – never mind the anime staff – took, I would be accused of looking at the series through rose-colored glasses, of being an apologist.  But that's all I can do, because for the most part I bought was Sanbe was selling.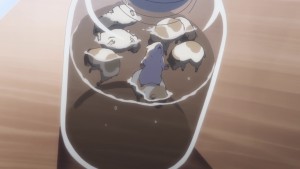 Let's get a couple of things that are more straightforward out of the way, just to simplify matters a bit.  First, there was a lot of material skipped here – a lot.  Of the three options I suggested were open to Itou and Kishimoto last week, I would say this was a cross between all three – the pace was speeded up dramatically, there was some original content, and a fair bit of material was either cut or shifted to the finale.  And I honestly don't know what's going to happen next week – based on this ep it's impossible to say with any certainty.
Second, while there are substantive subjective reasons why viewers might dislike Sanbe's choices here that it would be really pointless for me to try and rebut (because of their subjectivity), there is one vein of viewer anger that I will refute.  That is, the insane amount of rage I'm seeing over Kayo and Hiromi being married and having a baby.  I was expecting some (not this much) and of course everyone is entitled to their own feelings.  But I think this anger is purely based on anime cliche, to be honest.  To be angry that someone who was eleven years old should not have resigned herself to be unhappy forever in gratitude to someone who might never wake up is, to me, unrealistic.  Do you honestly believe that's what Satoru would want?  Didn't he do all he did to try and save Kayo and Hiromi so that they would have a life?   It's not ungrateful or disrespectful – if they fell in love, they did exactly what they should have done and what Satoru would have wanted.
And besides, there are plenty of better reasons for you to be pissed off – even if I don't agree with them.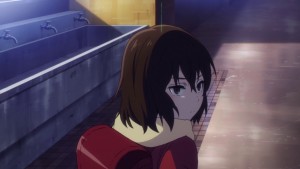 So why do I like the general direction Sanbe has taken here?  I like the sense of disorientation and creeping unrest he manages to create (and which Itou-sensei recreates beautifully in the first half of the episode).  I love the poetic symmetry that after ten episodes of Satoru being an adult in a child's body, he's now a child in an adult's body (with a child's voice, which is the advantage of anime over manga).  I adored the way Sachiko's superhuman maternal GAR was celebrated – and rewarded.  I liked both Yashiro's origin story and the way events were connected to the present (as in  2003).  I thought it was both believable and creepy as hell.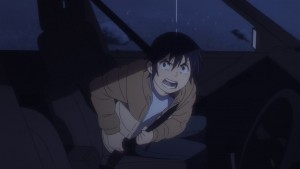 That said, I won't deny this was quite different in the manga than it was in the anime.  There was more flesh on the bones of the material in the A-Part, and what happened in the B-Part was pretty different altogether.  One particular sequence was missing which I know manga readers will really have wanted to see.  And now we go into the final episode and I'm really at a loss for how Itou and Kishimoto are going to wrap all this up.  The best I can say about the finale is that I'll judge it only after I've actually seen it – to try and pre-judge it now would be insane under the circumstances.  And one more time, I'll defend Boku Dake ga Inai Machi for not pandering either to anime convention or the feelings of the audience – I love the fact that Sanbe doesn't give a damn about taking the easier path.  As long as Erased goes out in a manner that's true to itself, I'll defend its right to do so until my last breath.