There's just no escaping this minefield for me at this point.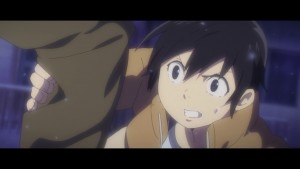 I think we may have finally reached the stalemate point for me in terms of blogging with Boku Dake ga Inai Machi.  The minefield analogy works quite well, actually, because that's exactly the figurative situation I find myself in – I have no sense of where to put my next foot down.  Every step could be an unintended disaster.  What feels like safe ground to me might seem like hinting or spoiling to a new viewer.  I don't even really know if I can – or should – talk about pacing, which is quite an interesting topic right now.  But is even that crossing the line?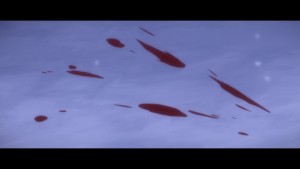 There are a couple of things I can safely address, I think.  The first salient point is that the manga officially ended today – the final chapter was released in Young Ace.  That's a milestone, obviously, but also of note is that with that final chapter came an announcement of a spinoff manga by Sanbe Kei – Boku Dake ga Inai Machi Gaiden.  That in itself could be a spoiler under some circumstances, but it seems this will be an "untold stories" kind of manga, and this doesn't reveal much about what happens in the final chapters of the original.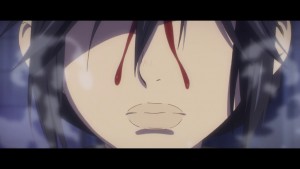 There's one more important point, too, and that's this: I haven't finished the manga myself.  I've mentioned that before, but this seems a crucial time to reiterate it – when the anime started and proved to be as phenomenal as it is, I stopped myself a few chapters before the current manga release in order to be able to see the anime end with fresh eyes (hopefully).  The issue is, we're not at the point where I've stopped yet – we're quite a ways short of it in fact – and this is where the whole issue of pacing would be a really interesting topic for discussion if I felt safe in broaching it.  But  I don't think I do – the risk is too great for me to get into that topic in any detail.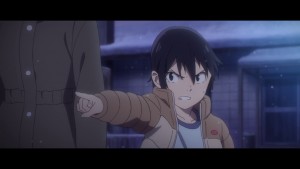 So can I talk about the episode at all?  Well, not much – and probably not at all when it comes to what happens after the first five minutes or so.  Kayo's mom going after Sachiko with a shovel was certainly a headline moment.  It's one thing to use yourself as bait, but quite another to have to dodge a blow like that one.  What stands out about this scene for me is the reaction Kayo has to seeing her mother break down in tears when her grandmother arrives, and I think it's the key to the whole scene.  Sanbe-sensei wants us to take our cue from her – there's no sympathy in her eyes, or Satoru's either for that matter.  Using victimization as a pretext to victimize others doesn't cut it, and the children here know it (even if one of them is sort of an adult).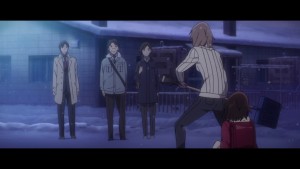 The rest of the episode is a fascinating mix of stuff, but about 98% of it I just, just can't talk about.  I know everyone who hasn't read the manga has some very specific ideas about what was happening here, but I'm not going to feed that tiger.  If it makes you feel any better, there are some things about which I have absolutely no idea what to expect – and not just the few final chapters I haven't read, either.  We're three-quarters of the way into the anime, and Itou-sensei has some decisions to make for which the answers are not self-evident.  That's one of the most fascinating parts of all this for me, and I never expected to be as unsure as I am this late in the game.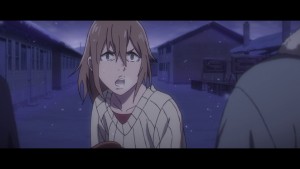 One final thought – please be very careful in the comments.  In the other places where this season is discussed I'm seeing more and more cases of manga readers being unable to resist the urge to speculate out loud, and to drop enormous hints in the process.  I get the temptation, believe me, but I'll plead with everyone to resist it – I want this to be a safe zone for new viewers.  There's only three eps to go, and if you've held your tongue for this long you can go three more weeks, right?