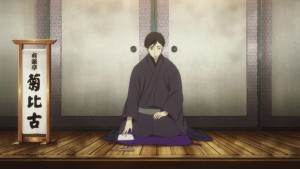 One of the marvelous aspects of Shouwa Genroku Rakugi Shinjuu is the way it can present a stark difference in emotional tone without reliance on huge plot twists or theatrics.  On some level, last week's episode and this week's bore a lot of similarities – they were both chronicles of Bon's emerging success as a Rakugo performer, almost identically paced.  But last week's episode left one feeling warm and upbeat, and this one rather bleak and forlorn.  That only comes from good storytelling and a depth of understanding of the characters – both on the part of the series, and the audience.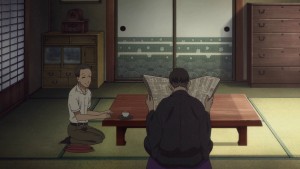 A couple of trends are emerging as we watch this ill-fated character dance play itself out.  It's tempting to think of it as a romantic triangle, but I'm not sure it's either – I believe Master Yuurakutei is directly involved too, and I don't know that what we traditionally call "romance" is involved in any real sense.  One thing I'm noticing is that my affection for Sukeroku is starting to wear thin.  His irrepressible charm is undeniable, but with each passing episode it's becoming less cute and more irksome – sometimes even ominous.  At some point he just needs to grow the fuck up, because what he is right now is a user – and the person he's using the most is Kikuhiko.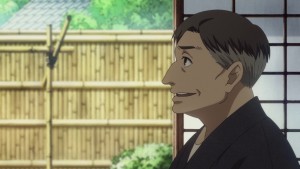 Now let's be clear – that there's mutual affection between Bon and Shin is undeniable (though what kind of affection is a matter for debate).  What am I seeing in the interaction between the two?  It's not so much lovers as an old married couple – which, frustratingly, sheds little light on whether there's any sexual attraction involved.  It seems to me that Kiku has grown to enjoy his role as caretaker/scolder of Sukeroku on some level.  Just as Shin gets a feeling of superiority from always being the performer that's more adored and in-demand, Bon gets a sense of superiority from the one who's always responsible and praised by the masters.  But this is unhealthy and unsustainable – a co-dependent relationship where each man is enabling the most unhealthy habits of the other.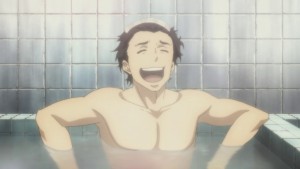 Another thing is inescapable – Kikuhiko does not love Miyokichi.  I saw something tender in their relationship last week that was genuinely touching, but it seems now as if Kiku really just wanted someone to comfort him for once.  I'm not sure who Kikuhiko loves, and whether he feels a sense of physical attraction to anyone – I'm not even certain whether he and Miyokichi have had sex.  The coldness he displays towards her this week is really stark, and it's hard not to feel for Miyokchi – she's been very good to Kiku (as far as we've been given privy to) and she deserves better.  My sense is that Kikuhiko was really spooked by her push for more closeness to him, and pushed her away as a result.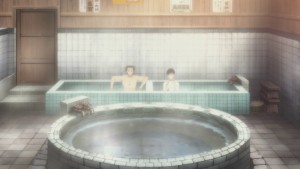 Clearly people are going to be hurt here – we would know that even if this weren't a flashback.  I'm interested in knowing why Yuurakutei asked Bon about Miyokichi – it was he who was originally her companion, of course, but this interaction didn't have the air of jealousy about it.  It's also interesting that Yuurakutei asked Bon to accompany him on his tour, and even more so that Bon didn't tell Shin about it until the night before his departure.  It's not hard to imagine why of course, but their drinking session had a couple of electrically charged moments – especially when Sukeroku declared that he'd never give up the Yakumo name, even to Kikuhiko, and Kiku responded that Sukeroku had never given anyone anything.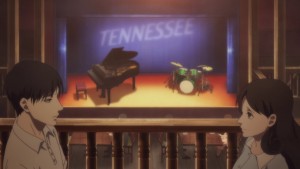 Shouwa Rakugo is not easy to pin down, because real people aren't so neatly pigeonholed as poorly-drawn fictional characters.  This cast is anything but poorly-drawn – sometimes we sympathize with them, sometimes they exasperate us.  The truth is, I don't think the key players here really know what they want themselves for the most part, and that's what's leading to them hurting each other.  The one bit of certainty here seems to be Kikuhiko's need to belong  which is why he was so moved when Yuurakutei told him he was certain Kiku's rakugo would make people happy.  That's a wonderful thing, but that urgent need is going to contribute to the tragedy that's to come, that seems certain.  People are complicated, and things very rarely have only one meaning – or impact.